Boston Celtics' Doomsday Scenario Hurts, but Allen and Rondo Can Make It Work
January 22, 2012

When the Big Three came together for the Boston Celtics in 2007-08, it was meant to be a quick fix. We knew these guys only had a few more years, and that's what made the whole thing so romantic and memorable. 
But somewhere along the way, it all started feeling less and less temporary. The Big Three became a permanent fixture.
Once Kevin Garnett went down with his season-ending injury, and the absence of James Posey's offensive and defensive prowess was becoming clearer and clearer, it finally felt like it was time to assemble a new team around Rajon Rondo.
But that never happened. Year after year, the Celtics remained a Big Three team. And each year, Danny Ainge cut more and more role players, which hurt the team drastically.
This team isn't in a funk, they just don't have the pieces in place to win. Ainge has warped the team beyond any comprehension. Their roster is a revolving door of washed-up players and insufficient talent. Even the truest fan must scratch their head and wonder what universe Ainge is living in.
Getting rid of James Posey, Kendrick Perkins, Eddie House, Leon Powe and Tony Allen were fatal mistakes. Had the team simply stayed intact, we might not be discussing the doomsday scenario now.
But because Ainge replaced so many of our golden idols with bags of sand, this team is deep in a haze of losing. Losing has aged Paul Pierce and Kevin Garnett far more than time has.
Winning is contagious. This team should have two or three titles by now, and I guarantee you that Pierce and Garnett would be running around like teenagers. But Ainge has shortchanged them over and over. For four straight years, they've headed into war without the right weapons, without the right armor, without the proper men, without the tools to win.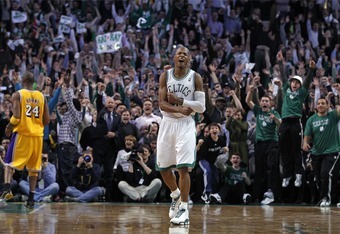 This team has lost their identity. Are they still a defensive powerhouse? No. Are the Big Three still playing great basketball together? No. Do teams still fear their bench? No. Do they out-muscle teams? No. Do they out-finesse teams? No. Are they fast? No. 
These are too many "no's" to be successful.
The Celtics are relying on Jermaine O'Neal and Avery Bradley for serious production. This is not a recipe for success. This is Danny Ainge's version of throwing darts at a board, blindfolded.
The time for bickering is over. Enough is enough. The Celtics don't belong to Danny Ainge or Wyc Grousbeck, the Celtics belong to the fans. It's up to us to right this ship, because the people in charge of this team have absolutely no idea what they're doing.
We've got Rajon Rondo, Ray Allen and Mickael Pietrus. We should keep these guys.
The rest of the house must be rebuilt. Rip it up and start again. The longer we hold on to players for emotional reasons, the longer we'll have to suffer through the Heat winning championships.
If Joe Montana and Ray Bourque could be traded, then Paul Pierce can be traded. And Garnett can go as well. It won't affect their contributions to the franchise, and they'll still have their numbers retired at the Garden.
The longer these owners and managers screw around, the longer we'll go without a return to glory. 
Danny Ainge has been messing with this roster ever since we won the title. He obviously enjoys tinkering with it, and clearly his bosses don't mind what a terrible job he's done because they keep letting him tinker. So he might as well tinker us into a brand new team, just as long as he keeps our two best players and keeps Pietrus around.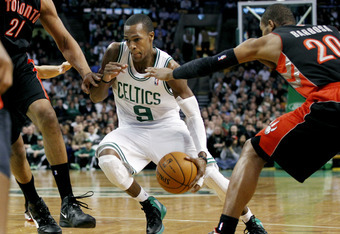 Rondo and Allen are playing elite basketball. Rondo has another 10 years in the league, and Allen has a few good ones left. We have arguably the best point guard in the league, and the greatest shooter in basketball history. That's the Big Two. We can build a team around them. 
Let's go get George Hill and Nicolas Batum. Let's try and maneuver for Danilo Gallinari and David Lee. Jason Terry, Landry Fields and Raymond Felton will be available in the offseason. 
Consider trades. The Memphis Grizzlies, the Milwaukee Bucks, the Minnesota Timberwolves and the Sacramento Kings are loaded with young talent. Yet none of these teams are close to a championship, not even Memphis. They must be searching for something. Perhaps we have what they need, and perhaps they have what we need. Deals could be made.
The idea of trading Pierce is painful, but I would love to know what potential deals are out there. Instead of theorizing in the dark, let's get some offers out there so we can have a debate with real information. Problem is, nobody's talking. It's all hypothetical.
The longer this stays hypothetical, the longer we'll keep losing.   
Celtics fans are sick over the very idea of losing Pierce or Garnett. There's no Celtics fan on the planet who would enjoy seeing either guy retire in any other color but green. The important thing to remember is that Celtics fans all want the same thing: we want to win.