Australian Open 2012 Results: Lleyton Hewitt's Streak of Good Luck Ends Here
January 21, 2012

Matt Blyth/Getty Images
Things are looking good for the man from Down Under at the Australian Open, as countryman Lleyton Hewitt has made his way to the fourth round.
Coming off of a four-set win over the strong Canadian Milos Raonic should have the Aussie's hopes riding high, as things just keep looking better and better for Hewitt. Unfortunately, this feel-good story will be coming to an end, as he will be pitted against world No. 1 Novak Djokovic.
The last time the Aussie made the tournament's fourth round was in 2010, when he was annihilated by Roger Federer in a three-set match. Hewitt managed to only grab onto nine games in that match, but he will be lucky to come anywhere near that in this one against Nole.
The 30-year-old's string of success thus far has been quite a nice story, but one can't ignore how he got there. He barely was able to handle Cedrik-Marcel Stebe in his first-round match, winning three of the four sets by two games. He had to stretch both the first and fourth set to 7-5 just to win it, which was nothing too convincing considering his competition.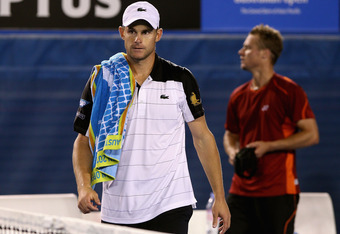 Quinn Rooney/Getty Images
His next match was against the American Andy Roddick—a matchup in which almost anybody would have taken the hometown hero in. 
Roddick took the first set with ease, winning it 6-3. Then, Roddick sustained a groin injury after being down 0-2 in the opening of the second set. From there, it was all Hewitt, who took that set to 6-3 and the following to 6-4. After the third, Roddick retired and Hewitt got off scratch free.
The fact that he wasn't able to destroy an immobile Roddick doesn't leave a lot of room for him to succeed against Djokovic.
He was able to save a lot of rest, as this match could have potentially been a five-setter. Heck, he could have been finished in three if Roddick didn't get hurt.
His last match against the young Raonic, which he won in four sets, was more of a reason to believe he can do something here. But even with that impressive finish, fans still can't expect him to even have a shot at the world's No. 1 player.
He is just too strong and good for Hewitt. At this point in his career, him making the fourth round should be considered a win.
Nole has yet to even give up a set this tournament, and Hewitt is no greater challenge than all the other weak opponents he has had thus far.
It was really a great story for the first week of the Aussie Open, but unfortunately, there will not be any screaming of "Aussie, Aussie, Aussie. Oi! Oi! Oi!" when Hewitt struggles to even make a match out of this.
Jeff Chase is a featured columnist for the Chicago Cubs and Arizona State football.