Zack Wheeler vs. Matt Harvey: Who Will Be the NY Mets' Best Pitcher Long Term?
January 24, 2012

Stephen Dunn/Getty Images
It's going to be a long 2012 season for the New York Mets. The Amazins seemed destined for last place in the very difficult NL East.
There is, however, a shining light on the horizon for New York because their farm system is blessed with two of the best pitching prospects in baseball, right-handed hurlers Zack Wheeler and Matt Harvey.
So which one projects to be better long term? Are we talking about another Tom Seaver and Jerry Koosman here? Will one of them be as dominant as Dwight Gooden was when he burst onto the scene in 1984?
Only time will tell, obviously, but both Wheeler and Harvey appear to have the physical tools and mental makeup at such a young age to be the anchors of the Mets rotation for years to come.
Let's take a closer look:
Wheeler is a 6'4", 185-pounder from Smyrna, GA. He was the sixth overall pick in the 2009 MLB June Amateur Draft and first-round selection by the San Francisco Giants. Mets General Manager Sandy Alderson acquired him in the Carlos Beltran trade last July and it looks like Alderson got quite a steal. Wheeler was ranked as the Giants' top minor league pitching prospect.
Beltran hit .323 but appeared in only 44 games for the Giants before signing this winter as a free agent with the St. Louis Cardinals. He'll certainly help the Red Birds but Beltran turns 35 in April while Wheeler doesn't turn 22 until May 30.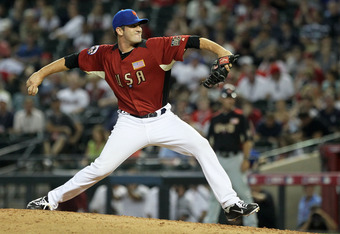 Jeff Gross/Getty Images
According to Baseball America, Wheeler is the top minor league prospect in the entire Mets organization. He sparkled while pitching for the St. Lucie, New York's Single-A affiliate last summer, posting a 2-2 record with a 2.00 ERA and 31 strikeouts in 27 innings.
Wheeler owns a 12-10 ledger, 3.68 ERA and has 199 K's in 173.2 innings pitched during his entire minor league career. He'll be spending most of 2012 at Double-A Binghamton as continues to ascend through the organization. I have not had the pleasure of seeing pitch in person yet (I hope to this summer) so I can't give you a first-hand account to date.
However, this is what ScoutingBook.com says about the promising young hurler:
Wheeler mixes his 96 mph fastball with a curve ball that's already a plus pitch. He's adding a changeup, and if he can make it even a league-average offering he can be a middle-rotation starter anywhere. Even without one, his fastball-curveball combination is good enough for a major league bullpen today. He'll need some seasoning, of course, and scouts would like to see his pitcher-perfect body take on a starter's workload.
The 6'4", 210-pound Harvey was New York's first-round selection (seventh overall) in the 2010 MLB June Amateur Draft. The New London, CT. native dominated Single-A ball last season, garnering an 8-2 mark with a 2.39 ERA at St. Lucie. In just 76 innings, Harvey struck out 92 and owned a 1.197 WHIP. Impressive.
The former University of North Carolina product struggled somewhat after he was promoted to Double-A Binghamton—he owned a 5-3 mark with a 4.53 ERA—but he continued to average more than a strikeout an inning, whiffing 64 in 59.2 innings. Harvey had some problems with his command though (his WHIP was 1.358)
Look for Harvey to start the season at Binghamton and if all goes well look for a promotion sometime in mid-summer to Triple-A Buffalo. He is currently rated the No. 2 prospect in the Mets farm system, according to Baseball America.com.
Harvey is a little older and a little farther along than Wheeler is at this point in their respective careers. ScoutingReport.com was equally impressed with Harvey as well.
Matt Harvey is a tall righthander from Mystic, Connecticut who pitched his college ball at UNC, where a few tweaks to his high-school delivery paid off with extra cheese on his fastball", according to ScoutingReport.com. "He can dial that smooth, easy heat up to 98 mph and has a propensity for throwing ground balls. His command is spotty, but nothing out of the norm for such a young, high-upside arm. He should move quickly through a pitching-poor Mets system.
That pitching-poor Mets system has gotten appreciably better with Wheeler and Harvey in tow. Don't be surprised to see both in the 2013 Mets rotation if they continue to develop and stay injury free.
Which pitcher will be the best long term? Wow, that's so tough to prognosticate. So tough. Baseball is such an inexact science.
All I know is, Wheeler and Harvey may not turn out to be another Seaver and Koosman (although you never know) but they have the potential to anchor the Mets rotation as the No. 1 and No. 2 starters for years to come.
So who is the No. 1 starter and which hurler is No. 2?
It should be fun to find out.