Breaking News: Even More Changes to WWE 2012 PPV Schedule
January 23, 2012

It seems WWE just can't make up their mind when it comes to their pay-per-view schedule.
Recent word from WWE officials is that even more changes to the 2012 schedule are to be made. With the July Money in the Bank PPV event being dropped, it looks more likely that the infamous ladder match incarnation is going to return to being a fixture at WrestleMania.
We've known this for quite some time, so that isn't the shocker. What is, however, is what is replacing the event.
Recent reports suggest TLC, previously held in December, is to take the July slot once meant for Bragging Rights, an October PPV used in 2009 and 2010. Bragging Rights has been reported to return in 2012, first slotted in for June, replacing 2011's Capitol Punishment that replaced 2010's Fatal 4 Way, but was then moved to December after Fatal 4 Way took the June slot. Now, Vengeance, the PPV brought back last year, has been given the December slot in favor of Bragging Rights.
So, as it goes, the current 2012 WWE PPV schedule looks like this:
January 29 - Royal Rumble
February 19 - Elimination Chamber
April 1 - WrestleMania XXVIII
April 29 - Extreme Rules
May 20 - Over The Limit
June 17 -  Fatal 4 Way
July 15 - TLC
August 18 - SummerSlam
September 23 - Night of Champions
October 28 - Hell in a Cell
November 18 - Survivor Series
December 16 - Vengeance
Once again, Bragging Rights is without a slot on the schedule, but with WWE's persistence to have the Raw vs SmackDown PPV back after a year's absence, it is likely more changes will take place in the next month or two.
This isn't uncommon for WWE to constantly change PPVs and slots on the calendar.
Night of Champions originally was held in June in place of Vengeance from 2007 to 2008, before moving to July for 2009. Now it has been held in September since 2010.
Vengeance originally began in December of 2001, replacing Armageddon for a year before moving to July from 2002 to 2004 and then to June from 2005 to 2007.
Extreme Rules replaced One Night Stand from 2008 to 2009 as the June PPV before replacing Backlash for the April/May "fallout" PPV of WrestleMania.
And who could forget WWE's decision to scrap Survivor Series in 2010, only to reverse the decision after fan backlash?
But it's worrying that WWE is struggling to assign PPV slots when the 2012 schedule is already underway. Sure, it doesn't take much for WWE to change what sets they have to take with them on the day; but with WWE's persistence to have gimmick PPVs, their indecisive nature on where to put these PPVs shrieks incompetence.
Furthermore, in WWE's haste to add in and bring back PPVs, other more successful events are being dropped.
Even though only one WrestleMania has not had the Money in the Bank ladder match since its inception, I didn't much miss it at WrestleMania XXVII, and that had something to do with how good the past two MITB PPVs had been. Both years WWE managed to create a great PPV on the night and also four different outcomes from the MITB matches that impacted WWE for the rest of the year.
2010 saw Kane win SmackDown's briefcase and cash-in the same night to win the World Heavyweight Championship, while The Miz held Raw's briefcase until late November to win the WWE Championship.
2011 saw the shock win of SmackDown's briefcase by Daniel Bryan and his shock cash-in to win the World Heavyweight Championship in December. Meanwhile, Alberto Del Rio capped off a great first year by winning Raw's briefcase and winning his first WWE Championship a month later.
Also, while at first it was looked at as being a potential train wreck, the TLC PPV in December from 2009 to 2011 has been a great success and a seemingly great mirror PPV to Extreme Rules earlier in the year. Yet it has now been moved and its slot for 2012 is still not completely certain, while other more disappointing PPVs continue to be favored and unchanged.
For two straight years, Over The Limit has been the worst PPV of the year, yet WWE continues to use it, even when its apparent jinxing makes even more sense to drop the PPV completely.
After a one-time use in 2010, the exclusion of the dreadful Fatal 4 Way PPV in 2011 helped make last year one of the better years for WWE PPVs, yet WWE is adamant to have the PPV back for 2012. And despite the constant protests by fans, WWE will not budge on having a Hell in a Cell PPV in November, despite the whole concept still not really fitting an annual PPV slot. It would be much better used at different points each year to cap off long-running feuds.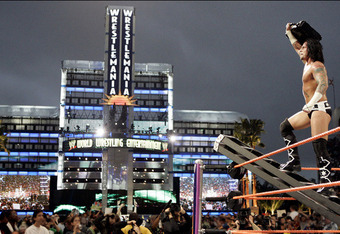 Also, with the uncertainty of which, if any, PPVs will be used on the WWE Network launched April 1st, this constant moving around of events has two likely purposes.  One is to serve as a way of making the network more enticing for potential customers to buy it to see great PPVs mostly every month. The second is for WWE to split the number of events held on the network to have great PPVs purchasable on pay-per-view every other month to try and make up any potential losses in buyrates that their B-events miss out on by being on the network.
With another five months to go, however, until these changes cannot be altered any further, expect more upheaval as WWE continues to move around their PPVs for their 2012 schedule.
What do you think? Are you happy MITB will be back at WrestleMania? Do you mind TLC will not be in December? Do you want to see Bragging Rights or Fatal 4 Way return? Please comment below.
Thanks for reading.