NHL: The Decline in Fighting Is a Very Good Thing for the Future of Hockey
January 24, 2012

Rich Lam/Getty Images
"I went to a fight the other night, and a hockey game broke out."
That famous quote from comedian Rodney Dangerfield has defined the National Hockey League for decades.
For some strange reason, man's oldest form of competition decided long ago to embed itself in hockey's DNA, and the sport has yet to shed its fist-laden roots for a more politically correct set of rules.
The most masculine side attraction in sports has not only surrounded hockey with a near century of controversy, but also truly captivated generations of testosterone-happy sports fanatics.
Bob Probert. Terry O'Reilly. Tiger Williams. Dave Schultz.
Everyone knows who these bullies were, what they did and why we still remember them today. And if you haven't heard of one or two, just type in the first few letters on YouTube and autofill will do the rest.
They weren't famous for their impressive stickhandling, pinpoint passing or cannon-like slapshots; no, they were famous for simply punching the [fill in the blank] out of every single opponent they could find.
Each team set aside at least a couple spots for their designated enforcers—just like baseball's No. 9 spot in the batting order—and if you could skate for at least 20 seconds and then hammer away at someone else's skull for quite a while longer than that, you had the job.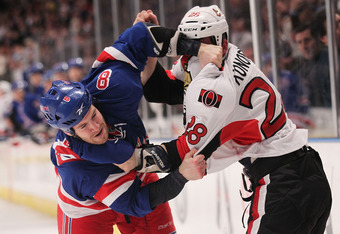 Nick Laham/Getty Images
But that era has come and gone, and, at last, Mr. Dangerfield's humorous and (in truth) fairly accurate depiction of a hockey game may have passed its expiration date.
A USA Today column from earlier this month revealed a startling revelation. All of a sudden, the statistics prove that fighting is declining in the NHL.
Correction—declining rapidly.
Indeed, the latest numbers from HockeyFights.com verify that toe-to-toe showdowns have taken a major dip in 2011-2012.
On a short-term basis, the number of fights has declined a whopping 16.3 percent, as the 30 teams of the NHL are currently on pace for just 540 fights this season, compared to their total of 645 from a year ago.
(It is worth noting, however, that the number of games with a fight has only declined about five percent.)
The same trend holds true over a wider range, as well. The league is on pace for its fourth consecutive season of fewer fights than the previous year, continuously dropping from a seven-year high of 734 in '08-'09.
These new stats have drawn both support and opposition from across the continent, relieving more than a few mothers of recently drafted prospects but also, as should be expected, inspiring several off-color comments from Toronto GM Brian Burke.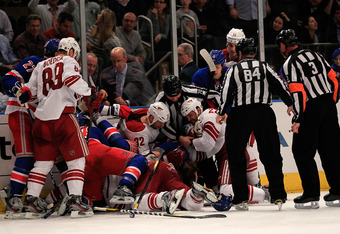 Chris Trotman/Getty Images
And while this apparent foreshadowing of the future of hockey enforcers certainly makes us feel a little pity for Paul Bissonnette, it's nearly undeniable that fewer fights will eventually turn out to be a very good thing for the future of hockey.
The clearest and most obvious effect of this trend will be a subsequent decline in head trauma injuries (in addition to broken noses and loose teeth, but nobody cares much about that).
The deaths of three former fighters during the summer of 2011, all of whom were younger than 33, officially opened the NHL's eyes to the brewing concussion concerns engulfing the sports world. 
But it is the Sidney Crosby post-concussion syndrome debacle that has transformed this health problem from another bullet point on the "Dangers of Sports" list to a worldwide fear.
Concussions and their future side-effects are matters that were first brought into the media spotlight several years ago in the NFL, but have since exploded into a global calamity big enough to attract even a National Geographic cover story.
Many believe the only effective strategy to remove concussions from the NHL and the sport of hockey would be to outlaw all parts of the game that lead to these now-taboo injuries. Step one, they say, would be to abolish the childish yet extremely dangerous routine known as fighting.
You can call them wimps, cowards and various other bleep-worthy words all you want, but let's face it: When judgment day comes, they'll probably be right.
Thankfully, though, the players of the National Hockey League are solving that dilemma for them.
As we've previously discussed, all the number-crunching points in one direction—fighting really is headed downhill, with barely any encouragement from the likes of the NHL front office or its much-loved commissioner Gary Bettman.
Yes, we know, there's no way that's true. There must be a mistake. Either our computers are failing us or Harold Camping was the man behind the calculations, because it's just not possible.
But it is.
So, hate it or not, it's tough to question that the NHL is currently receiving a very welcome, if belated, Christmas gift from Zenon Konopka, Trevor Gillies and the rest of their players.
The decline of fighting is a movement that can be called nothing but a very good thing for the future of the grand sport of hockey. And that's a fact we'll just have to learn to live with.
Mark Jones is currently Bleacher Report's featured columnist and community leader for the NHL's Carolina Hurricanes. In his 40 months so far with the site, he has written more than 335 articles and received more than 400,000 total reads.