NFL Draft 2012: First-Round Picks to Consider for Philadelphia Eagles
January 24, 2012

Kevin C. Cox/Getty Images
With the rival New York Giants playing for the Super Bowl in two weeks, Philadelphia Eagles fans have to be wondering if, with a couple of changes, they can see their team in a Super Bowl next season. The first way to build toward a successful season, and future, is through April's NFL draft.
It is clear the need of the Eagles' is on defense. With a stellar defensive line consisting of three Pro Bowlers (Trent Cole, Jason Babin, Cullen Jenkins) and star-studded cornerbacks that also consist of three Pro Bowlers (Asante Samuel, Nnamdi Asomugha, Dominique Rodgers-Cromartie), it is clear that safety and linebacker will be the points of focus in the early rounds.
The Eagles sit at pick 15, and there is plenty of talent that pertains to their needs in the mid-to-late first round.
The first player the Eagles should target is linebacker Courtney Upshaw out of Alabama. Did anybody see this All-American play in the BCS National Championship Game? He was everywhere. LSU could not manage to stop him, allowing him to record six tackles and a sack. Upshaw is the complete package.
Upshaw's strength, at 6'2 and 265 lbs., is as a great run-stopper. His speed and quickness also make him a great pass-rusher off the edge, and his awareness and lateral quickness allow him to have success in coverage.
Upshaw is projected to be taken by Buffalo at pick 10, so the Eagles would have to trade up. They have two second-round picks because of the Kevin Kolb trade, so it is very possible.
If the Eagles continue their passive ways in the draft of quantity over quality and do not trade up, the player they could draft at pick 15 would be more than satisfactory. Luke Kuechly, an All-American linebacker out of Boston College, could be exactly what the Eagles need. He is a hard-nosed, old-style, run-stopping middle linebacker.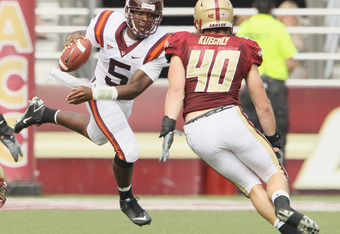 Elsa/Getty Images
He is a little smaller than Upshaw, standing at 6'2" and 237 lbs., and doesn't have a the speed or quickness of Upshaw. However, he plays with a tremendous will. He studies like no other linebacker in the draft and never takes a play off.
The third consideration for the Eagles' first-round pick is Mark Barron, the strong safety out of Alabama. Another first-team All-American, Barron could be paired with the Eagles' second-round pick in 2010, Nate Allen, to make a dynamic duo for years to come.  
Allen's cover skills with Barron's big-hitting ability would make a great tandem. He is the best safety in the draft, standing at a whopping 6'2" and 218 lbs., and is currently project to go the Jets at pick 16. His cover skills are above average, but, like any skill, with time and good coaching it can improve.
The Eagles have a lot of options in the 2012 draft.  With two second-round picks and the Asante Samuel trade rumors, there may be huge transactions on draft day. With any of these three options, the Eagles defense will make an improvement needed to be an elite team next year.
Oh, and also look for the Eagles to draft a quarterback in the late rounds, and to develop him behind Michael Vick. They will need one considering the unlikeliness they re-sign Vince Young.
Great job you did for the team this year, Vince, coining the ever-so-made-fun-of "Dream Team" phrase.