2012 NHL Mock Draft: Projecting All 30 Picks of Round 1
January 24, 2012

The 2012 NHL draft is already being coined the "Fail for Nail." Nail Yakupov is the odds-on favorite to be the first overall pick, and he is considered by most scouts to be a truly elite prospect.
After Yakupov, it's anybody's guess.
This is the first installment of my 2012 NHL Mock Draft. More coverage of the draft to come.
If you don't mind, give me some feedback on the format of this article in the poll at the bottom or in the comments. Thanks.
1. Columbus Blue Jackets
Nail Yakupov, Winger, Sarnia Sting
Yakupov is the runaway favorite to be selected first overall in the 2012 NHL Entry Draft. The Russian-born winger has been terrorizing the OHL since entering the league last season. He scored 101 points as a rookie for the Sarnia Sting, and has average two points per game thus far this season.
He is a special player with insane offensive skills. Speed, vision and shooting are among his many outstanding attributes. Despite a recent injury, Yakupov is still the front-runner to be drafted first. The Blue Jackets could use an impact player up front.
2. Edmonton Oilers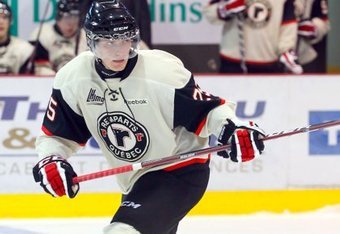 Mikhail Grigorenko, Center, Quebec Ramparts
In any other draft, Mihail Grigorenko might be the first overall pick. Unfortunately for the Russian star, his fellow countryman Yakupov will likely have that honor. That's no slight on Grigorenko, though. He already has 59 points in 37 games this season in the QMJHL.
At 6-feet-2 inches tall, Grigorenko has the size to match his incredible offensive ability. Scouts are looking for more consistency this season, and so far, so good. The Oilers hate to find themselves drafting this high again, and while a defenseman may seem like the logical choice after drafting so many forward prospects, Grigorenko is certainly the best available player.
3. Carolina Hurricanes
Mathew Dumba, Defenseman, Red Deer Rebels
Mathew Dumba is an exciting player to watch. He's a big risk taker, and loves to throw his weight around on defense. His shot from the point is a laser, and he is an excellent skater and also a great leader.
4. Buffalo Sabres
Filip Forsberg, Winger, Leksand (SWE)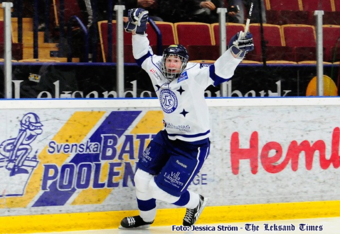 Filip Forsberg creates tons of chances offensively and has great skills to finish plays. He's one of the few European-born players that is spending his season in his home country, which could play to his advantage if he has a strong season.
As a '94 birthday, Forsberg got some ice time on the power play for Sweden's gold medal-winning World Junior team. While Buffalo's struggles are mostly linked to the play of the d-men, it's tough to imagine Forsberg falling any farther than this.
5. Anaheim Ducks
Ryan Murray, Defenseman, Everett Silvertips
Ryan Murray hasn't had the greatest start to his draft-eligible season. Slowed by an ankle sprain and weak supporting cast, he has only 16 points in 21 games and is a minus 11 so far this season. He'll have to get healthy and step up his game to be the first defenseman taken in the 2012 NHL Draft.
6. Tampa Bay Lightning
Morgan Rielly, Defenseman, Moose Jaw Warriors
Morgan Rielly is the ideal power play quarterback. He handles the puck as well as any defenseman in this class and has tons of vision on the rush. He had 18 points in 18 games for Moose Jaw, but will miss the remainder of the season with a knee injury. Still, he is considered a top ten pick by many scouts.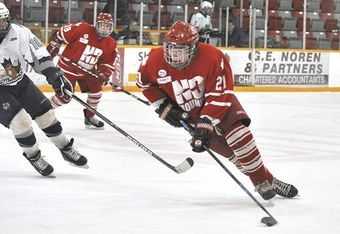 7. New York Islanders
Zemgus Girgensons, Center, Dubuque Fighting Saints
Committed to the University of Vermont for 2012, Zemgus Girgensons displays great instincts in the offensive zone. He stood out at the World Junior Championship on an overmatched Latvia team. He continues to light up the USHL, and could be in line to be selected in the top ten of the 2012 NHL Draft.
8. Montreal Canadiens
Nick Ebert, Defenseman Windsor Spitfires
Nick Ebert is a raw, two-way defenseman with all of the physical tools that scouts look for. He plays a physical brand of hockey and is aggressive with the puck on the rush. He is looking to improve his decision making with the puck in his own end heading into the 2012 NHL Draft.
9. Phoenix Coyotes
Jacob Trouba, Defenseman, USNTDP (USHL)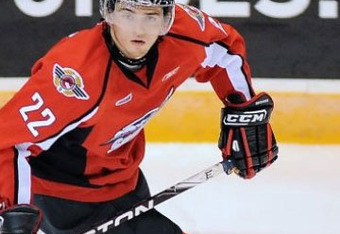 The best American-born prospect available in 2012 is defenseman Jacob Trouba. He has the poise, positioning and defensive awareness that is rare to see from a 17-year-old. Trouba is a strong passer, but doesn't have the offensive game that some of the other D-men in this class possess.
10. Winnipeg Jets
Alex Galchenyuk, Center, Sarnia Sting
A knee injury has derailed Alex Galchenyuk's season, but his talent and offensive awareness are undeniable, and he will be a high pick in the 2012 NHL Draft. Here's hoping his rehab goes well.
11. Dallas Stars
Griffin Reinhart, Defenseman, Edmonton Oil Kings
Griffin Reinhart has all of the tools, but this season he has to put it all together to take his game to the next level. At 6-feet-4 inches tall, Reinhart has plenty of size to go with his offensive skill. Reinhart is off to a decent start this season with 23 points in 34 games for the Oil Kings to go with a plus 13 rating.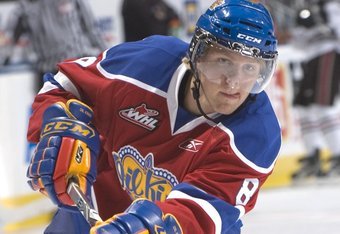 12. Toronto Maple Leafs
Brendan Gaunce, Center, Belleville Bulls
Brendan Gaunce is rising up draft boards quickly with 33 points in his first 30 games in the OHL this season. His compete level is always high and he plays a sound two-way game.
13. Calgary Flames
Jordan Schmaltz, Defenseman, Sioux City Musketeers
The Calgary Flames need a complete rebuild. Whether or not management is willing to commit to one is another story, but they are in desperate need of talented prospects.
Jordan Schmaltz is used to playing in the spotlight after committing to the University of Wisconsin at the ripe age of 14. A natural on the power play, Schmaltz has since de-committed after a coaching change and will play for North Dakota next season.
14. Minnesota Wild
Cody Ceci, Defenseman, Ottawa 67's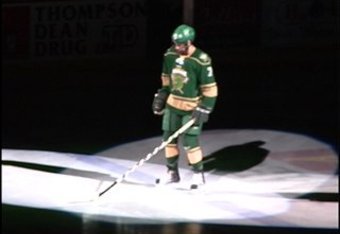 Cody Ceci's draft stock is soaring with the talented rearguard starting off 2011-2012 with 40 points in 40 games. He also is sitting at an incredible plus 23 rating. Ceci was one of few draft-eligible players invited to play with Canada at the World Juniors.
15. Washington Capitals
Sebastian Collberg, Winger, Frolunda (SWE)
Sebastian Collberg thrives on speed. The Swedish winger has an excellent shot, which he is not afraid to let go from all over the ice. If he had a more well rounded game, he might crack the top ten. Collberg is exactly the type of player that the Capitals love to draft.
16. Washington Capitals (from Colorado Avalanche)
Andrei Vasilevski, Goalie, Russia
Standing at 6-feet-4-inches tall, Andreir Vasleksi is the most highly regarded goaltending prospect available in the 2012 NHL Draft. This may come as a surprise after a somewhat disappointing showing at the World Juniors, but scouts are still very high on the Russian goalie.
Washington would love to get some young blood in their system, and they have a tendency to draft Russian prospects.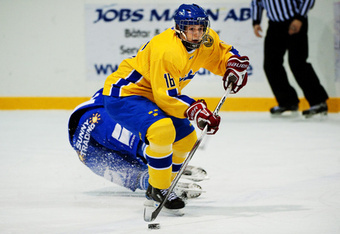 17. New Jersey Devils
Malcolm Subban, Goalie, Belleville Bulls
Malcolm Subban is the second goaltender to crack the top 20 and could end up being the first goalie off the board. The Rexdale, Ontario native has posted an outstanding 1.93 goals against average to go with a .938 save percentage and a pair of shutouts in his first 19 games this season.
18. Florida Panthers
Pontus Aberg, Winger, Djurgarden (SWE)
Pontus Aberg has the skating ability to be a top ten selection in the 2012 NHL Draft. However, concerns about his consistency and defensive abilities have caused him to drop a bit.
19. Los Angeles Kings
Martin Frk, Winger, Halifax Mooseheads
Martin Frk has created a ton of buzz since coming over from the Czech Republic. After 50 points a year ago, Frk missed the early portion of the season with a concussion. He'll have to make up for lost time to climb back up the rankings.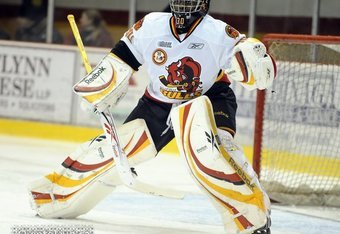 20. San Jose Sharks
Slater Koekkoek, Defenseman, Peterborough Petes
The most impressive aspect of Slater Koekkoek's game is his ability to consistently play sound defense despite logging tons of minutes. That's the sort of thing a scout loves to see. He is as smart as he is poised in his own end. There is a ton to like about this kid as a prospect.
21. Pittsburgh Penguins
Olli Maatta, Defenseman, London Knights
The first overall pick in the 2011 CHL Import Draft, Olli Maatta has come over from Finland and done a fine job with the London Knights. He is well polished in his own end and produces well on offense thanks to his passing ability. However, he struggled mightily at the World Juniors, but I don't think that will be enough to keep him out of the first round.
22. Ottawa Senators
Tomas Hertl, Winger, Slavia (Cze)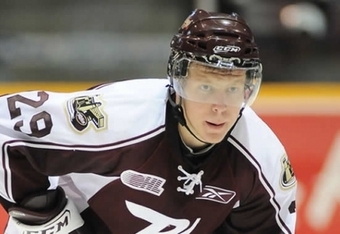 The Ottawa Senators have experienced a surge in the standings recently due to a crazy January. Their roster rebuild is coming along quicker than expected, but there is still some work to be done. Tomas Hertl looked solid at the World Juniors and cemented his status as a first round pick.
23. Nashville Predators
Matt Finn, Defenseman, Guelph Storm
Matt Finn is putting together a strong second season in the OHL. He has already surpassed his point total from a year ago with 30 points through 38 games. With the uncertainty surrounding some of the top Nashville blueliners, Finn would be a wise selection.
24. Philadelphia Flyers
Derrick Pouliot, Defenseman, Portland Winterhawks
Derrick Pouliot proved that he could be relied on as a top defenseman early this season when Joe Morrow was with the Penguins. Pouliot has come down to earth since Morrow came back, but he still has enough value as a two-way defenseman to be a potential first-rounder.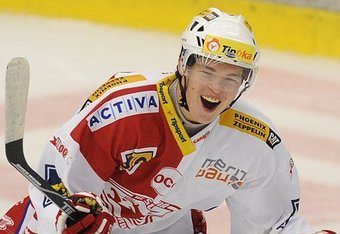 25. Vancouver Canucks
Radek Faksa, Center, Kitchener Rangers
Radek Faksa's stock has been on a steady incline for the entire season. He has tremendous playmaking ability and a wealth of offensive ability. The Vancouver Canucks would be lucky if he was still available at this spot.
26. Chicago Blackhawks
Ludvig Bystrom, Defenseman, Modo (Swe)
Ludvig Bystrom is benefiting from the experience of playing in the Swedish elite league at a very young age. His strong hockey sense will give him a shot at being a first round draft choice.
27. St. Louis Blues
Jarrod Maidens, Center, Owen Sound Attack
Best known for his game-winning goal in last year's Memorial Cup, Jarrod Maidens is a hard working center with a strong two-way game. He has also improved his offensive output this season, averaging just under a point per game. The Blues are in need of some offensive talent.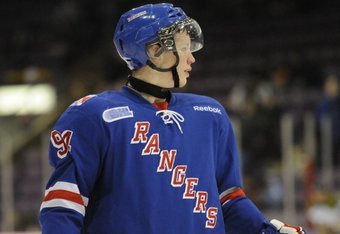 28. Boston Bruins
Brady Skjei, Defenseman, USA – U18
Brady Skjei has started to gain steam as a first round prospect. He is a tough kid, but will take a bit of time to develop. Boston would be the perfect place for him, because there would be no rush for him to turn pro.
29. New York Rangers
Stefan Matteau, Wing, USNTDP
Stefan Matteau is a scorer with an edge. He has racked up over a hundred penalty minutes this season, all while improving exponentially as an offensive player, leading his team in points. He's the type of guy the Rangers always seem to target.
30. Detroit Red Wings
Andreas Athanasiou, Forward, London Knights
Andreas Athanasiou is a flashy playmaker up front. He'll have to refine his all-around game at the next level, but his offensive upside makes him a fringe first round prospect.