Tennessee Lady Volunteers: Time for Pat Summitt to Abandon the Bench
January 25, 2012

Joe Robbins/Getty Images
The time has come for Pat Summitt to stop coaching—like, yesterday.  To do so just might provide the most enduring legacy of a glorious and legendary career.
She is and has long been among the most influential advocates not just for women's basketball, indeed not just for women's athletics, but for the noble societal values of gender equity and diversity.
Before your mind starts conjuring visions of some idealistic, flighty flower child from the '60s, understand that this is a competitive, driven woman who completed her 37th year in the only job she's held in her adult life last year when she turned 59 years of age.  Your mental abacus ought to be able to compute that simple subtraction and recognize that she took the conductor's chair for the Lady Vols at the tender age of 22 in 1974.
The native of Ashland City, TN had been offered an assistant coach's position in Knoxville while still enduring a senior season at the University of Tennessee at Martin lost to a severe knee injury.  Before summer arrived, Patricia Sue was the Head coach when predecessor Margaret Hutson opted for a sabbatical.
The term "multi-tasking" had not taken hold in the popular vernacular back then, but Coach Pat, repaired knee rehabilitated, took to the court as a co-captain of the silver-medal-winning USA Olympic squad for the 1976 Games in Montreal.
As stateside professional playing options were virtually non-existent in the 1970's, Pat turned her full attention to her team and her players.
And what a record of achievement has ensued!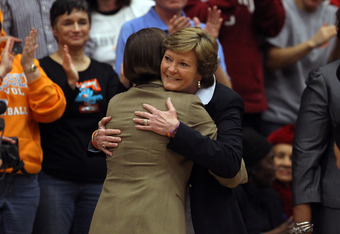 Ezra Shaw/Getty Images
More than 1,000 victories—a winning percentage of nearly .850.
Eight national titles, three separate recruiting classes who earned their way to four Final Fours.
And most impressive of all, every last player who completed her eligibility in Pat Head-Summitt's program received a degree from UT.  That's a 100 percent graduation rate, folks. It don't get any better than that.
Her brave decision to coach on, in spite of the recent diagnosis of her affliction with Early Onset Dementia, has been met with a general chorus of support and admiration, even from this corner.
A take-on-all-comers attitude has permeated Summitt's career, indeed her life.  This season alone, her Lady Vols have squared off with half a dozen highly-ranked non-conference foes in addition to the always rugged SEC grind.  If competitive ball games can grow a sport, then Pat Summitt may have had as much to do with the viability of the WNBA as David Stern or anyone else.
Then why should she step down?  Should we not want her directly impacting our youth for as long as possible?  Is this not her decision to make?
The sad demise of Joe Paterno at Penn State leaves Coach Summitt as one of the few remaining extraordinarily tenured head honchos in college athletics.  Alas, far too many of these lengthy "reigns" end badly—Bob Knight at Indiana, Woody Hayes at Ohio State—and an honorable legacy is stained with a "but."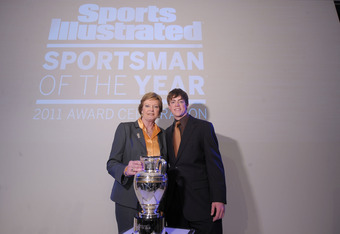 Michael Loccisano/Getty Images
Imagine if JoePa had stepped down 10 or 15 years ago, at the ripe young age of 70-something.  Could he have maintained an association with the program and the school, in an "E-meritus" role?  Of course.  Would he have been out of the line of fire in the Sandusky scandal?  Very likely.  Would he still be alive?  Who knows?
Consistent success, like that enjoyed by the Paternos, Hayses, Knights and Pat Summitts of the world, requires motivated effort, the kind of motivation that leads one to believe that there's no one else who can do this job.
When motivation trumps judgment, Coach hangs on too long and that staining "but" tends to reveal itself.
When better judgment carries the day—think Red Auerbach, who retired from coaching before 50, or John Wooden—Coach morphs into Elder Statesman and a more flattering obituary can be written.
The Tennessee Lady Volunteers have graced our TV screens quite often this season.  But didn't their coach look rather run down Monday night in South Bend—even before Muffet McGraw's second-ranked Green Colleens put a near 30-point spanking on her team?
Is Coach Summitt's condition responsible for the five Lady Vol losses this season?  Probably not; they've been addled with injury.
Are she and her staff capable of conducting business pretty much as usual?  Most likely they are.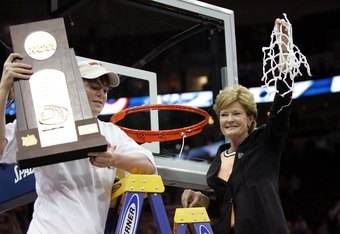 Jim McIsaac/Getty Images
But in the final analysis, the treatment of a physical malady, whether it's an athlete's hamstring or a coach's head, should, indeed must become the priority in the culture of our games.
Pat Summitt's contract with UT runs through the 2013-14 season, her 40th, which would pay her a hefty longevity bonus.  But this was all put in place four years ago.
The landscape has changed since then.
It's time for Pat Summitt to add an "E-meritus" to her title, and for the university she has served so well for so long to provide her a cushy job, a continuing voice in the program and a platform from which to expound her strong values and good judgment.
Most of all, we'll all get to celebrate an iconic legacy unconditionally…no "buts."
It's past time to know that feeling again.