Los Angeles Angels Are Winners with Detroit Tigers' Signing of Prince Fielder
January 25, 2012

Dilip Vishwanat/Getty Images
The Los Angeles Angels were pleasantly greeted Tuesday, with reports that free-agent first baseman Prince Fielder had signed a nine-year, $214 million contract with the Detroit Tigers.
Though the biggest winners in this deal must be Fielder, agent Scott Boras and the city of Detroit, the Angels also come out on top. If for no other reason than dodging the headache that could have been created had Fielder ended up with the rival Texas Rangers.
With recent—yet now unfounded—rumors linking Fielder and the Rangers, Angels' fans had held their collective breath: The Halos had made a spectacle of signing first baseman Albert Pujols and pitcher C.J. Wilson on the very same December day. Yet here were their interdivisional foes ready to rain on the Southern California offseason parade.
The Angels lured Pujols with a 10-year, $254 million contract, while penning Wilson to a five-year, $77.5 million deal.
These landmark acquisitions were meant to completely shake up the AL West landscape. Owner Arte Moreno, General Manager Jerry Dipoto and a stagnant Angels' team that finished 10 games out of first place in 2011 were on a mission to return to the postseason and quite possibly the World Series.
Meanwhile, the Texas Rangers—AL West champions in 2010 and 2011 and two-time American League pennant winners—responded to the Angels' colossal moves with a spending spree of their own.
First, Texas paid $51.7 million just for the right to speak with Japanese pitcher Yu Darvish. Then, the Rangers signed him to a six-year, $60 million contract, for a total of $111 million spent on just one pitcher.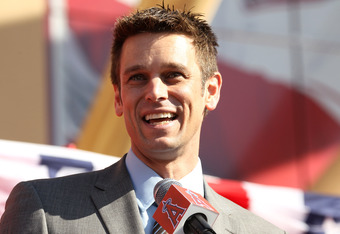 Stephen Dunn/Getty Images
In recent days, the offseason chess match between Anaheim and Arlington had come down to Pujols vs. Fielder.
With the Angels' Wilson move having been met by the Darvish acquisition, all that separated the Angels and Rangers in keeping pace from 2011 was the Angels' unprecedented signing of Albert Pujols.
By Fielder signing with the Detroit Tigers, the Angels win simply because Texas has still been unable, thus far to respond to the Pujols acquisition.
Though Moreno and Dipoto's original idea was that Wilson and Pujols would together create an advantage over Texas significant enough that the Angels would be able to overtake the Rangers in 2012, the logic now is that Pujols alone will be enough to bridge the gap.
Meanwhile, the impending return of Kendrys Morales, the potential transition of Mark Trumbo to third base and the elimination of Jeff Mathis at the hands of Chris Iannetta are all additional Angels' wild card factors that remain to be seen in 2012.
Gil Imber is a Bleacher Report Featured Columnist and owner of Close Call Sports, a website dedicated to the objective and fair analysis of close or controversial calls in sports.