Green Bay Packers: Are the Packers NFL's Moneyball?
January 27, 2012

Ronald Martinez/Getty Images
For the basis of this article I will not include anything about sabermetrics. Yes, I realize that sabermetrics was a big part of Michael Lewis' 'Moneyball,' but I feel I can make a different argument for Ted Thompson's version of "Moneyball." 
In 2005, Ted Thompson was hired to be general manager of the Green Bay Packers. Thompson came in with a plan, and that plan was to build through draft picks and make a team competitive.
Thomspon vowed to do this without spending the big money on over appreciated free-agent veterans. If he needed to sign a free agent, it would be a low-risk signing. 
He started by cleaning house and making his team younger. He parted ways with veterans Darren Sharper, Marco Rivera and Mike Wahle. All of these players seemed to have a lot left in them and were by no means terrible players.
However, Thompson saw a decline in their play, and let go of them much to the dismay of the players and fans.
Thompson then started building through the draft, taking his team from the oldest to the youngest in a matter of one year. During his first draf,t he drafted two notable players: Aaron Rodgers and Nick Collins. 
Rodgers, as we know, waited in the wings until he got his chance. Collins was thrust into a starting spot at free safety. Thompson's scouting abilities led him to believe that a rookie from Bethune-Cookman University could be a playmaker.
Two years later, Nick Collins made it to his first Pro Bowl. Since then he has made four Pro Bowls. 
Rodgers has gone from a underappreciated second-string QB to one of the best quarterbacks in the league. Thompson took a chance drafting Rodgers, who many thought would be a bust.
He also drafted Rodgers with future Hall of Fame QB Brett Favre on the roster. This bold move paid off in the end as Rodgers led the Packers to a Super Bowl victory in 2010.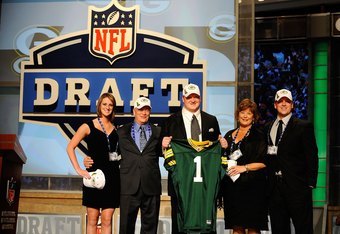 Jeff Zelevansky/Getty Images
Other notable draft picks include:
Gregg Jennings, WR.
Jermichael Finley, TE
Matt Flynn, QB
James Starks, RB
James Jones, WR
Jordy Nelson, WR
BJ Raji, NT
Clay Matthews, LB
AJ Hawk, LB 
Randall Cobb, WR
Bryan Bulaga, OT
Darynn Colledge, OT
Thompson has made key moves through the draft, while other teams were spending big money to get wins, Thompson was sitting back and grabbing undrafted free agents for a minimum price.
In 2010 when a league high 15 players were placed on IR, Thompson didn't trade for big name players or sign a running back, which they needed. He signed undrafted free agents, and depended on a sixth-round draft pick to carry the load at running back.
Everything worked out as Thompson did everything right, and many attributed it to luck, but to plug in that many players to help win a title takes a great talent evaluator. 
Thompson built a contender at a low price in a sports world where money practically buys championship. He has made his own version of "Moneyball" in the NFL. Let's call it "Teddy Ball."
This form of football fits Green Bay perfectly. The smallest pro football team keeps proving people wrong by winning through drafts and low-key signings. 
If you're not a Packers fan, then I advise you to tune in and watch "Teddy Ball" at its finest in the 2012 NFL Draft this April.