Chris Harris Interview: Denver Broncos Star UDFA Talks Rookie Season
January 27, 2012

Chris Harris has just wrapped up his first season in the NFL with the Denver Broncos. Harris led all rookie defensive backs in tackles on the year (65 tackles), and also contributed with an interception and six passes broken up. Harris is a young and talented undrafted free agent, but not many fans know much about him other than what they see on the field.
Chris was kind enough to take time out of his busy offseason to give us the inside scoop on his journey from a combine snub to landing on the Pro Football Weekly's All-Rookie team.
Austin Quick: Not many people know that you were not even invited to the combine. Did that negatively impact you at all?
Chris Harris: "That definitely added more motivation. Personally, I definitely felt I should have been there. I don't know how they chose that, but it added more motivation for me to go out and prove people wrong."
AQ: As an undrafted free agent, you had the opportunity to sign with a multitude of teams. What was it about the 3-13 Denver Broncos that persuaded you to sign?
CH: "My agent had been talking to different teams around the league. We felt that Denver was the best place for me. We were obviously looking at other teams, but they didn't fit me as well as Denver did. So we wanted in to be in Denver."

AQ: Playing in a secondary with Champ Bailey and Brian Dawkins isn't an opportunity that a rookie defensive back normally gets. What have you learned from these guys?
CH: "They definitely taught us how to be professionals. They really teach you how to prepare each week, and how to practice each week. Every week they would get us ready for the games, and taught us that if we prepare right during the week, then it will translate out on the field."
AQ: This year you were primarily used in a nickelback position and were asked to defend some great receivers including Antonio Gates, and Wes Welker. Do you prefer to stay inside at the nickelback, or do you believe you can move to the outside and be effective there as well?
CH: "With the way the NFL is, next year I definitely want to play outside and inside. The way the league is turning into a passing league, we are running nickel packages more and more, and I will normally be in a slot in the nickel. Since the NFL is turning into a passing league, I feel like I can play outside, inside and safety so it just really depends on where they want me to play." 
AQ: The season you and the Broncos put together this season was well documented by the media. Something that doesn't get mentioned much is the chemistry this team had. How did that factor into the success that this team had?
CH: "I think that really is what turned the team around. We really started clicking together, and playing together. The chemistry in the locker room was great. The team loved being with each other, and playing with eachother. When you are out on the field and you trust the guy across from you to do his job, that's huge." 
AQ: You were recently named to the All-Rookie team by Pro Football Weekly. What's it like to be on the list with fellow Bronco, Von Miller?
CH: "It's definitely an honor. I mean it's definitely something that showed how hard we worked, and was a reflection of how the season went. Honestly, I wasn't trying to get it, we wanted to win a Super Bowl. The more games you win, the more awards you get. It is an honor but the ultimate goal is just winning games."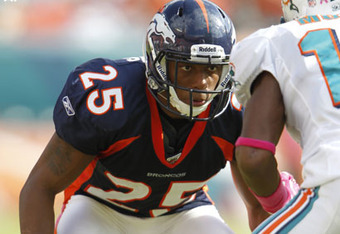 AQ: Many Broncos have praised Coach Allen and have wished him the best in his future job with the Raiders. How do you feel about Coach Allen, and his move to become the head coach of a division rival?
CH: "It's definitely going to raise the competition level a lot. Coach Allen is definitely a great coach, and he absolutely knows what he is doing on the defensive side of the ball. The Raiders will get better with him, no doubt. So we have to step up and get better too."
AQ: What can we expect out of Chris Harris in the future, as Denver Bronco fans?
CH: "I mean you can expect me to continue to play every game with all my heart. I really play the game with passion; I will always be around the ball. I want the fans to know that no matter what I'll give them all I have every game."
AQ: Do you have a Super Bowl pick for us?
CH: "I think I have to go with the Patriots over the Giants. I have to rep the AFC. I'm going with the team that knocked us out."