North Carolina Split-Personality Disorder; Why They Are Walking a Dangerous Line
January 28, 2012

Looking at college basketball rosters from top to bottom, it is hard to ignore the fact that the individual talent on the current North Carolina men's basketball roster is arguably top three in the nation. UNC has a stellar lineup that includes projected NBA players coming off the bench.
But the question is always floating around the campus of North Carolina...how do you blend all the individual talent together to create an elite team? So far, the Tar Heels have yet to answer that question.
UNC has had some elite moments during the 2011-12 campaign, but they are far from what most would consider an actual elite basketball team. In fact, after a humiliating 90-57 loss in Tallahassee by Florida State on Jan. 14, UNC (18-3, 4-1) does not appear to be a clear-cut favorite to run away with the ACC championship anymore. Teams like FSU, Duke and Virginia may be right there with the Heels as the ACC regular season comes to a close in early March.
So the questions still remains: Does North Carolina still have time to turn themselves into an elite, national powerhouse basketball team? What can UNC do to get to that level?
To answer these questions, here are four areas of concern that if fixed, could go a long way in helping the Tar Heels achieve success and ultimately bring them back to where they belong—standing as best team in the nation. 
Defensive Consistency and Discipline
North Carolina has struggled to maintain consistent man-to-man defense. At times, it appears that North Carolina defenders get caught up chasing the ball instead of staying with their initial assignment. It is obvious that there is a lack of discipline on the defensive end of the court, and that has to change.
UNC has many practices left and, in my opinion, the majority of team practice time remaining needs to be used on discipline of team and individual defense. Maybe not a simple fix, but this, nevertheless, can be fixed.
Find the Hustle, Passion and Desire
At times this year, UNC has appeared to, at best, just "go through the motions" on the basketball court. Looking back on the FSU loss, the Tar Heels were out-hustled on multiple loose-ball situations and appeared to lack the fire and energy needed to compete at a high level.
This is an easy fix, in my opinion, but this will take commitment from everyone involved. Instead of desiring to be special in all the stat sheets, the players involved should desire to be committed to never give up on plays until the whistle is blown. And that goes for every minute of every remaining game on the schedule.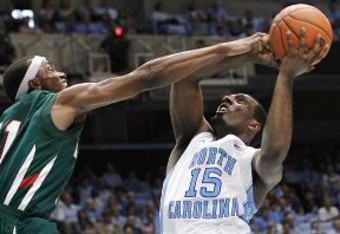 Shot Selection; Be Smart with the Rock
Many Tar Heel critics argue that UNC has no great or consistent perimeter shooters that can loosen up the opposing defense in the lane for the Tar Heel front line. I do not agree with this assumption.
Freshman guard P.J. Hairston has found himself in a shooting slump the last three games, only converting three of his last 17 three-point attempts, including an embarrassing 0-of-7 performance against FSU. The slump has brought Hairston's three-point field-goal percentage down to 32 percent for the year.
Trust me when you read that Hairston is better than that 32 percent. If you look at Hairston's recent attempts, you will see that his shot selection is ridiculously bad.  It is my opinion that if Hairston used better judgement about when to shoot the deep ball, he would probably be around the 40-42 percent range. P.J. Hairston can shoot the basketball very well, but someone needs to coach him up about shot selection and how important it is to pick your shots.  
P.J. Hairston is just an example of what the rest of the North Carolina shooters are struggling with.
Free Throws; They Are Free Points, Take Advantage
The North Carolina men's basketball team will lose some close games if they can't find a way to improve their free-throw percentage. As a team, North Carolina is making 64 percent of their free throws. That is an embarrassing stat. At 85.1 percent, freshman guard P.J. Hairston is the only player on this team to convert more than 80 percent of his attempts.
At 64.4 percent, UNC is currently No. 284 out of 338 programs in free-throw percentage.
In Summary
Let's be for real here...for UNC to call the 2011-12 season a success, they have to, at worst, hang their 19th Final Four banner after the conclusion to the season.   
It is my opinion that the best medicine for the split personality the Tar Heels appear to have is to improve on these four areas of concern. And it would also help to follow the FSU disaster by winning six games in a row, including a very important home game against arch-rival Duke. This combination would put the Tar Heels back into the elite conversation.