Saint Joseph's Basketball: The Hawks Fall Prey to the Owls
January 29, 2012
Chris Chambers/Getty Images
Saint Joseph's traveled up Broad Street on Saturday to battle city foe, the Temple Owls. 
In this 153rd meeting between the two schools, the Owls proved to be the better team, defeating the Hawks 78-60. 
In a sold-out Liacouras Center, Temple set the tone right from the start, led by seniors Juan Fernandez and Ramone Moore.
Of Temple's 38 first-half points, Fernandez and Moore accounted for 32. When asked what was the reason for their hot start, Moore said, "In the beginning of the game Juan came out firing. In the huddle we said we were going to get him the ball, then I caught fire as well."
On St. Joe's side of the ball, they seemed to never really get any sort of flow to the game. One thing head coach Phil Martelli had preached all season was pace of the game, which was absent on Saturday.
Martelli gave credit to Temple for dominating the game, saying, "That wasn't much of a contest. We were dominated, but they dominated, it wasn't that we just gave in."
Phil even went on to say, "We got waxed."
Just as it seemed the Hawks were going to put on a run, the Owls would come right back answer with a basket of their own.
With three minutes left in the first half, Langston Galloway drilled a three-pointer. Then Temple missed a layup and St. Joe's pushed it down the court. Chris Wilson missed a layup, but big man Ron Roberts was right there to grab the board and slam it home, resulting in Temple calling a timeout.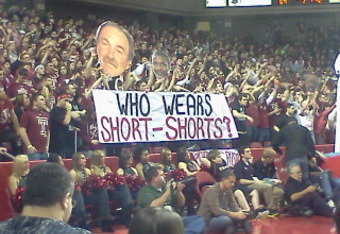 But this was about as close as the Hawks would get, as Fran Dunphy's squad seemed to be too experienced and too talented for the Hawks to handle.
An interesting tidbit about the game, it was part of the annual Coaches vs. Cancer "Suits and Sneakers" weekend, in which both coaching staffs wore sneakers to show their support for the American Cancer Society.
St. Joe's will travel to Richmond on February 1 for a very important Atlantic-10 road game.
SJU is now 13-9 overall and 3-4 in the A-10.
Eddie Ravert is a Featured Columnist for Bleacher Report. Unless otherwise noted, all quotes were obtained first-hand.