Prince Fielder: Chasing Father's Legacy While Wounds Still Heal
January 29, 2012

Ken Levine/Getty Images
Prince Fielder's signing with the Detroit Tigers not only sparked childhood memories, it also rekindled discussion of the smoldering relationship he and his father, Cecil Fielder, have endured over the past decade.
Prince's baseball bloodline was cemented when his father hit his 50th and 51st home run on the last day of the season for the Detroit Tigers back in 1990. At the time, Prince was a young boy living a childhood unlike most others—traveling the baseball world with his dad and growing up watching his father drive the ball deep at the corner of Michigan and Trumbull, where Tiger Stadium once stood.
At 12 years old, Prince was hitting baseballs out of old Tiger Stadium, where he often took batting practice with the team. Prince was a mainstay in the Detroit locker room during Cecil's time with the Tigers. In those times, Prince and his dad had a great relationship. Heck, they even did a McDonald's commercial back in the day following Cecil's historic 1990 season.
Today, Prince winces more at those memories than relishes in them. On his own terms, away from the media, he has opened up to teammates about the estranged relationship he and his father have. Early in his career, Prince was adamant that he had no desire to play in any media market where his father played. Yet, had Tigers owner Mike Illitch had the opportunity to draft Prince, he would have.
When the Tigers introduced the 27-year-old as their new first baseman to the Detroit media for the first time, Illitch made sure to note that he had always followed Prince's career, and was still disappointed Detroit had missed him in the draft to the Milwaukee Brewers by one pick (via MLB.com).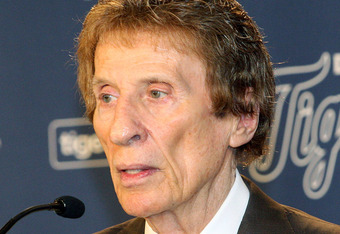 Jorge Lemus/Getty Images
As reported by Tigers beat report for MLB.com, Jason Beck, Illitch also stated last fall that he was intrigued and motivated at the thought about another big bat in an already potent Detroit lineup. Earlier this week he made good on those intentions. While the Detroit media delicately tip-toed around the obvious, it was apparent that Prince was more interested in talking about Pete Incaviglia, one of his father's teammates, than he was his dad.
Fielder repeated stories to the local press of Incaviglia stuffing him in trash cans at Tiger Stadium as a kid, laughing and smiling (via MLB.com). Mention of his father was swift and fleeting. It was not rude or disrespectful, nor was it a response of excitement that you might expect from a superstar player returning to the Motor City where he watched his All-Star father don the Old English D. Rather, it was somber, almost uncomfortable.
It was clear that Prince had little desire to talk about Cecil. He mentioned him in passing with little regard. What wound exists still continues to fester.
Prince rarely, if ever, entertains requests to speak about is father. Inevitably, from time to time, situations present themselves that make it impossible not to talk on the subject. Cecil, perhaps in attempt to further attention to himself, has often granted interviews on matters Prince has kept a private.
Cecil's interviews continue to be a mixed bag of emotion, as though he wishes his son would extend an olive branch to mend a broken relationship, while carefully inter-weaving his own versions of the truth and his right to be angry.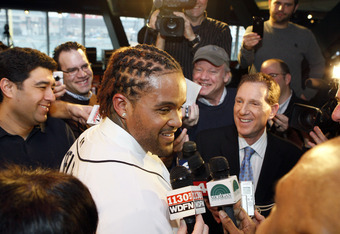 Jorge Lemus/Getty Images
Has the lingering affects of dual resentment caused a rift beyond repair?
In 2004, the Detroit News reported that Cecil had taken $200,000 of his son's $2.4 million signing bonus without his son's knowledge (h/t Fox Sports). Upon learning of his dad's indiscretion, Prince was so angered that, for all purposes, he disowned him, stating, "My father is dead to me." The past seven years haven't found much healing for Prince. Rarely does he speak of his power-hitting dad. 
Strange, but certainly understandable. It wasn't the first time his father had embarrassed him. After the failure of his parents' marriage, Cecil lived with his son while Prince was making his way up the ranks of the Brewers' minor league system.
While still in A-ball, Prince was served, on-field, with papers to deliver to his father giving notice that he was being sued for thousands of dollars in the six-digit range. Cecil further angered his son when he made disparaging and allegedly untrue remarks about his mother during heated divorce hearings   (h/t USA Today). 
The emot)ional abuse had taken its toll on the young Prince. Quietly he tried to escape a baseball world that included his father's lore, as well as the one he was building for himself. Milwaukee players had occasion to see Prince open up about his dad (h/t USA Today). 
In a cathartic manner, Prince would sometimes role-play his old man's style at the plate to humor his teammates, hiking his pants up high and mimicking his dad's swing to a tee. Somewhere in there may be a boy whose father disappointed him so greatly that words cannot undo his action. Time, perhaps, is the only thing that can heal such wounds.
It's been 27 years since Detroit has celebrated a world championship, and the franchise's owner isn't getting any younger. The time to win in Detroit is now. Illitch cast out a huge net of money to bring Prince back to his hometown. No one else was going to roll out that type of dough. How could Prince refuse? Media market that his father played in or not, with a contract like that, there's no place like home.
Respectfully, I hope he'll spend little time dealing with the interference that can come when personal life becomes public matter. Detroit needs to embrace their new superstar without weighing him down with the past.
*Prince Fielder's introduction to the Detroit media and the subsequent press conference was a major source of this article's content. Where noted above, mlb.com video content, via detroittigers.com, was the direct information source.