Illinois Basketball: Why It's Time to Say Goodbye to Bruce Weber
January 30, 2012

Jonathan Daniel/Getty Images
I remember when Illinois basketball was actually fun to watch.
However, those days are long gone.
Now watching an Illinois game is more like a visit to the proctologist—you know it's not going to end well and you're just waiting for it to happen.
Many times you even feel like Chevy Chase in the 80's classic Fletch, when he asks the doctor if he's using the whole fist during the examination.
In other words, it has just become an absolutely painful experience to sit through an entire Illinois basketball game.
The big question is, how did it get to this point?
Since the 2005-2006 season—which incidentally was Dee Brown's last season on campus—Illinois has exactly one NCAA tournament victory.
That's right, one.
In addition to that, they do not have a conference title during that span, and they have finished second only once, and that year they actually tied for second.
This is pretty sad for a program that claims to be a "basketball school."
Many fans have been clamoring for Bruce Weber to leave town for a few years now, but I was never really one of those people—until now.
Weber seems like a great guy, and he has done some nice things at Illinois, but I think it's clear that Illinois needs to go in a different direction.
At this point, I don't really know how anyone can defend him.  Honestly, what has he done to make you believe that the Illini will be anything more than mediocre?
He has had numerous players come and go, but the results have all been pretty much the same—middle of the pack in the Big Ten.
Illinois is better than that and shouldn't have to settle for anything less, which apparently Weber has.
He seems content to finish in the middle of the conference, get an average seed in the NCAA tournament, (maybe) win a game in the tournament, and call it a season.
That infuriates most Illini faithful and it should.
It's not like the Illini roster is full of guys who can't play. 
Early on Weber was criticized for not landing the big recruits, but since 2009 he has landed nine top 100 recruits, and yet the results are the same.
Nothing changes.  The Illini continue to look like the same team every year, no matter who is on the court.
So is it the system or the players?
At this point I think you have to say it's the system—meaning the coaching staff.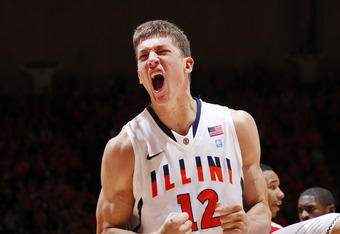 Joe Robbins/Getty Images
They continue to run the "motion" offense even though their personnel may be better suited for something else.
Meyers Leonard should not continue to get the ball 25 feet from the basket with the shot clock winding down.  I'm not sure why this is so difficult to understand.  The guy is an athletic freak and at 7'1" he needs to continue to be fed the ball underneath the hoop.  He's still got some developing to do with his game, but for the love of everything holy, get him the ball down low and stop firing up fade away three pointers.
The motion offense is really only effective when you have a team that can knock down a lot of three's, which isn't the strength of this Illini team.  They need to be more aggressive by taking the ball to the hoop and getting the ball down low.
However Weber continues to run the same offense and the Illini continue to struggle.
In addition it seems that the Illini teams in recent years play with a very low basketball IQ.  They continually make the same mistakes that you just cannot make if you want to be a top tier team.  This is a direct reflection of coaching—it really can't be the players if it continues to happen every year.
The Minnesota game this past Saturday is a prime example of this.  There is no way that Illinois should have lost that game, but they found a way.
You can blame Leonard for committing a dumb foul instead of just giving up the layup, but honestly they should have never been in that position.  Just like many other Illini teams in recent memory, Illinois played tentative (and not smart) with a lead late in the game and it cost them.  They had numerous opportunities to close out the game, but they just couldn't get it done.
The Illini just seem to lack the mental toughness that is necessary to be a top team and again that is typically a direct reflection of the coach's attitude and philosophy.  They may win a few more big games this year, but they don't seem to have the ability to win consistently, which is the difference between them and the top teams in the conference.
What's frustrating is that programs like Ohio State, which is actually a "football school", continue to bring in top talent and are in the hunt almost every year while Illinois just remains in the middle of the pack.
Illinois AD Mike Thomas recently ran football coach Ron Zook out of town and he really needs to do the same with Weber.
If not, Illinois fans may have to get used to mediocrity for several more years.