Calgary Roughnecks Lose Second Straight Overtime Game
January 29, 2012

Last night, the Calgary Roughnecks lost 14-13 to the Toronto Rock in National Lacrosse League action. This was the second consecutive overtime defeat for the Roughnecks, as their record dropped to 2-2 on the season.
I could write a virtually identical analysis of this game as I did for last week's overtime loss to Colorado since the two games played out in almost exactly the same way—but I won't.
Calgary led Toronto in virtually every statistical category and did so the entire game. Calgary grabbed more loose balls (75-63), had more shots (48-44) and, as usual, dominated the faceoffs (25-5).
The Rock forced slightly more turnovers, 40-35.
Each team had the same number of goals in every quarter, and with numerous lead changes, that meant it was a very exciting game for the fans. It was the Cam Woods of the Rock, however, who got a breakaway on a bad turnover at mid-court early in overtime to put the game away.
Toronto was led by former Roughneck Josh "Shooter" Sanderson, who picked up nine points and a hat-trick.
Arguably, the highlight of the night happened less than four minutes into the game when Calgary's Geoff Snider got mugged by three Rock players and knocked down by a shot to the facemask that the refs didn't call. When he stood up, ready to fight someone, Toronto goalie Pat Campbell jumped in and started throwing punches.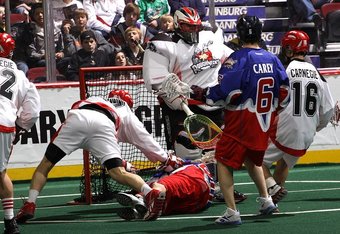 It's not every day you see a goalie in a fight and even more rare when he decides to scrap with the reigning heavyweight in the league. Campbell won the decision when Snider tripped on his own jersey and went down, allowing Campbell to get in several shots before the refs broke it up. Campbell was also assessed an instigator penalty and a game misconduct, forcing the Rock's No. 1 goalie, Matt Roik, to step in for the remainder of the game.
Roik, playing in back-to-back games after a win Friday night at home against Rochester, looked sharp coming off the bench, making 32 saves and keeping Toronto right in the game.
At the other end of the floor, it was a different story. Calgary's Mike Poulin got off to another shaky start—his second in a row—and was eventually pulled in favour of backup Nick Rose, who saw his first action of the year. Rose wound up playing more than 25 minutes, making only 11 saves while giving up six goals before Roughnecks coach Dave Pym switched back to Poulin for the end of the game.
The 25 minutes and 33 seconds Poulin sat in this game were more minutes on the bench than he amassed the entire 2011 season.
There were a couple positives coming out of the game for Calgary, though.
Sophomore Curtis Dickson paced the offense with six points (3G, 3A), Shawn Evans had a five-point night and four other players notched four points apiece. Geoff Snider was his usual dominant self, winning 86 percent of the faceoffs he took, scooping up a game-high 16 loose balls and chipping in two assists as well.
The defense did an overall decent job of keeping the total shots by Toronto down, but gave up several very easy shots, particularly late in the game when it counted most.
Of concern, Dane Dobbie missed much of the second half with an unspecified injury. Pol Nikulin, Roughnecks beat writer for NLL.com, tweeted me that there was no news on Dobbie's status after the game.
Also of concern is Calgary's inability to finish. The Riggers were up by two goals with less than three minutes to play and, as with last week against Colorado, were not able to hold on for the victory.
If the Roughnecks hope to challenge for the league championship this year, they are going to have to figure out how to seal the deal, whether by picking it up defensively, making the big save when it counts or getting that one last clutch goal.
They now have a week off to figure it out before heading to Washington to face the Stealth on Feb. 10.
Final Notes
When the Roughnecks' new mascot, an as-yet unnamed honey badger, showed up early in the game, he was met by a chorus of boos from the fans, who apparently preferred the original mascot, Derrick the Driller. After making his season debut last week, Kaleb Toth was a scratch for last night's game, suggesting he's not quite 100 percent following offseason leg surgery. Attendance for the game was a subpar 7,460.