North Carolina Basketball: Tar Heels Return to Normalcy in Win over Georgia Tech
January 30, 2012

Streeter Lecka/Getty Images
Normalcy.
When United States presidential candidate Warren G. Harding promised "a return to normalcy" in 1920, he referred to a restoration of living conditions as they existed prior to World War I.
When the North Carolina Tar Heels completed their second victory without shooting guard Dexter Strickland, UNC demonstrated a Chapel Hill version of that same "return to normalcy."
Just as their 33-point loss to FSU may have been considered a fluke, their 19-point victory over rival North Carolina State might have been considered a one-time affair.
After their loss to Florida State on Jan. 14, the Tar Heels fell in the AP Poll from third to eighth, climbing back to the No. 7 spot just a week later as Duke fell from No. 4 to No. 8.
With their 93-81 victory over Georgia Tech on Sunday, the Tar Heels confirmed the team is indeed not falling apart and that they still plan to give a tremendous March Madness performance in the NCAA Tournament.
Harrison Barnes led the scoring effort Sunday with 23 points, while Tyler Zeller scored 17, followed by John Henson with 13 points. Kendall Marshall's 12 assists also proved valuable, while the Tar Heels' 10-of-16 three-point shooting was their largest sum in a league game this season and second-highest overall.
More importantly, the Tar Heels extended their school-record home winning streak to 31 games while snapping a four-game losing streak to the Yellow Jackets.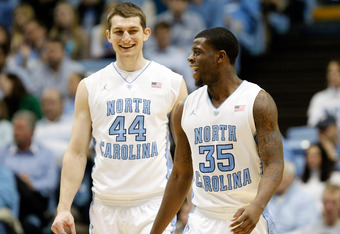 Streeter Lecka/Getty Images
Make no mistake, North Carolina was supposed to win this game.
UNC is now 18-3 (5-1 ACC) while Georgia Tech dropped to 8-13 (1-6 ACC) after Sunday's contest.
UNC was ranked No. 1 when this season started on an aircraft carrier in Southern California in November and clearly, the bullseye is still there.
In the wake of FSU, every game from here on out will be a test, with analysts, rivals and troublemakers looking to expose every conceivable weakness and point out any flaw.
All UNC has to do from here on out to avoid that trap is to play with a sense of normalcy.
Speaking of that normalcy, Presidential Candidate Harding was criticized as "notoriously ill-spoken," and faulted for his invention of pure gibberish with his use of the words "normalcy" and "bloviate."   
Nonetheless, Harding persevered and proved his nay-sayers wrong, winning the 1920 election in the largest presidential popular vote landslide in American history—60.36 percent to 34.19 percent.
And just like President Harding, the Tar Heels will continue to succeed despite Strickland's injury, the FSU blowout and the UNLV upset.