2012 NFL Mock Draft: Post-Senior Bowl Edition
January 30, 2012

Geoff Burke/Getty Images
The 2012 Senior Bowl was this past Saturday which is always a pivotal point in the NFL Draft process.  This year's crop of talent had the potential to be one of the best ever until six first round talents had to pull out due to injury.  Regardless, players were still in Mobile, AL making money and impacting 2012 NFL Mock Drafts.
Here is how I see the 2012 NFL Draft shaking out now taking into consideration the previous week.  The combine, individual workouts and free-agency will be the next big events to shake the first round.
Follow me on Twitter @JohnLorge.
1. Indianapolis Colts—Andrew Luck, QB, Stanford—I imagine Luck jerseys are already in production.
2. St. Louis Rams—Justin Blackmon, WR, Oklahoma St.—There are rumblings the Rams will go OT or trade down, but Jeff Fisher has a history of taking skill players early in the draft and the Rams cannot continue their open auditions at WR.
3. Minnesota Vikings—Matt Kalil, OT, USC—Not the Vikings most pressing need, but the addition of Kalil gives them another franchise piece on their offense. Claiborne and Coples are very much in play here.
4. Cleveland Browns—Robert Griffin III, QB, Baylor—Griffin isn't a lock as a prospect, but if there is one franchise that can overlook his size in the top 10 it's Cleveland.
5. Tampa Bay Bucs—Trent Richardson, RB, Alabama—Greg Schiano will want to establish the running game and adding Richardson gives Tampa a similar backfield structure to the New York Giants.
6. Washington Redskins—Morris Claiborne, CB, LSU—The Skins need help on offense. I think Jonathan Martin would be a great pick here, BPA and Shanahan's history of acquiring premier DB talent completes the pick.
7. Jacksonville Jaguars—Quinton Coples, DE, North Carolina—The Senior Bowl cemented Coples as a top 10 pick in the 2012 NFL Draft.  His size makes him a factor on every play and he plays with uncanny strength.
8. Carolina Panthers—Courtney Upshaw, DE/LB, Alabama—Ron Rivera has coached the 4-3 and 3-4, adding a dynamic defender like Upshaw will allow him to play with both looks, adding complexity to his scheme.  Another Senior Bowl winner.
9. Miami Dolphins—Riley Reiff, OT, Iowa—Miami would like to see another premier QB prospect on the board, but instead they will protect whoever is in the pocket with Reiff at RT.
10. Buffalo Bills—Jonathan Martin, OT, Stanford—The Bills are finally competitive, but they still have many holes, especially on the OL.  Martin is a plug-n-play tackle, and if Upshaw is gone, a pick I love for them.
11. Kansas City Chiefs—Devon Still, DT, Penn St.—Missing the Senior Bowl with an injury doesn't help Still's draft stock.  He has massive potential with his size and flash plays, but struggled to compete every down.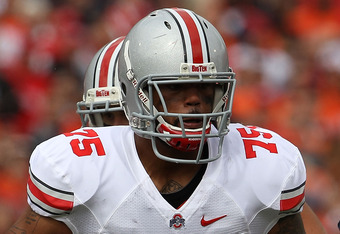 Jonathan Daniel/Getty Images
12. Seattle Seahawks—Dre Kirkpatrick, CB, Alabama—Seattle sent three members of their secondary to the Pro Bowl, but it is a very thin group.  Kirkpatrick fits their big corner mantra and is as physical as they come.
13. Arizona Cardinals—Luke Kuechly, LB, Boston College—Adding Kuechly will put a tackling machine in one of the NFL's most underrated defenses.
14. Dallas Cowboys—David DeCastro, G, Stanford—There are rumors that Dallas may bring Carl Nicks in, but even if they do, Nicks at LG and DeCastro at RG would bring Dallas' OL back to prominence.
15. Philadelphia Eagles—Michael Brockers, DT, LSU—Brockers annihilates the eye test and was the point man in one of the best defenses in NCAA history.  Adding him will help Philly finally stop the run.
16. New York Jets—Mark Barron, S, Alabama—Wish we saw Barron in the Senior Bowl, but he missed with an undisclosed injury.  Barron will look like a jackhammer at safety for the Jets compared to their chisels Leonard and Smith.
17. Cincinnati Bengals—Janoris Jenkins, CB, North Alabama—Senior Bowl week proved Jenkins still has all of the skills he showed his JR year at Florida.  Bengals draft talent and rehab red flags better than any franchise.
18. San Diego Chargers—Melvin Ingram, DE, South Carolina—Some would say this would be a slip for Ingram, who has the versatility to lineup at DT, DE and LB.  SD will love his dynamics if they opt not to draft an offensive lineman.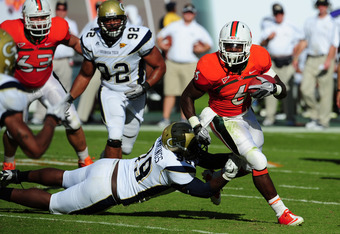 Scott Cunningham/Getty Images
19. Chicago Bears—Michael Floyd, WR, Notre Dame—Mike Tice wants a target he can run the Randy Ratio on and Floyd has that ability.
20. Tennessee Titans—Peter Konz, C, Wisconsin—I fully expect Chris Johnson to perform better next year, in part because the Titians will pad their offensive line.
21. Cincinnati Bengals—Cordy Glenn, OL, Georgia—Glenn used the Senior Bowl week to show teams he can play tackle or guard in the NFL. On the Bengals he looks like a guard.
22. Cleveland Browns—Kendall Wright, WR, Baylor—Bears connection will have Browns fans in a frenzy this off-season. Shades of Mike Wallace.
23. Detroit Lions—Mike Adams, OT, Ohio St.—At 6'7" with arms for days, Adams used the Senior Bowl to establish himself as first-round talent.  There are some character concerns, but finally Detroit fans will get the LT they've been wishing for.
24. Pittsburgh Steelers—Zach Brown, LB, North Carolina—Pitt does a great job of drafting defensive talent in the first round and slowly working them into the system which is exactly what they will do with the uber-talented Brown.
25. Denver Broncos—Don'ta Hightower, LB, Alabama—Denver wants to stuff the run and win games with defense which is what Hightower has been doing at Alabama his entire career.  Gives Broncos an amazing LB trio.
26. Houston Texans—Alshon Jeffery, WR, South Carolina—Jeffery's stock is falling fast and a lot will rest on his combine 40 time.  If he lands in Houston he will eat off of 1-on-1's vertically while defenses focus on Andre Johnson and the run game.
 
27. *Trade* Washington Redskins—Brandon Weeden, QB, Oklahoma St.—The Skins got to work with Weeden all Senior Bowl week where he established himself as the top QB prospect in Mobile.  Fits the Shanahan QB mold well and is start-ready.
28. Green Bay Packers—Lamar Miller, RB, Miami—GB's run game has been sad the past few years.  The team needs to part ways with Ryan Grant and introduce a playmaker like Miller for some added pop.
29. Baltimore Ravens—Vontaze Burfict, LB, Arizona St.—It's rare so many mocks are in consensus on a pick at the end of Round 1, but Burficit to Baltimore makes too much sense.
30. San Francisco 49ers—Brandon Thompson, DT, Clemson—Opinions are up and down on Thompson, but if you watch him play you will love his burst off the ball and the way he crowds the LOS.  As a rookie he will be an impactful piece on their second unit.
31. New York Giants—Cody Fleener, TE, Stanford—After prepping for the Pats the Giants will realize how much they could do with their offense if they had an athletic TE like Fleener.
32. New England Patroits—Bruce Irvin, OLB, West Virginia—The Pats could use Irvin the way SF used Aldon Smith and add sacks to their defense instantly.