New York Giants: Why Bill Cowher Will Stay with CBS Until Giants Job Opens Up
January 31, 2012

Len Redkoles/Getty Images
It's Super Bowl week.
It's an exciting time to be a football fan. And it's an exciting time to be a Giants fan.
During Super Bowl week, many have done Giants previews for Super Bowl XLVI and covered every single angle thought of.
During the last couple weeks, one story seemed to slip through the cracks. I actually waited to see if someone else would pick up on it, but I will, because I think it's worth mentioning.
About two weeks ago, USA Today reported that former Steelers coach and current CBS analyst Bill Cowher had rejected at least three NFL head coaching opportunities this winter.
The actual teams have not been identified, but I can give you a pretty good guess as to who I think some of those teams were: the Miami Dolphins, San Diego Chargers and Jacksonville Jaguars.
Last year, the Miami Dolphins were one of the three teams reported to be on Cowher's wish list of teams he would want to coach, and after Tony Sparano got fired, I'm sure owner Stephen Ross called Cowher, and Cowher told him no.
Cowher is 54 years old and has not been an NFL head coach since the 2006 season. He's been with CBS as part of their pregame show on Sundays with Boomer Esiason, Dan Marino, Shannon Sharpe and James Brown.
A big reason why Cowher may have stayed away from coaching was his wife's illness, which nobody really knew about until this past summer, where his long-time wife Kaye, died from skin cancer at age 54. If Cowher left coaching to be with his wife, nobody would blame him. He would have wanted all that time to be with her until the very end.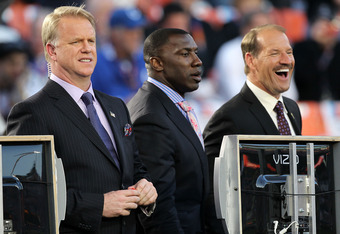 Ezra Shaw/Getty Images
Cowher's been very happy with his job at CBS, and back in October, when Cowher's name came up with the Dolphins job, Cowher said he wasn't returning to coaching in 2012 and would be back with CBS.
To me, that was not a surprise.
Cowher isn't leaving CBS unless it's for one job and one job only—the New York Giants head coaching spot.
The spot is currently occupied by Tom Coughlin, and he's got the Giants one game away from winning the Super Bowl.
Coughlin is 65 years old, and who knows how many more years he'll want to coach in the NFL. If he does come back, he will be in what is currently the last year of his deal, which was extended during the 2011 offseason through 2012.
If the Giants do win the Super Bowl, Coughlin could choose to retire and go out a winner. But according to Pete Prisco of CBS Sports, it sounds like Coughlin has no plans of retiring after the 2011 season.
If the Giants do win the Super Bowl on Sunday, I still think it would be a fitting way for Coughlin to retire and leave.
But if he doesn't want to leave, nobody is going to be kicking Coughlin out any time soon as the coach, and he'll have the freedom to leave on his own terms.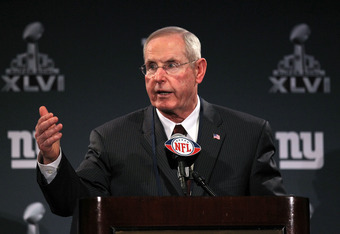 Andy Lyons/Getty Images
So if in fact Coughlin is back for 2012, that means Cowher just stays with CBS a little longer.
And I say Cowher stays with CBS until Coughlin decides to walk away and retire from the NFL.
He has no pressure to leave CBS anytime soon, and it seems like he has not had any interest in coaching any team.
Heck, if he were interested, he could have taken the opportunity to coach the Indianapolis Colts with the possibility of drafting Andrew Luck this year, and yet, Cowher's name never came up. No phone call from Cowher to owner Jim Irsay.
I think deep down, Cowher wants to coach the Giants. I don't blame him, it's an elite job to have right now.
For those who think the Giants will go in the direction of a "hot coordinator," how has that worked out for them in the past? Bill Arnsparger? Gone after three terrible years. Jim Fassel? It was OK for a while but ended in complete disaster.
The Giants went from within when they brought in Bill Parcells in 1983, and that worked. But after Parcells, Ray Handley did not work, which lead to the hiring of former Broncos coach Dan Reeves in 1993.
And when Fassel got fired, they went with the established name in former Jaguars coach Coughlin in 2004.
I don't think Mara and Reese go with a coordinator. I don't think Perry Fewell, Pete Carmichael, Rod Chudzinski, Mike McCoy or Tom Clements would work as the Giants coach.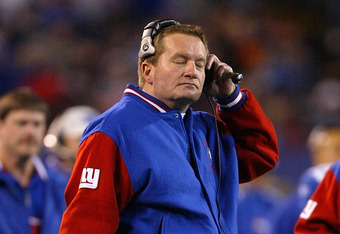 Ezra Shaw/Getty Images
Nope, I think they would still go in the direction that works best for them, with an established coach in Cowher.
With the Giants job, he would have an outstanding quarterback in Eli Manning, dangerous weapons on offense like Hakeem Nicks, Victor Cruz and Mario Manningham and two elite pass-rushers in Justin Tuck and Jason Pierre-Paul.
Plus, he would have a general manager in Jerry Reese who has a knack of scouting talent all over and bringing in solid players to the Giants, especially through the draft.
When Cowher was with the Steelers, he had a good general manager in Kevin Colbert, who helped mold the current Steelers teams we see today, and Colbert did that mostly through the draft.
By joining the Giants, he would get the same type of direction with Reese, who has become a well-respected GM in the NFL.
And Cowher would get a world-class owner with John Mara—the son of former Giants owner Wellington Mara, just like he had back in Pittsburgh with Rooney family and their owner Dan Rooney.
Even if in three years, Coughlin decided to walk away, that would make Cowher 57 or even 58 years old if the Giants were to ever hire him.
Some think that's an old age for an NFL coach. Coughlin took the Giants job in 2004 when he was 58, so in reality, age doesn't matter for coaches, as long as their love of the game is there.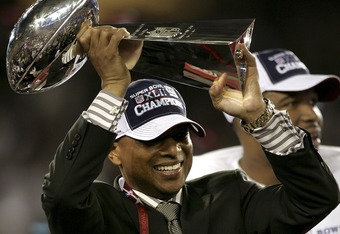 Donald Miralle/Getty Images
Not to mention, Cowher's been away for over six years now. He's fully rested and has not had the strain and wear and tear of coaching on a full-time schedule.
A lot of people thought he might take the Giants job if they fell apart in 2007, but they ended up winning the Super Bowl, so Coughlin stuck around. Cowher, just like then, is just waiting in the wings for the right opportunity to hook on.
For now, I think the Cowher to the Giants talk will die down a little, especially if Coughlin sticks around after the Super Bowl.
And he'll just stick around on CBS. For now.
That is until Coughlin rides off into the sunset, whenever that may be.
Stay tuned.