2012 NFL Mock Draft: Quinton Coples or Morris Claiborne to Tampa Bay?
February 12, 2012

Chris Graythen/Getty Images
1. Indianapolis Colts- Andrew Luck, Quarterback, Stanford
This pick is about as set in stone as it gets. Although there's speculation the Colts might prefer Robert Griffin III to Luck, don't but into it.
Peyton Manning will not be a Colt next year, and the Colts will need a quarterback that's ready to step in and lead the team.
Andrew Luck is an absolute can't-miss prospect. Quarterbacks like Luck only come around every ten years.
 
2. Washington Redskins (fr: St. Louis)- Robert Griffin, Quarterback, Baylor
Washington trades:
- Sixth overall pick in 2012
- Second-round pick in 2012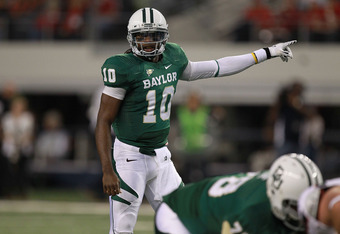 Ronald Martinez/Getty Images
- Second-round pick in 2013
While I truly believe the Redskins will sign Peyton Manning, I don't see how they would be able to sit back and let Robert Griffin III to get past them.
Unfortunately for the Redskins, there is no way RG3 gets past them, because the Browns would definitely snatch him up with the fourth pick.
In my opinion, the Redskins should sign Peyton Manning to a one-year deal, while letting Robert Griffin III learn the playbook and the ropes of the NFL.
3. Minnesota Vikings- Matt Kalil, Offensive Tackle, USC
The Vikings have three options here in Matt Kalil, Justin Blackmon and Riley Reiff, but I doubt they take a receiver this early, and Reiff just isn't quite as good as Kalil.
Minnesota's offensive line was absolutely pathetic last year, and the Vikings can in no way afford to let Charlie Johnson start at left tackle again.
Matt Kalil is one of the best offensive tackle prospects to come along in years, and he should be an instant starter for what is sure to be a turned around Vikings offensive line.
4. Cleveland Browns- Justin Blackmon, Wide Receiver, Oklahoma State
This may not be the consensus pick for the Browns, but Blackmon is the best player available, and Cleveland is in serious need of wide receivers.
Greg Little had impressive moments last year, despite dropping about 1/3 of every pass that came his way. He will likely be the Browns No. 2 receiver in 2012.
Justin Blackmon isn't as good of a draft prospect as Calvin Johnson was, but Blackmon has a tremendous ability to stretch the field, which will make things a little easier for Colt McCoy.
5. Tampa Bay Buccaneers- Morris Claiborne, Cornerback, LSU
Tampa Bay was one of the worst defensive teams last year, so it's clear that they need all the help they can get. When you add Ronde Barber's potential retirement to the mix, things are looking even worse.
While I do believe Barber will give it one more year, the Bucs will still need a cornerback on the opposite side. That will be Morris Claiborne.
Morris Claiborne isn't Charles Woodson or Darrell Revis, but he's a solid cover-corner with great tackling ability.
6. St. Louis Rams (fr: Washington)- Riley Reiff, Offensive Tackle, Iowa
St. Louis Rams would love to have either Justin Blackmon or Morris Claiborne, but both of them are off the board at this point. Therefore, the Rams should look to address their putrid offensive line.
After an impressive rookie season, Rodger Saffold had an awful Sophomore slump, and was one of the worst offensive tackles in the NFL.
Riley Reiff isn't quite Matt Kalil, but he's extremely close. Reiff has the ability to play at either tackle spot, which will allow some flexibility for the Rams.
7. Jacksonville Jaguars- Jonathan Martin, offensive Tackle, Stanford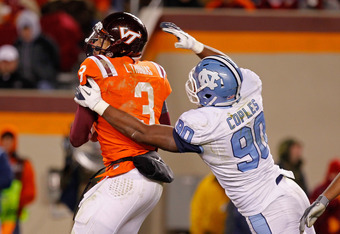 Geoff Burke/Getty Images
The Jaguars are likely to be a much better football team in 2012 than they were in 2011, but they still have plenty of areas that need help.
If Jacksonville wants Blaine Gabbert to have a successful second season, they need to shore up their offensive line.
The right side of Jacksonville's offensive line is terrible, and incumbent starter, Guy Whimper, is a free agent. He will not be back.
  
8. Miami Dolphins- Quinton Coples, Defensive End, North Carolina
New head coach Joe Philbin announced that the Dolphins will be switching to a 4-3 defensive scheme next year, which came as a surprise to some people.
Miami's front seven isn't great, as Cameron Wake is about their only player that can consistently rush the quarterback.
Quinton Coples may not have the greatest work ethic, but he can get to the quarterback in a hurry. Cameron Wake and Quinton Coples could quickly become the best, young one-two punch at defensive end.
9. Carolina Panthers- Michael Brockers, Defensive Tackle, LSU
Oh, what a difference a week makes. A week ago, Michael Brockers was barely a first-round pick, but now he's a top-10 pick that is turning the heads of everyone in his path.
Carolina selected two defensive tackles in the third round last year, but both Sione Fua and Terrell McClain flopped when they were on the field.
The Panhers are improving all the time, but their defensive line needs quite a bit of help. Brockers and Charles Johnson should make for a great duo in the future.
10. Buffalo Bills- Melvin Ingram, Defensive End, South Carolina
Not everyone is sold on Melvin Ingram, but a lot of people must have skipped watching the Senior Bowl or its practices.
The Bills have a great secondary that can force turnovers, but their defensive line needs upgrades in several areas.
Melvin Ingram is slightly undersized for a defensive end, but the Bills run the 4-3, which allows them to start a smaller end on one side. Ingram and Marcell Dareus are another young tandom that should enjoy a ton of success in the near future.
11. Kansas City Chiefs- Trent Richardson, Running Back, Alabama
While it certainly doesn't fill the Chiefs' biggest need, it comes fairly close. With Jamaal Charles coming off a torn ACL, Kansas City needs an insurance policy at running back.
Thomas Jones, Jackie Battle and Dexter McCluster were all average as fill-ins for Charles, and none of them are ideal fantasy options going into next year. Thomas Jones likely won't even be on the team.
Trent Richardson is easily the best running back in the draft, and I believe he's a superior prospect than what Mark Ingram was. Expect T-Rich to see plenty of playing time in his rookie year.
12. Seattle Seahawks- Devon Still, Defensive Lineman, Penn State
The Seahawks would love to get a quarterback here, but Ryan Tannehill and Brandon Weeden aren't first-round material.
Seattle's defensive line is one of the worst in the NFL. They have a serious lack of pass-rush, which resulted in them being in the bottom-10 in sacks in 2011.
Devon Still was fantastic for the Nittany Lions in 2011, sky-rocketing him into the top-15. He's not a lock to start in week one, but should rotate plenty.
13. Arizona Cardinals- David DeCastro, Guard, Stanford
The Cardinals were very surprising last year, despite Kevin Kolb missing several games, and they showed that they are about two players on each side from being serious contenders.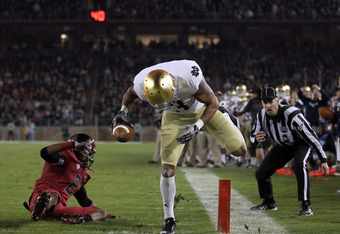 Ezra Shaw/Getty Images
If Arizona wants to keep Kevin Kolb healthy next season, they need to secure their offensive line. They can also afford to help make things easier for Beanie Wells on the ground.
David DeCastro is being viewed as the best guard prospect since Steve Hutchinson. He'll be a week one starter.
14. Dallas Cowboys- Dre Kirkpatrick, Cornerback, Alabama
While many believe Janoris Jenkins is the superior prospect to Dre Kirkpatrick, I have to disagree. Kirkpatrick is far more mature, and Jenkins wasn't even dominant at the division-II level.
The Cowboys clearly need to address their horrid secondary, but they won't take a risk on somebody like Jenkins, who has a bad past.
Dre Kirkpatrick was one of the biggest reasons why the Crimson Tide was so dominant on defense. He will take Terence Newman's spot on the roster.
15. Philadelphia Eagles- Kendall Wright, Wide Receiver/Kick Returner, Baylor
A little out of left field, but allow me to explain myself. The Eagles will likely franchise tag DeSean Jackson, but they are going to try as hard as they can to trade him.
When all is said and done, I do believe the Eagles will be able to find a trade partner. If they trade Jackson, they will have an extremely similar player waiting in line in Kendall Wright.
If the Eagles trade Jackson, they could wind up having Kendall Wright, who could be just as talented, and several draft picks in a trade for Jackson.
16. New York Jets- Courtney Upshaw, Hybrid Linebacker, Alabama
The Jets are a defensive-minded team, so I don't see them shifting away from that pattern in the first round. Besides, New York needs pass rush more than anything else.
Bryan Thomas tore his Achilles tendon earlier and the year, and it's not certain whether he will be the same player again.
Courtney Upshaw, the MVP of the National Championship, was dominant last year, and should continue to be as such in the NFL.
17. Cincinnati Bengals- Janoris Jenkins, Cornerback, North Alabama
Ah, what a match made in Heaven this is. The Bengals need serious help at cornerback and Janoris Jenkins is available for the picking.
As I mentioned before, Jenkins has a bad past, which includes aggravated assault twice, resisting arrest, marijuana possession twice and being dismissed from the Florida Gators.
However, the Bengals have never been shy to take chances on players that have committed felonies. This will be no different.
18. San Diego Chargers- Mark Barron, Strong Safety, Alabama
Prospects from Alabama seem to be going like hotcakes. San Diego has been looking for a dominant strong safety for years, and they tried on Bob Sanders, who to no surprise, played only a couple games before going on Injured Reserve.
Mark Barron is easily the best safety, in what is one of the worst classes for safeties in a long time. Don't underestimate him, though. Barron would be a first-rounder every year.
19. Chicago Bears- Michael Floyd, Wide Receiver, Notre Dame
Finally, the Bears take a receiver in the first round. Michael Floyd is the perfect fit for the Bears, and unfortunately for them, he's available.
Devin Hester is a great kick-returner not a receiver, and neither Johnny Knox or Earl Bennett are better than No. 3 receivers.
Michael Floyd should instantly step in as the Bears top target, and will create a similar rapport that Jay Cutler had with Brandon Marshall in Denver.
20. Tennessee Titans- Cordy Glenn, Guard, Georgia
Titans Head Coach Mike Munchak has been very public with his criticism towards Tennessee's offensive line, so it's clear he's looking for upgrades here.
While it's obvious that Chris Johnson wasn't the same player last year, as he was in past years, but the Titans offensive line wasn't exactly helping him out either.
Cordy Glenn isn't on David DeCastro's level, but he's an extremely talented run-blocker, who can also play tackle.
21. Cincinnati Bengals- Lamar Miller, Running Back, Miami
I pondered the Bengals trading this pick, but then I remembered how badly they need a running back. Also, Cedric Benson is a free agent.
Speaking of Cedric Benson, he's 29 years old and while he will be a free agent, he's unlikely to gauge that much interest.
Lamar Miller is a borderline first-round talent, but running backs often have great careers because of the offensive line they play behind.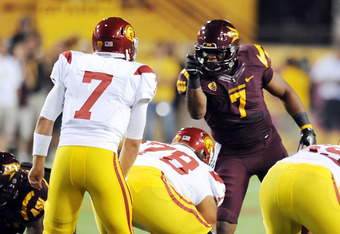 Norm Hall/Getty Images
22. Cleveland Browns- Mike Adams, Offensive Tackle, Ohio State
The Browns are pathetic on offense, so they need to continue making their picks on that side of the ball. Cleveland already picked Justin Blackmon, and now they will look to address their offensive line.
If Cleveland wants to prevent Colt McCoy from getting a concussion per game, they need help at right tackle.
Mike Adams was dominant during the Senior Bowl, which propelled him into the first round. He'll be a starter in week one.
23. Detroit Lions- Peter Konz, Center, Wisconsin
The Lions are quickly becoming a dangerous team, but could you imagine how unstoppable they will be if they have a dominant offensive line?
Detroit's offensive line was average all year long in 2011, which resulted in Matthew Stafford being flustered. Fortunately, Stafford is talented enough to avoid pressure and still make throws.
Peter Konz isn't quite the prospect Maurkice Pouncey was, but like Pouncey, Konz will start right away for his team.
24. Pittsburgh Steelers- Dont'a Hightower, Inside Linebacker, Alabama
The Steelers aren't going to be nearly as good in 2012 as they usually are, due to lack of salary cap, but they still have several draft picks to try and add depth.
Pittsburgh's linebackers core is one of the best in the NFL, but they could use an upgrade at middle linebacker.
Dont'a Hightower is the type of physical player the Steelers love. This is another match made in Heaven.
25. Denver Broncos- Fletcher Cox, Defensive Tackle, Mississippi State
Brodrick Bunkley was amazing against the run last year, but he can be replaced at any time. Ryan McBean was barely average in 2011, while Marcus Thomas is a free agent.
I severely doubt Thomas is back with the team next year, and the idea of Brodrick Bunkley and Ryan McBean starting together is a nightmare.
Fletcher Cox is the second-best player on the board, besides Luke Kuechly, and should start for the Broncos in week one.
26. Houston Texans- Alshon Jeffery, Wide Receiver, South Carolina
The Texans are quickly becoming one of the best teams in the AFC, but they aren't going to get past the likes of the Patriots or Ravens without another weapon on offense.
Jacoby Jones and Kevin Walter are No. 3 receivers trying to be second options on one of the top passing teams in the league. I could see neither one returning in 2012.
Alshon Jeffery is not the top-five prospect many people though he would be, but he's still a first-round talent.
27. New England Patriots- Whitney Mercilus, Hybrid Linebacker, Illinois
The Patriots could be losing both Mark Anderson and Andre Carter to free agency, which will leave New England without its two best pass-rushers from 2011.
While it's likely the Patriots will resign one of the two, they will still need plenty of depth.
Whitney Mercilus is capable of playing in either a 3-4 or 4-3 system, due to his great size.
28. Green Bay Packers- Nick Perry, Hybrid Linebacker, USC
The Packers are amazing on offense, but they look like a completely different team on defense. For their sake, they had better fix this.
Green Bay has one great pass-rushing linebacker in Clay Matthews, but they would like to add another one to the mix.
Nick Perry has the size to play at either defensive end or outside linebacker.
29. Baltimore Ravens- Vontaze Burfict, Inside Linebacker, Arizona State
While Luke Kuechly is available for the Ravens to take, I don't see him as the type of player Baltimore would take. Burfict, on the other hand, is ideal for the Ravens.
Ray Lewis is going to play in 2012, but it's most likely his last season. The Ravens will hope to find his successor in this year's draft.
Vontaze Burfict has a bit of an attitude and may be a distraction in the locker room, but there's no way John Harbaugh tolerates that. Don't expect to see Burfict's attitude carry over.
30. San Francisco 49ers- Mohamed Sanu, Wide Receiver, Rutgers
The 49ers were one of the best teams in the NFL with Jim Harbaugh as head coach, but they couldn't quite make it to the Super Bowl. One of the main reasons why is because of their lack of offensive weapons.
Michael Crabtree looks like he might finally be coming around, and Vernon Davis was one of the best tight ends in the league down the stretch. Besides that, they basically have nobody to throw the ball to.
Josh Morgan and Kyle Williams both may not be back with San Fran in 2012. Mohamed Sanu should see plenty of playing time in his rookie year.
31. Cincinnati Bengals (fr: New England)- Luke Kuechly, Inside Linebacker, Boston College
Cincinnati trades:
- 2013 first-round pick
- 2012 fourth-round pick
New England trades:
The Patriots have never been shy to trade picks away, and I see them doing the same thing this year. While this would be Cincinnati's third first-round in 2012, it makes more sense than you would think.
Marvin Lewis and the Bengals are in win-now mode. It's not like Andy Dalton can't win anytime he wants, but Cincinnati expects Marvin Lewis to take the Bengals deep in the playoffs, if not further.
Luke Kuechly is a top-15 talent that has fallen due to lack of need for linebackers, and the fact that he doesn't fit every team's system. However, he fits the Bengals', and he could be their middle linebacker of the future.
In total, the Bengals will have drafted Janoris Jenkins, Lamar Miller and Luke Kuechly in the first round. Wow.
32. New York Giants- Zach Brown, Linebacker, North Carolina
The Giants can call themselves the best team in football, but when it comes down to it, they won't be in 2012.
New York has several key players set to become free agents, and they are aging in a few areas, as well.
Zach Brown's first choice would be to play at outside linebacker, but he will also see some time in the middle. The Giants' front-seven just got a little bit better, folks.

Be sure to follow Tanner on Twitter @TannerThoms.