Are the Winnipeg Jets Good Enough to Win Southeast Division?
February 2, 2012

Marianne Helm/Getty Images
The Jets entered their inaugural season with a ton of excitement but little expectation.
Expectations have grown, though, as the team has shown signs of just how good they can/will be. It is already the beginning of February, and the Jets are still in the playoff hunt. Could this be our (first) year?
Despite an inconsistent January, the Jets have hung around, and in the Eastern Conference—you can't count any team out.
The Jets are three points behind Florida and four points behind Washington for the division lead. They are four points back of Toronto for the eighth and final playoff spot in the Eastern Conference.
The Jets have 31 games remaining on their schedule—half of which will come on the road. Those games will be most important. The Jets are going to have to find a way to take at least 15 of the 30 road points out there.
We know how good of a team the Jets are at the MTS Centre. But the true test lies on the road—starting this weekend. The Jets are set to take on three teams in four nights including a huge game in Florida against the Panthers.
One concern going forward will be health issues.
The Jets have to get healthy to play with any consistency. All-star defenseman Dustin Byfuglien is set to return to action after missing January with a lower-body injury. The Jets will have their top six defensemen all healthy at once for the first time since mid-December.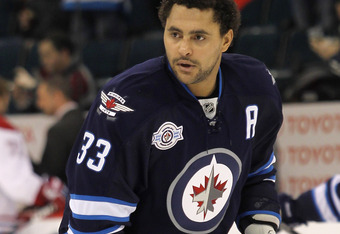 Marianne Helm/Getty Images
Forwards Evander Kane and Alex Burmistrov could also miss an extended period of time with concussion-like symptoms. Both players will be needed in the lineup if the Jets want to score.
Crucial to a late-season Jets' run will be their ability to play stout defense in front of Ondrej Pavelec as they demonstrated in last night's win against the Flyers.
Pavelec is having his best season as an NHL goaltender. No one questions his capabilities to carry the load, but the players playing in front of him have to help even the playing field.
Sadly, in reality, the Jets aren't a playoff-ready team. They aren't seasoned enough to handle the style and level of play in the postseason.
The leaders of this team are still extremely young and haven't even begun to reach their top potential. The inconsistencies both offensively and defensively show how they aren't ready to take flight just yet.
In the 13 games played in January, the Jets only tallied 21 goals while opponents scored a total of 36.
Players like Tim Stapleton, Eric Fehr, Antti Miettinen and Kyle Wellwood have all been playing in roles that don't quite suit them. And players like Andrew Ladd, Nik Antropov, Bryan Little and Blake Wheeler aren't capable of carrying a team.
But as I said before, never count any team out of the Eastern Conference playoff hunt.
If the the Jets want to make it, they're going to need to play with passion and urgency—as if every game from here on out was their last.
Head coach Claude Noel has a huge task ahead of him in preparing the team night-in and night-out. Noel will have to make sure his team is disciplined enough to play competitive hockey for a full 60 minutes—something the Jets have struggled with.
The odds are against the Jets; they currently have a 20.1% chance at making the playoffs.
So a postseason run would be unexpected, a huge accomplishment. Winning the division? That would be one heck of an underdog story. But looking down the line at a bright future is all but guaranteed.