Oakland Raiders: An Organizational Clean Sweep May Be Just What's Needed
February 2, 2012

Thearon W. Henderson/Getty Images
A lot has happened to the Raiders organization since December 2, when I last wrote an article on Bleacher Report about Rolando McClain's arrest. The team was 7-4 on that date, and they finished an uninspired 8-8 for the season.
The team hired Reggie McKenzie as their general manager, fired Hue Jackson as their head coach, and hired Dennis Allen to replace him. They also let Al Saunders go, replacing the offensive coordinator with Greg Knapp.
At the moment they haven't hired anyone to replace Chuck Bresnahan as defensive coordinator, but I expect that to come soon as well.
The Raiders are clearly doing some restructuring, if not fully rebuilding.
It kind of amuses me how many Raiders fans are saying that Reggie McKenzie and Dennis Allen don't need to rebuild the team, just make some minor adjustments.
Really? Just minor adjustments?
While I agree a total rebuilding is not necessary, I believe the Raiders need more than some minor adjustments to become Super Bowl contenders.
After being 7-4 on December 2, they finished the season at 8-8 and missed the playoffs again. They also lead the league with 163 penalties for 1,358 penalty yards, one very good reason why they didn't make the playoffs. I'm pretty sure all those penalty yards and the lack of discipline associated with them had to cost the team at least one win. And one win more was all they needed to make the playoffs.
I know that part of the reason for the collapse at the end of the season can be attributed to the rash of injuries the team suffered. It is hard to overcome losing Darren McFadden for the last nine games of the season—10 if you take into account he only played a few downs in the loss to the Kansas City Chiefs. However, in my opinion, any team that depends on McFadden staying healthy for 16 games is in trouble for a couple reasons. McFadden is prone to injury and seems to be a slow healer, and let's face it, running backs in the NFL take a lot of punishment from week to week and injuries are inevitable.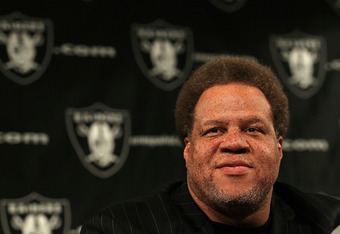 Justin Sullivan/Getty Images
As far as I am concerned, the loss of Jason Campbell in week six to the Cleveland Browns was the injury that sealed the fate of the 2011 Raiders. While Campbell wasn't going to win a lot of games with his arm, he did do a good job of managing the game and giving the team a chance to win. Carson Palmer has a better arm, but while trying to learn a new offense and shake off the rust, he made a lot of mistakes and cost the Raiders some games they would have won with Campbell in there.
Would the Raiders have made the playoffs without the injuries to McFadden and Campbell? Probably so. Would they be playing this weekend? No.
The Raiders need a partial rebuilding, not necessarily in player personnel, but in the way the organization functions and thinks. Yes Al Davis was a genius in some respects, but for the past few seasons, maybe not. I think Mark Davis' decision to hire a GM was a good start, many Raiders fans had been calling for Al Davis to do that for years. Was McKenzie the best possible choice out there? Maybe not, but then I'm sure some possible GM candidates are still a little hesitant to come to Oakland to work, at least until they see that the organization as a whole is changing for the better. However, I think McKenzie will do a good job of bringing the Raiders organization into the modern era of NFL football.
While McKenzie's moves haven't yet given cause for a "whoopee!" they have not been totally disappointing either.
Did Hue Jackson or Al Saunders deserve to not get another season with the Raiders? Probably not, but under Jackson, the Raiders came out very flat for some really important games, and the penalties showed a lack of discipline that I believe the head coach has to take responsibility for. And the defense? Well, don't get me started on how bad the Raider defense was all season. I will just say that I believe they had the personnel to be significantly better than they were.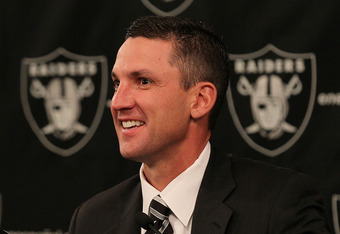 Justin Sullivan/Getty Images
I believe the team needs to make a clean sweep of the organization from the top down: new faces, new blood and new ideas. Jackson may very well go on to be a successful head coach in the NFL if he learns from his rookie mistakes, and while the Raiders' offense was a bit predictable at times this past season, I think Saunders did a good job with the personnel he had.
Do the Raiders need to trade Darren McFadden for draft choices like some are suggesting? Definitely not. I think many of the injuries the Raiders and other teams suffered this season were a product lockout. Because the teams were not able to make sure there were proper workouts, players just didn't get the conditioning they needed.
Will Carson Palmer play as poorly as he did at times this season for the Raiders? Well, maybe at times, but I think with a full offseason of mini-camps and team meetings, he will do better as the Raiders quarterback. Maybe a lot better.
Will Greg Knapp do a better job as offensive coordinator than Saunders? I don't know. Maybe Knapp and Allen will make a good team and the offense will improve.
Will another defensive coordinator do a better job than Bresnahan did? I can't see how they couldn't. I am glad to see they didn't hire former Chargers defensive coordinator Greg Manusky, as I was never all that impressed with the Chargers' defense.
Some Raider fans are complaining that the coaching staff is filled with retreads from other teams. But if you really think about it, that is the way it is every season, with every team. Coaches bounce around the NFL like crazy, having success at times with one team, then not having success with another. Then all of a sudden they have success again when they move on to another team. Maybe this group of coaches and players will mesh well and the Raiders will have a breakout season next year.
As far as the choice for GM and the coaching staff changes go, one thing I am not going to do is complain about any of the moves too much. I mean really, is an 8-8 season anything to be that excited about? I don't think it is. The Raiders can do better than that for their fans. This Raiders fan isn't going to criticize the moves for now. Instead, I'm planning on sitting back and seeing what happens, and hoping all the moves work out and the team improves.
Hopefully the Raiders have begun the process of getting better, and that's really all the fans can ask for.