WWE Breaking News: CM Punk's DVD Set and Wrestling Road Diaries 2
February 3, 2012

CM Punk opened the latest episode of Colt Cabana's Art of Wrestling Podcast with the news that his three-DVD box set has been greenlit and is in the works. Punk also mentioned how he has been given complete control over the development of the set.
"I get to pick a bunch of matches to put on there, pick who I get interviewed," Punk said. "I'm doing everything; I was told I'm in charge, so they are screwed. I've already made a lot of people angry. I went and watched Randy's and Chris Jericho's.
"I never bothered to watch any documentary of people I work with cause it feels kind of strange to me, you know, and 80 percent of it is, I don't care. They told me what they want, and I sent this email of what I wanted. I hated their narrator and their music."
For those of who don't follow Punk on Twitter, he tweeted this on Feb. 1: "Just helped out @ColtCabana with a lead in for his latest AOW podcast. Made a little chestnut of an announcement. It drops Thursday. Check it."
Punk already has best-of sets from Ring of Honor, Full Impact Pro and IWA Mid-South and a best of The Second City Saints set from Ring of Honor. I can't wait for this set to come out and add to my nice collection of wrestling DVDs.
From One Saint to Another
Colt "Boom Boom" Cabana is a true gem of the independent wrestling scene and should be in the WWE right now. Back in 2009, Cabana, along with Daniel Bryan (also known as Bryan Danielson) were followed and filmed by a camera crew for 10 days. They didn't fly first-class, didn't stay in classy hotels and they weren't rich.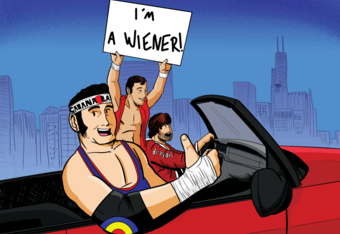 The Wrestling Road Diaries is the result of those 10 days, and it is one of the best-received wrestling documentaries. You can and should buy it at COLTMERCH.COM or Wrestlingroaddiaries.com; it's only 20 bucks, and with a running time of two hours and 40 minutes, it's well worth the price.
Cabana broke the news that Wrestling Road Diaries 2 will be filming soon, he will be joined by Cliff Compton (WWE's Domino) and Luke Gallows. All three are close friends from their time in WWE's developmental territories, and this volume could be better than the first. Expect a great amount of comedy and foul language.
Coming Soon from Hands of Stone Blankenship: Mr. Compton and Mr. Gallows go to Nigeria, a tale of how Super Festus and Super Domino traveled to Nigeria to take on the Hulk Hogan of Africa, The Great Power Uti.