Arsenal Games: Reacting to the Bolton Wanderers Draw
February 3, 2012

Laurence Griffiths/Getty Images
1. The Negative
Arsenal didn't score.
But in the first half alone, the team carved out enough chances to do so—the headed-down ball by Robin van Persie from a Thomas Vermaelen cross, the brilliant through pass from van Persie to Aaron Ramsey, who failed to take the gold-plaited chance, the sliding shot from Alex Oxlade-Chamberlain, the one-on-one with the goalkeeper from Theo Walcott, are some of the chance from the first half.
All were chances that could have put Arsenal ahead by more than a single goal. As it happened, none of the chances was taken, nor were the ones from the second half.
As a result, instead of three points, Arsenal returned from the Reebok stadium with a solitary point.  In a normal stretch of matches, this wouldn't have been a bad result, but following a run of losses, a draw just wasn't good enough.
A sizable chunk of the fans now are riled up.
2. The Team Played Well
For the angry fan, this sounds like sacrilege.
Notwithstanding, what stands between this cold fact and the reactionary response, according to which the team's display was rubbish, is the lack of goals in the match.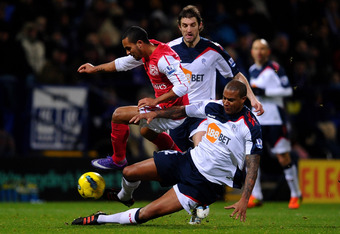 Laurence Griffiths/Getty Images
Had the team scored, the praises would be unanimous.
"Oh, Theo Walcott," the chorus would ring, "how he can tease with his performances. Bam, the goal! If he can carry on like this, he'll soon be Henry's heir..."
"What a goal from Aaron Ramsey...what a sliding way to score...I have always said, it's only a matter of time till he starts scoring..."
"Mertesacker's goal was something else, what vision to latch onto that cross!"
The articles all over the places would have titles like:
"6 Reasons Arsenal Would Finish Above Spurs."
"13 Positive Things We Learnt From the Match."  
"8 Reasons Theo Walcott Is Arsenal's Future Striker." etc.
Here's why I say the team played well.
The team controlled possession.
The team knew how to regroup and recommence attacks.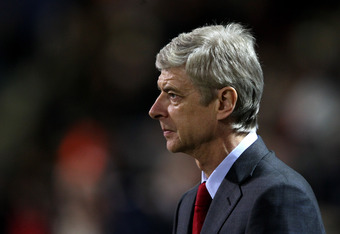 Alex Livesey/Getty Images
The team modulated well, that is, it attacked through difference avenues—overlapping centre-backs (only Barcelona currently does the same), modulating front three, pivoting midfielders, use of the false nine decoy—it was a dynamic display. A great positive, which the team can build upon.
3. The Team Needs to Be Clinical In Front of Goals
Here's what Arsene Wenger says about this:
We produced a good game - when you play away from home and you create six or seven chances like we did you can not demand much more. We did not concede so overall those are the positives. 

The negatives are that we didn't take our chances. Maybe we lacked a little bit the relaxed attitude we need when we get chances at the moment and hopefully that will go away now
Overpowering emotions threaten the health of a number of fans these days when they hear the name, Wenger. Or when they hear anything he says.
To them the above reaction is nonsense.
It is not.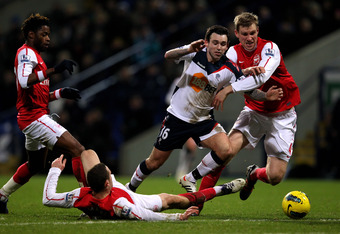 Alex Livesey/Getty Images
If you take a cold bath, take a few deep breaths and listen to what he actually says in the light of the many chances the team created, it makes sense.
If I wanted to endear myself to such readers, I would go on a rant:
Walcott: rubbish, he's not worthy of wearing an Arsenal shirt.
Mertesacker: the sooner he returned to Germany, the better.  
Song: what on earth was this guying doing in this match?
Wenger: he is not technical or tactical at all! 4-4-2, no, 3-4-3 is what we need! 
I'd be hailed as the next best thing on Bleacher Report.
Unfortunately, I do not tickle the ears of people by telling them what they want to hear. People can go on a mad dance all they want. I'll state the facts.
"The facts?" Shouts an irate fan. "The facts are these: the team is rubbish."
What can you say?
Yes?
A few already are saying that Thierry Henry is rubbish, albeit sotto voce for now.
4. The Players Themselves Are Not Happy, They Want to Please the Fans

I think there is a lot of room for improvement.
We have a very good side and good potential but we have to be good on the pitch. At the moment we don't use all our opportunities.
We are always looking for clean sheets and good performances. In the first half we created good chances to score but it wasn't enough. I think in the first half we deserved to lead but it is only one point in the end.
Blackburn is an early game [on Saturday] and that is always special. We are one of the first teams to play at the weekend so we have to go for the three points to show the others we are already there.
We have got the talent and the quality in the side to do it but we have to show it day by day. I am confident because we train together every day and I know how good we are but we have to show it every day, not every two or three weeks. It is more about details to score and make the game much easier for us. It depends on small details. We had the chances to score and we didn't. You are not going to get 15 chances to win a football game and nowadays when you get it, especially away from home, you have to take it. I am sure that Chelsea will start a good run and we have to do the same and win games like we did a month ago. But I am still positive – there are still a lot of games to play and hopefully we can get that done.
Theo Walcott (did you hear the scream? Poor soul!):
I am the best judge of my performance, not anyone else. I wasn't happy with my last few games but hopefully now I can try to get back to a level I should be at.
You think the players are dung?
Why, they already feel that way, so do you think you're helping the situation when you keep telling them they are?
"They are dung because Wenger signed them, dung...dung!"
It sounds like when I was a kid and you'd engage in petulant arguments.
It was okay; we were kids.
5. If You Don't Scream and Pull Out Your Hairs, or If You Don't Live in London, or Were Not Born in the 1950s...
You can't be a real fan, according to—well—the real fans.
Every Arsenal fan, I can hazard to say, is not happy with the current situation.
But to vacillate with every changing wind does not make sense to me.
I, as much as the next person, want to see changes at Arsenal, changes that can improve the team's chances in every competition, but I don't see the profit of screaming and kicking like an irritable baby when the bad patches come.
This means I'm not a real fan.
Period.