Minnesota Twins: Predicting How the Bullpen Will Shake Out
February 3, 2012

David Maxwell/Getty Images
It's safe to say the bullpen was a sore spot for the Twins in 2011. The much-maligned group of hurlers were among the worst units in the bigs as a whole, ranking last in bullpen ERA (4.51), K/9 (6.3) and K/BB (1.7); 29th in OPS allowed (.761) and WHIP (1.46); 28th in strikeouts (323), and even in a stat that I don't care for too much, the Twins were 27th in save opportunities converted (62 percent). 
Want to know the American League averages for each of those figures? Consider:
3.81 ERA
7.7 K/9
2.1 K/BB
.706 OPS allowed
1.33 WHIP
398 K's  
68 percent save rate (accounts for saves blown before ninth, keep in mind) 
With these averages, saying that the 'pen  under-performed would be like saying Mother Teresa was some nice lady.
With this in mind, here's what my ideal Twins bullpen (with only those signed currently) would look like (assuming health):
LR- Esmerling Vasquez
MR- Lester Oliveros
MR- Jared Burton
MR- Brian Duensing
MR- Joel Zumaya
SU- Glen Perkins
CL- Matt Capps
Sure, it's safe to say this group is short on results, but it's a very projectable group. If Capps doesn't bounce back, he's still an adequate late-inning reliever, and Perkins is excellent insurance in that event. If Zumaya is healthy, that's a deadly lefty-righty set-up duo. 
Duensing is absolute death to lefties (.522 OPS against in '11). At first, he'll probably be more of a LOOGY (Left One Out Guy) at the outset, but could develop into a more defined middle relief role. He probably won't turn a corner like Perkins did, but he should be an asset. Burton is a few years—and unfortunately, arm injuries—removed from being a top set-up man for the Reds. When he's right, he possesses good strikeout stuff (7.6 K/9) with his 92 mph heater. 
The front of the pen—at least as I would have it—would have a couple of flamethrowers looking to carve out a niche. Oliveros was absolutely deadly in the minors; his 11.2 K/9 rate may not totally translate to the bigs (they almost never do), but should provide him plenty of whiff potential to go with his blistering 94 mph fastball. He could be sneaky good for the Twins, and make the Delmon Young trade work out. Vasquez is in some ways more of the same as Oliveros, but he's had less success. He throws just about as hard (93.7 mph average), but hasn't missed as many bats or found as many strike zones as Oliveros has.
Still, from an organizational standpoint, it's been a promising offseason as the club has added more hard-throwers than years past, maybe even combined. The best part is that none of them came at a high cost, which is a staple of building a sabermetric-friendly, sustainable bullpen. Just ask Andrew Friedman (GM of the Rays), or Jed Hoyer (GM of Cubs, but previously with Padres).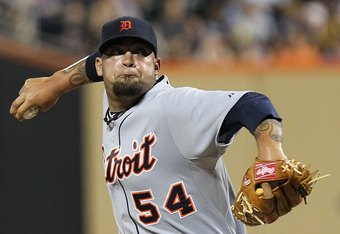 Nick Laham/Getty Images
Now that you're aware of my personal preference, here's what I think the actual 'pen will look like:
LR- Terry Doyle
MR- Jeff Gray
MR- Anthony Swarzak
MR- Duensing
MR- Zumaya
SU- Perkins
CL- Capps 
A couple of key differences here. The Twins obviously like Swarzak, the former top prospect as a starting pitcher, and to be completely fair, he probably has earned another shot. Still, his low strikeout rates don't bode well for future performance.
Gray and Doyle are more "Twins-type" hurlers—low on strikeouts, high on contact. Gray throws a bit harder than the usual low-whiff guy, but for some reason hasn't been able to miss many bats. It's a bit puzzling why he's on the 40-man roster over some of the NRIs, but as such, he'll probably get the first crack. As the Rule-5 pick, Doyle is almost guaranteed to make the club, although last season Scott Diamond didn't make the club, and he was inexplicably acquired for closer prospect Billy Bullock. Let's hope for better results this time.
Doyle had a really nice run in the Arizona Fall League and overall in the minors has a sub-3.00 ERA, better than 8.0 K/9, and nearly a 4.0 K/BB rate. He's almost another Liam Hendriks, to be honest. But still, in an organization so prospect-poor like the White Sox, why didn't they make a more conscious effort to keep him around? It does make one wonder. 
Anyway, that's my pick for how I'd build my bullpen, and what I think the actual bullpen would shake out like. What's yours look like? Leave your list in the comments below!