Danica Patrick and David Reutimann: NASCAR's New Odd Couple
February 3, 2012
Jared C. Tilton/Getty Images
Ever since Tony Stewart put together a 10-race deal to bring Danica Patrick to the Sprint Cup Series this year, he had been looking for another driver to complete the full schedule in her No. 10 car.
It was a long-term move: Stewart wanted to make sure that Patrick would have enough owners' points to guarantee her a starting spot in the first five races of 2013, when she will run her first full Sprint Cup schedule.
Mark Martin, who had planned to shift back to a part-time schedule in 2012 anyway, came up in discussions, especially because Martin and Patrick shared sponsor GoDaddy.com last season.
But GoDaddy's Bob Parsons balked at funding the full season, and Martin landed a ride at Michael Waltrip Racing instead, splitting time with Waltrip himself.
For months, the names of other free agent drivers bounced around, but nobody had the money behind them to join Stewart's operation, or the talent to attract new sponsorship dollars.
Meanwhile, when Martin landed his ride with Waltrip, it came at the expense of a slumping David Reutimann.
The move came in November, when most of the good open rides were gone, seriously limiting Reutimann's options for the 2012 season. Eventually, Reutimann hooked up with Tommy Baldwin Racing for a 26-race schedule to run alongside Dave Blaney.
Here's where these two stories intertwine: Blaney put one of Baldwin's cars in the top 35 in owners' points last year, guaranteeing them a spot in the Daytona 500.
Stewart was looking to make a deal with another team to get Patrick into the race anyway, rather than shifting his championship-winning owners' points to her car and relying on his past champion's provisional to start the season.
Baldwin, like Stewart, runs Chevrolets, and Reutimann's 26 races plus Patrick's 10 would equal a full schedule.
And so, NASCAR's newest version of "the odd couple" was born.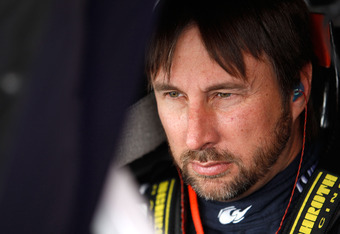 Todd Warshaw/Getty Images
The move benefits both sides in more ways than one, particularly Reutimann. As the team's primary driver (at least as far as starts go), he'll benefit from Stewart-Haas' technical and pit crew support; while Baldwin will remain his crew chief, he'll also get to work with Greg Zipadelli, Patrick's crew chief, and the man who led Stewart to his first two championships in 2002 and 2005.
Patrick gets to avoid what would have been a media disaster had she missed the Daytona 500, and gets to join a team of hard-working, less spectacular NASCAR lifers who bring a sense of racing's roots everywhere they go.
The team's performance, however, may be uneven, given the fact that this essentially remains two teams who simply share a number. Baldwin established a deal to run Earnhardt-Childress engines for 2012, while Stewart-Haas runs Hendrick engines, and what's under the hood will change on a race-by-race basis depending on who's in the car.
The other issue is finding sponsorship for Reutimann's 26 races. It's a shame that GoDaddy.com likely won't pick them up, because Reutimann gained plenty of experience doing fun and goofy advertisements while driving cars sponsored by Aaron's Rent.
A series of commercials depicting competition between Patrick and Reutimann would surely be a hit, but with the partnership likely only lasting one season, they may not have long-term viability.
But since the endgame is to get Patrick ready for 2013, pairing her with Reutimann on the track is far more important than on the TV set.
Reutimann should be the latest in a long line of assets that Patrick has had in her transition to stock cars, particularly because his dirt-track background offers her the style of coaching that she so desperately needs to succeed.
Experts have long been saying that Patrick will be a quality NASCAR driver once she learns how to muscle and slide around her car, the hallmarks of dirt-track racing.
If Reutimann works as her coach while he's not in the car, he can offer her far more than just owners' points. And if the two teams, one car approach doesn't lead to uneven results, they could even outperform Martin and Waltrip in owners' points in 2012.