New York Islanders: Is Brooklyn the Right Place for This Team?
February 3, 2012

Jim McIsaac/Getty Images
Talk of a possible Islanders move has recently sprung up again, with the Barclay's Center as a landing ground. Owners of the Barclay's Center have been doing their best to attract the attention of the Islanders ownership in the hopes of making a permanent move.
But realistically, is Brooklyn the best option for this team? 
The Islanders are a team that have trouble filling the Nassau Coliseum—the league's smallest arena—and currently have the second-lowest average attendance in the league, behind only the Coyotes.
First and foremost, we all know that a new building will draw fans for a little bit of time, but eventually, the team itself has to be the core reason for people to come to games. It won't matter if they play in the nicest arena in the world, if the team doesn't perform, people won't come to watch them play.
Despite this fact, a lot of Suffolk County fans can't help but feel a bit stranded. Brooklyn is much farther then an already-long drive to Nassau (depending on where you live), and lengthening that drive could be a make-or-break for a lot of fans. If there is no mass transit that will severely simplify the trip, then it can be expected that Suffolk fans may cut back on the number of games they attend.
There's also the minute issue of the Barclay's Center being a smaller venue. This isn't much of an issue now, but ticket prices will be driven up by this fact, and if the team isn't performing and if people aren't paying to go now, it will only get worse if the ticket prices are inflated in the future.
There is also the issue of leaving the building itself. The Nassau Veterans Memorial Coliseum has seen a lot of playoff history, along with four consecutive Stanley Cups. With unhindered sight-lines, there's not a bad seat to be had in the Old Barn. It's a great building, despite what some might say about it. Yes, a new arena would be nice, but is it direly needed? Not really. If the building was renovated and sufficiently modernized, there's not much of a question as to whether it can be kept as the Islanders' home.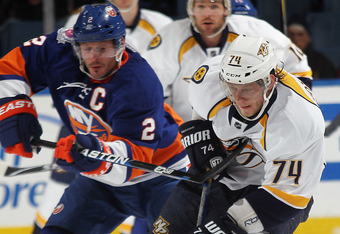 Bruce Bennett/Getty Images
Unfortunately, time is running out for Nassau County. It seems very likely that after 2015 (when their current lease ends), the Islanders will have a new home. The ridiculous political games that have surrounded the team for years now have almost certainly cost the county a large source of revenue, and its only pro sports team, especially if the Islanders begin to succeed and become a large ticket draw, Nassau will certainly miss the dollars they pretty much handed away.
Is Brooklyn the right place for the Isles to land? Perhaps, but there's some big unknowns in the move. Besides whether there's an easy way for fans to travel from Suffolk or not, the team's performance and success could have a large impact on the possibility of moving. Nassau also has the option of throwing a "Hail Mary" if they can come up with a solid plan for a quickly-renovated or altogether-new Coliseum. Brooklyn might be a good destination for the team, but there are still plenty of other viable options, moves to Queens seems to be another area being explored as well, only time will tell what is in store for this team, but staying in a renovated Coliseum, won't be the worst of things.
Your comments and own ideas are welcome!