UFC 143 Predictions: Carlos Condit Can Truly Upset Nick Diaz
February 4, 2012

Any fighter competing at the level the UFC promotes can lose on any given night. Not one man stands alone in any renowned gym around the world who is an invincible exception to the rule.
As durable as a chin appears, it abides by the same rules of nature and physics and can flip the off switch upstairs in the cranium lighthouse with the right amount of accuracy and velocity. From dust to dust, mat to mat: all men fall when given enough opportunities. Nick Diaz can lose his pending UFC 143 fight with Carlos Condit—without a doubt. 
And yes, as cliche as it sounds, Condit is Diaz's toughest fight to date. To illustrate this point beyond the stylistic breakdown en route later in the article, I'll outwardly proclaim myself a fervent fan of the slappin' Stockton antihero any day of the week—particularly on fight night. Hell, I almost had to "take an ass whoopin" of my own from a BJ Penn fan at Buffalo Wild Wings during UFC 137 who wasn't amused by my obnoxious cheerleading for Diaz. 
As far as Diaz's chances of winning come UFC 143, I'm confident but concerned. His challenger, the Natural Born Killer, stands above the rest of Diaz's opponents and he does it striding into his prime in the most competitive promotion the sport has and the prize for victory is welterweight gold. Something tells me we're going to see the best Condit to date. 
The New Mexico native is coming off three impressive finishes over Rory MacDonald, Dan Hardy and most recently Dong Hyun Kim, extending his UFC record to 4-1. Not to mention, the former WEC welterweight champ has racked up 12 "W's" in his last 13 bouts. 
In addition to momentum, those last three victories really underline what makes Condit dangerous: his tenacity and powerful striking. Against MacDonald, a young well-rounded rising star, Condit was able to weather a few storms, showoff his versatility, and battle to the very end before mustering up enough effort to put a very tough opponent away at the end of the third round.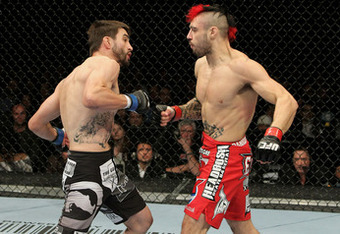 Next we saw Condit willingly play a game of "British" Roulette against one of the UK's most notable strikers in Hardy. Needless to say, as both men mirrored each other will the same punch, Condit's was more accurate and more powerful, leaving him the last one standing after the exchange. 
This showstopping trend continued into his fight with Kim after Condit surgically planted a perfect flying knee on the Korean's chin for a first round TKO victory. That was the first loss of Kim's career. 
Diaz has fought capable strikers in the past—KJ Noons came from a professional boxing past, Evangelista Santos put a low kick clinic on Diaz's lead leg, Paul Daley temporarily stunned Diaz with power punches and even BJ Penn's technical hands were something to worry about going into the fight—but none of these guys were able to enforce enough striking variety to keep the former Strikeforce welterweight champion guessing. 
In other words, having a lack of striking options shouldn't be a problem for a very well-rounded fighter like Condit, and his track record validates that statement. We've seen him consistently land a wide range of stuff, from standing elbows, front snap kicks and flying body kicks to technically sound conventional stuff like hooks, leg kicks, knees from the clinch and ground-and-pound.
A big part of his standing success rate has to do with not only picking creative combos but fueling them with technique and aggression. Thus far, he's never shied away from pulling the trigger.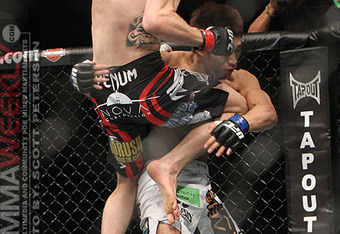 Conversely, Diaz almost exclusively relies on his hybrid boxing style to put guys against the cage and out of their games. I can't remember the last fight Diaz utilized leg kicks as part of his arsenal. In that sense, while still very difficult to deal with on the feet, Diaz's boxing does make him somewhat predictable. 
Another key component to Diaz's striking is the tsunami of forward-moving pressure he applies to his punches. No matter what gets thrown at him or how flush it lands, he keeps moving forward to earn his chance to land in return. The downside to that strategy is Diaz essentially sacrifices striking defense for aggression. He lands a ridiculous amount of punches per round, but they come at a price, a taxing realization that he tends to eat a high ratio of shots along side his opponent. 
Surprisingly, getting tagged over and over doesn't seem to effect his cardio in the deep rounds, something that really takes a lot out most fighters—Diaz keeps his pace all day. Sooner or late though, putting his hands down and sticking his head out in front, taunting his foes to hit him will backfire against the right striker.
Consequently, the stand-up portion of this fight will dictate who has the best chance of getting their hand raised. On the ground, Diaz has the advantage, but not by as much as one would think. Condit has a slick ground game, a purple belt in Brazilian Jiu-Jitsu of his own and 13 submissions victories in his career. He'll have enough to at least defend against Diaz's attempts if they start rolling. 
So, that leaves us with a gunslingin' shootout between two high-level strikers who can land damage-inflicting blows that can end fights. What makes Diaz the fighter we all come to expect will have to be in top form in order to survive the early offense from the most crafty striker he has ever faced. 
It's hard to bet against the Stockton kid who always seems to find a path to victory, a fighter who bucks all common sense in the cage by taunting his adversaries in the face of danger, but Condit brings a unique brand of danger that will test Diaz's durability to its limits. 
Forget about Georges St-Pierre's potential 20-month absence from the game. Diaz vs. Condit has everything required to be "Fight of the Night." Plus, let's be honest, we're all dying to hear what Diaz has to say to Joe Rogan and the press once the fight is in the history books.