Carolina Panthers 2012 Offseason Preview for Tight Ends
February 4, 2012

Streeter Lecka/Getty Images
We've gone over all of the Carolina Panthers' offensive skill positions, but it's time to take a look at one of the less glamorous positions on the offense: the tight ends. 
However, in the current offensive scheme, tight ends get plenty of involvement in the passing game and that reflects the current talent on the roster: 
Greg Olsen, No. 88
Jeremy Shockey, No. 80
Ben Hartsock, No. 84
Gary Barnidge, No. 82
Richie Brockel, No. 47 
Starter(s): Greg Olsen, Jeremy Shockey
Under Rob Chudzinski, Carolina implemented more multiple tight end sets than we've ever seen them utilize. This was made possible by a solid tandem of the athletic Greg Olsen and experienced veteran, Jeremy Shockey. 
Olsen appears to be with the franchise for the long haul after being acquired from the Bears in a trade last offseason. He fit in perfectly with the offense and was one of the most consistent parts of a reworked machine that was the fifth best in the NFL in 2011. 
However, Shockey had his ups and downs with the team.
When the offense was doing well and the Panthers were in games until the end, he was everyone's favorite player. His positive attitude and focus on winning no matter what the scoreboard read was a driving force that kept the offense rolling.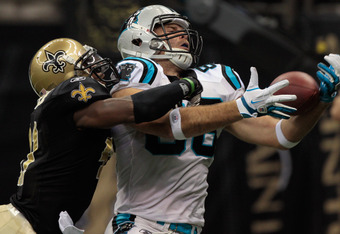 Chris Graythen/Getty Images
Conversely, when things weren't going well and the offense seemed to be forcing the big play and not getting the expected results, Shockey was seen as a villain at times. He had a disruptive attitude that definitely seemed to get under the skin of his teammates—as well as the fans and media. 
Whether or not Shockey stays in Carolina will likely depend on Cam Newton's opinion of the veteran tight end.
If he puts in the good word and a locker room leader like Steve Smith gives his approval, resigning the aging tight end for a short deal could be a done deal. 
If the franchise elects to part ways with Shockey, a gaping hole opens up in the lineup that would have to be addressed through the draft or with the development of Gary Barnidge, a stellar talent that missed the 2011 season with a leg and ankle injury. 
Priority: Medium
Backup(s): Ben Hartsock, Gary Barnidge, Richie Brockel
Hartsock is a pure blocker and could not be counted on to step up as the team's second tight end in command. Brockel is more of a blocker as well, and typically lined up in the backfield when the Panthers threw in some I-Formation and Pro-Set—or of course, if they wanted to run a 'fumblerooski'. 
So it appears then, that if the franchise elects to part ways with Shockey, Barnidge is the man needed to take on an increased work load if outside talent is not added into the equation. 
Barnidge is very athletic and has above average size, at 6'5",  247 pounds. He is not a technically sound blocker though, and would require some improvement in that phase of his game if he wants to be more than a backup in this offense. 
A younger free agent, like Seattle's John Carlson, would be a valued addition if Barnidge does not rise to the challenge. Carlson could immediately step in as a multi-faceted player who would come in at a discount due to a torn labrum that ended his 2011 season. 
Depth, however, is not a concern. Having Hartsock and Barnidge back up Olsen and Shockey or an offseason addition would be a comfortable situation for the Panthers. 
Priority: Very Low