Pittsburgh Steelers: Why Hines Ward Should Be Brought Back- He's the Greatest
February 4, 2012

A. Messerschmidt/Getty Images
The Pittsburgh Steelers should let Hines Ward play out his contract, and the reason is simple. He's the greatest all-around pro receiver of all time. It can't be argued. It's a fact. Hines Ward is the greatest all-around receiver in the history of the NFL. The Super Bowl XL MVP has done more to impact and revolutionize the position of receiver than any other man in to ever be paid to play the sport. Say what you wish about Jerry Rice, Terrell Owens, Cris Carter, Marvin Harrison, Steve Largent, Art Monk, Don Hutson or Michael Irvin, no one comes close to this all-around receiver's contribution to the game of football. 
The 6'0", 205-pound receiver out of Georgia is a four-time Pro Bowl selection, a three-time second team All Pro, two-time Super Bowl champion, Super Bowl MVP, three-time Steelers MVP, three-time AFC champion and holds the Steelers' all-time records for receptions, receiving yards and receiving touchdowns. 
Ward did to receiving what Steve Jobs did to computing. He changed how people thought of the position. He took what was generally considered a non-percussive role on the field and made it one that was feared by usually fearless defenders. He gave out what he got and that changed the paradigm.
He was drafted the third round in 1998 and nearly every year since he won a spot on the Steelers roster, he's been in competition for his job. Imagine trying to replace Stallworth or Swann every year they played for the Steelers. Ward has statistically bested both of them, and he did it with an array of Steelers quarterbacks that include Kordell Stewart, Mike Tomczak, Tommy Maddox, Charlie Batch, Dennis Dixon, Byron Leftwich and finally Ben Roethlisberger. 
Jerry Rice, who many consider the greatest ever, played in a receiver-friendly West Coast offense that was predicated on passes short and long. He also happened to spend most of his career catching passes from two of the top 10 quarterbacks in the history of the game in Joe Montana and Steve Young.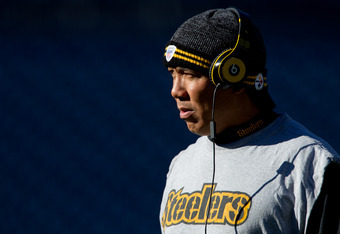 Justin Edmonds/Getty Images
Ward spent most of his 13 seasons in a "run-first" offense that demanded its wideouts block downfield as much as they asked them to catch balls. He's gone over the middle against the biggest, fastest meanest DBs, linebackers and safeties the game has ever seen. And he's done it all in the toughest defensive division in football, the AFC North.
Over the last decade, most of Ward's prime, his the AFC North has been the defensive standard bearer of the league. Ward's been bludgeoned two to three times a season by Ray Lewis, Haloti Ngata and possibly the second-best safety of all time in Ed Reed. Many of those games have been in the brutal cold of a Baltimore or Pittsburgh winter, not a dome like Irvin and Moss had for many of their best years, or the comparatively mild San Francisco climate Rice enjoyed.  
Not a running back, nor quarterback have personified the hard-nosed, lunch pail mentality of the city of Pittsburgh more than Ward. He's done his job relentlessly and done it with a smile, taking what most have considered the thankless work of the possession receiver and turning it into a work of art. He's a master at the position, turning a normally glamourous and coddled position of receiver into one that's feared by defensive backs around the league. 
The Hines Ward Rule exists because Ward started to block and block hard downfield, dishing out the same treatment he and other receivers have gotten since football began. Even to concede that he's been too aggressive is to confirm that he's changed the position.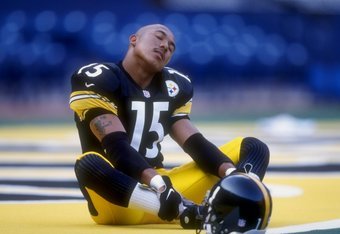 Andy Lyons/Getty Images
A receiver who's too aggressive or "dirty," as some detractors have painted him, is an oxymoron in a league of receivers averse to life between the hash marks. His tough style of play has trickled down into the college game that sees more and more receivers blocking hard and long past the line of scrimmage.
Ward has done more with less than any receiver in the top 50 of all time at the position. He possesses no great speed or quickness, nor does he have incredible strength, but somehow, some way he's broken into the 1,000 receptions club that boasts only eight men in the entirety of the sport. Again, this is on a team that had Jerome Bettis and Willie Parker hogging the ball for most of the time.
What you don't see in Ward's phenomenal statistical body of work is when he caught the ball. Often on third down and usually in high-pressure situations, Ward was the security blanket for quarterbacks from Stewart through Roethlisberger.
Twelve receivers were selected before Ward in the 1998 NFL Draft, and that fact has driven him throughout his career, but he could find similar motivation within his own ranks. When asked about his key to success in Hollywood, Harrison Ford intimated that he imagined he came to L.A. on a bus filled with other actors, and that if he stuck it out, he would be the last man standing. He referred to this bus as the bus of attrition.
Ward has been the driver in his own imaginary bus and has seen scores of riders disembark along his stellar career. Consider a short list of receivers Ward's outplayed and outlasted since 1998. Plaxico Burress, Limus Sweed, Antwaan Randle El, Santonio Holmes, Lee Mays, Willie Reid, Nate Washington Cedric Wilson, Terance Mathis, Will Blackwell, Troy Edwards, Courtney Hawkins, Bobby Shaw, Charles Johnson, and more have all been outlasted by the bi-racial son of a Korean immigrant from Georgia.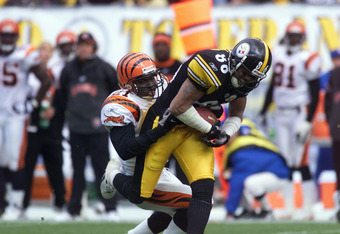 Jason Cohn/Getty Images
He's led by example as one of the toughest players, not just receivers, on what's long been considered the toughest team in the NFL. He went so far as to ridicule Roethlisberger's benching for his ostensible concussion, suggesting he'd played through many himself.
He later apologized for his words, but he revealed what many had long-suspected: that Ward has given more of himself than most anyone to wear a Steelers jersey. Ward has sacrificed his body across the middle, down field and anywhere else the Steelers have asked him to do so, and done it with a smile. 
He's poured his body, mind and soul into a career that was at best improbable, and has done it with his heart on his sleeve. After a crushing loss to New England in the AFC Championship Game, No. 86 cried for Jerome Bettis at the possibility of the "Bus" retiring without a Super Bowl win. Ward helped his team get Bettis to his swan song Super Bowl in his hometown of Detroit the following year and took home the MVP honors in his effort. 
He's recently become a great on-field mentor to young receivers like speedster Mike Wallace and second-year standouts Antonio Brown and Emmanuel Sanders. 
Ward reportedly talked with coach Tomlin and Steelers President Art Rooney II last week, suggesting that he wanted to return next year. The two gave no indication as to the direction the franchise is leaning, but if last season's role is any indication, Ward's returning to the black and gold isn't a fait accompli. 
The Steelers are over the cap by at least $25 million, and Ward is due $4 million next year, his 15th  season. He's been vocal about his openness to restructuring his deal, but the Steelers are faced with a plethora of tough decisions regarding personnel. Before Ward goes by way of Franco Harris or Rod Woodson and finishes his career in another jersey, the Steelers should step back and consider how they want to treat some of their football royalty. 
Steelers fans should only pray that he plays out his contract, and that Feb 2013 he walks off the field a victor. It's the only fitting period to the greatest chapter ever written by an NFL receiver. 


@mattsimondotcom
Tell me what you think. Leave your comment.