WWE Pot Luck: Your Choice for the Next Mega-Star, Sheamus or Ziggler?
February 5, 2012

Hulk Hogan and Macho Man Randy Savage, Shawn Michaels and Bret Hart, Stone Cold and the Rock, John Cena and Randy Orton. And now it is Sheamus along with Dolph Ziggler atop the ranks in World Wrestling Entertainment.
Dating back to the 1980s, professional wrestling produced men who led the company to stardom. It started with Hulk and Macho and more recently transitioned to John Cena and Randy Orton. Hogan became the mega-power, while Macho always played second fiddle. Cena became the No. 1 guy, while Orton played second fiddle, and now he shares hierarchical duties with a certain Second City Saint.
Dolph Ziggler showed his supremacy off like any excellent talent does, but he has continued to get better. Over a year ago, we witnessed Ziggler face Edge for the World Title and actually win for a brief moment, just to see him drop back to the mid-card, change his haircut and then change it back.
Recently, Ziggler competed in a WWE Title match at the Royal Rumble and defeated CM Punk three times in a row before that.
As for Sheamus, not too long removed from his debut with the company, he defeated John Cena and won the WWE Championship and became the first Irish-born WWE champ. He also was victorious a second time, but then shared a fate similar to Ziggler's: a drop to the mid-card.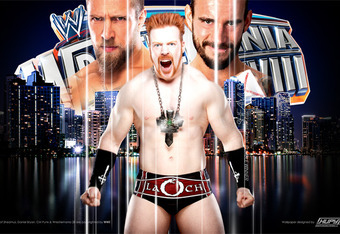 It isn't hard to recognize the talent in Sheamus, but his descent to feuding with Santino was nothing short of ridiculous and insanity.
Fast forward months ahead, now we look at the 2012 Royal Rumble winner. A man that defeated a streaking Jericho, whom most of all was a favorite to win the event. In my predictions piece, I had the Irishman winning it all due to his lack of an imminent push to the main event.
Sheamus has a guaranteed title shot at WrestleMania, while Ziggler catapulted himself to the main event by just beating Punk a few times.
Here comes the tricky part of the equation: Which one of these men will rise to the top and stay there?
In my opinion, neither of these men were built properly from the beginning. That is where WWE screwed up. Ziggler was in the main event before he was ready, so was Sheamus. Mr. Sheamus was pushed to the heavens, only to fall back below mediocre.
That is why someone like Cody Rhodes is the perfect example of a built talent, but that is beside the point.
Sheamus and Dolph Ziggler have the brightest future in World Wrestling Entertainment. Each man has the intangibles it takes to stay at the top and become the next mega-star. To book these guys will take patience, care and creativity.
Do not put the title on either of them yet. If that occurs, it could translate into a failure of a push and ruin a perfect opportunity to bolster the weak main event scene, especially on Raw. Jericho will not be there forever, Cena will come back eventually, but where is the new face other than Ziggler?
As for Smackdown, Christian will return soon with Henry on the shelf temporarily. Bryan has Sheamus, Orton, Barrett and possibly a returning Rey Mysterio. It doesn't help that only one man on that list has some friction with the current champ.
Who is your choice for the next mega-star? Which one makes sense and at the end of the day provides a logical justification? I guess that is what the Road to WrestleMania is all about...
The one place that elevates careers.
Thank you all for reading my article today. If you enjoyed this piece, hit the props button below and I would love feedback from all of you. Have a great evening!