2012 Pittsburgh Steelers: Mike Tomlin Up to Task This Offseason
February 6, 2012

Jeff Gross/Getty Images
The 2012 offseason will be Pittsburgh Steelers head coach Mike Tomlin's biggest test since he accepted the head coaching job in 2007. He's at a real cross roads in his career as a head coach. This will be the first time he's chosen a coordinator on either side of the ball, and some Steelers fans are nervous about the direction the team will take. 
To exacerbate the issue, the Steelers currently have  25 free agents on the block (via Steelers.com). Along with the loss of players, Tomlin will have to deal with a potentially volatile  chemical composition of a new offensive coordinator in the fold, and quite possibly, his new offensive paradigm and nomenclature to boot. 
The Steelers will most likely hemorrhage quarterbacks this offseason as Dennis Dixon, Byron Leftwich and Charlie Batch are all unrestricted free agents. Dixon has voiced his desire to at worst be a No. 2 quarterback, so he's most likely to exit Pittsburgh. 
In addition to chaos at the play-caller position, there's a mandate from the front office to put more stress on the running game. The Steelers have a deep group of runners in upstart John Clay, big back Issac Redman and others, but their style will have to mesh well with the new offensive coordinator.
Pittsburgh's star running back Rashard Mendenhall will be testing a surgically repaired knee, and it's unclear how effective he'll be less than nine months after his injury. In short, the jerseys will be the same, but the rest of the team will look very different in 2012.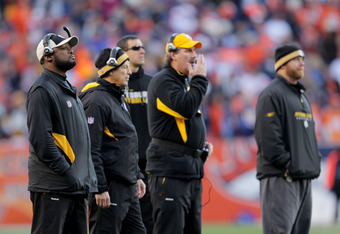 Doug Pensinger/Getty Images
Tomlin's not been perfect in his five years as Steelers head coach. In 2009, the defending Super Bowl champs had their backs up against the wall and faced elimination from playoff contention, Tomlin suggested his Steelers would "unleash hell in December." 
The Steelers finished 9-7 and missed the playoffs that year, but media, especially in Pittsburgh, didn't let Tomlin's aggressive language go without scorn.
More recently, Tomlin's move to play hobbled Ben Roethlisberger, nursing a high-ankle sprain, on a Monday Night game in San Francisco, drew criticism from all corners of Steelers nation.
The Steelers lost the game and didn't climb in the AFC standings heading into the playoffs. 
With the release of of offensive coordinator Bruce Arians at the hand of Steelers president Art Rooney II, some suggested that Tomlin, who supported Arians' return, was publicly embarrassed by the move. Additionally, in response the Arians' firing, Roethlisberger suggested he would sit down with Mr. Rooney and not coach Tomlin, about what Rooney wants from his offense, and more specifically his quarterback.
Tomlin has been quiet in public since the "forced retirement" and comments from his star quarterback. 
Many people mistake Tomlin's confidence for weakness or fear, but they do so at their own peril. Counter to what coach Bill Cowher did when taking over for Chuck Noll in releasing nearly all of his coaches, Tomlin retained defensive guru Dick Lebeau, even though it conflicted with his defensive philosophy.
As a result, the Steelers rewarded Tomlin's move by finishing No. 1 in the NFL in defense.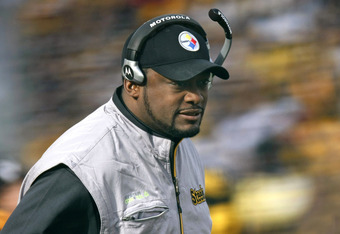 Gregory Shamus/Getty Images
Though he hasn't been perfect, he's been darned good as the Steelers leader. This is the same Mike Tomlin who lead a team that many suggested was past it's prime to a Super Bowl in 2010. He was accused of losing his locker room, only to direct the near-identical team to the Super Bowl the following season.
This is a coach who's won Super Bowl XLIII, and can boast AFC Championships in 2008 and 2010 his short tenure in Pittsburgh. 
Tomlin's real gift is his calm under pressure and this offseason is a perfect time to exercise that skill set. He understands the game and masterfully delegates a healthy amount of responsibility to not only his coaches, but his players.
He coached a young Rashard Mendenhall into a starting position and stellar performance by benching him early in 2009 when he appeared to not know the playbook. He motivates backup players to step up and perform to the Steelers "standard," and consistently builds teams that play in the perform well in the post-season.
He was the 2008 Motorola Coach of the Year. He's the youngest coach to ever win a Super Bowl, and the first Steelers coach to win division titles in his first two seasons.
This is a man who set a Steelers record for most wins, after getting 22 victories in his first two seasons as head coach. 
Tomlin will go down, at least, as the second best Steelers coach all time, and has already equaled 15 year Steelers coach Bill Cowher in Super Bowl appearances and wins. He has a better winning percentage and as many AFC Championships as Cowher.
He boasts a 55-25 record in the regular season and is 5-3 in the postseason. He's just getting warmed up, and with the benefit of the best organization in pro football, his future as the Steelers overall is very bright.