Super Bowl XLVI: Running Diary of Giants and Patriots' Epic Clash
February 6, 2012

Andy Lyons/Getty Images
5:05 p.m.: It's about that time. New England Patriots. New York Giants. Peyton's house. I've got the Kickoff Show, taco dip and a fond goodbye to a great NFL season. Tom Brady's fifth, Eli Manning's second Super Bowl. This is the only way I know how to do this, so it's about four straight hours of covering it. Commercials, music, and everything in between, including what's hopefully a damn strong football game.
5:15 p.m.: "America the Beautiful" by Miranda Lambert and Blake Shelton. I couldn't hear it over the bejeweled bright pink microphone. I'm blind.
5:19 p.m.: Kelly Clarkson brings it back with a great national anthem. The rule is, you can do the all over the place thing with your voice towards the end, as long as you don't suck or are just doing it to do it. Clarkson seemed like she was happy to be there, and started singing a little harder. Well done.
5:23 p.m.: And here we go! It's finally here. New England wins the toss and defers; Giants get the ball. It's a packed house tonight at Lucas Oil.
5:29 p.m.: Giants start conservative, a couple of passes from Manning and some rushes, but it looks evenly matched. Here's hoping this doesn't become some drawn-out, field-position struggle like four years ago. Giants forced to punt early.
5:38 p.m.: Patriots start with the ball. Brady drops back, tosses a pass weakly downfield as Justin Tuck crushes Brady. Wait, that wasn't around anybody. The referees confer for a second, then finally throw the flag. Intentional grounding in the end zone, rapping under the name, "Safety." 2-0 early, Giants.
5:40 p.m. - Whoever had "Giants safety" in their "Who Scores First?" Super Bowl pool is going berserk. Happier even than Steve.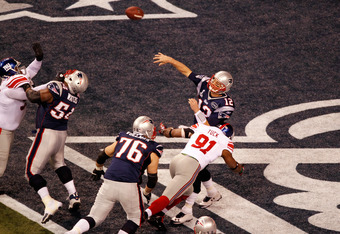 Gregory Shamus/Getty Images
5:48 p.m.: I'm never going to drink Bud Light Platinum. You couldn't pay me enough.
5:49 p.m.: Also, don't be successful enough to buy a car with LED lights. At least, if you're a vampire.
5:50 p.m.: Eli looks fantastic in the early going. I'm not sure he's thrown an incomplete yet. Victor Cruz almost gives the ball right back to the Patriots, but called off by a 12-men-on-the-field call. Safe to say first quarter belongs to the Giants. As I type that, Eli throws an incredible seam to Cruuuuuuuuz, who makes the score 9-0 Giants.
5:53 p.m.: Note to self: Blogging is so much tougher without DVR.
6:01 p.m.: Pats finally start moving the ball towards the end of the first half, and make it towards the red zone at the end of the first quarter.
6:03 p.m.: I want a Lexus. Especially if it can drive angrily through steel.
6:06 p.m.: So far, I want some Doritos, and a Chevy Mustang. Two top winners for commercials so far. The Budweiser Prohibition ad was kinda weird. "The dark times are over! We can get drunk again! WOOOO! Good times! GRAB SOME BUDS!" They're better than this.
6:08 p.m.: After a Patriots field goal, stat comes up about Eli setting a Super Bowl record by opening with nine straight completions. Nine! Stat comes up, then Eli throws an incomplete pass. Not a good moment for the critics he's trying to shut up tonight. They had a good chuckle just now.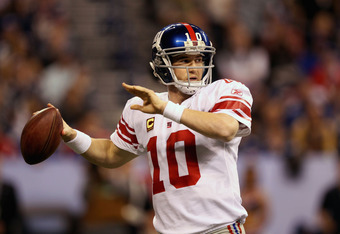 Ezra Shaw/Getty Images
6:16 p.m.: Manning to Hakeem Nicks, 18 yards across the middle. Great catch. Nicks came to play tonight.
6:19 p.m.: Giants can't do anything else and punt it away. Giants look a lot better right now. They're hitting harder and running better than the Patriots. Lots of fight in the G-Men. They know that despite the hype about the Giants this week, the Pats are favored in this game. People think the Patriots are better than them, and that's all they needed to hear.
6:20 p.m.: Coca-Cola bears an early favorite for commercial of the night. There's something about polar bears chilling, watching the game, enjoying a Coke. Might be the best one so far. Except maybe the Chevy Mustang.
6:28 p.m.: Giants just seem like they want it more. They're running harder, like they're the ones with the chip on their shoulder. But this extends to penalties too. A Brandon Jacobs scamper gets wiped out by a holding call, then a deep shot to Manningham is incomplete.
6:29 p.m.: I might name my first son "Eric Steve Weatherford Freeman III." Helluva punt.
6:31 p.m.: New commercial favorite: the Chevy Sonic.
6:33 p.m.: Thought Brady would start running the ball. Instead, it's five-wide from the three yard line. They convert and take it to the two-minute warning.
6:37 p.m.: IT'S MISTER QUIGLEYYYYYY!!!! Okay, the commercials are getting better. Skechers might own the first half.
6:40 p.m.: Patriots finally showing some fight.
6:45 p.m.: YOU DOWN WITH JPP? Collinsworth: "He is not a normal human being." Pierre-Paul with a huge stop on Woodhead from three yards out.
6:47 p.m.: All right, we got a ballgame. Brady to Woodhead to complete a 96-yard drive (ties for SB record), 98 with the opening false start penalty included. Eight seconds left, and it looks like we're in halftime, 10-9 Patriots. Good back-and-forth struggle here. Brady shows his game face.
7:12 p.m.: Madonna. World Peace. That's what I got from halftime. (Sorry, no Puppy Bowl updates. I hear there are sites for that.)
7:19 p.m.: Chrysler hits a home run again, with their Clint Eastwood-narrated commercial about survival, something they worried about all too well until President Obama and his bailouts. That saved them. And our car industry. Clint ends the ad by saying, "It's halftime, America. But the second half is about to start." How is that NOT an endorsement for Obama's second term?
7:23 p.m.: Pats get the ball to start the second half. Brady starts fast, with a pass to Chad Johnson. Who says we have to respect someone's dumb name choices? His mother named him Chad Johnson, so he's Chad Johnson. Apologies to pioneers like Marshall Mathers and Samuel Langhorne Clemens, but I'm an originalist. After a quick drive, Brady hits Aaron Hernandez for a score.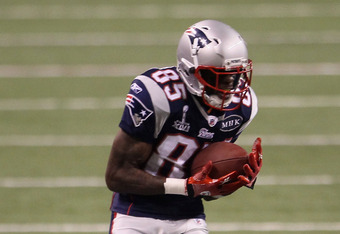 Jeff Gross/Getty Images
7:27 p.m.: Yes, Katharine McPhee is going to be a star.
7:28 p.m.: Someone at the local station must have just gotten fired after 15 seconds of dead air. When the local commercials resume, they overlap the national feed, as that same person was then dragged violently out of the station house.
7:31 p.m.: Giants get a good return, and start with their own kind of message drive to answer what looked just too easy for Brady and the Pats. Manning converts another first down to Nicks. This Patriots secondary just doesn't look like they're up to the challenge. They're so tentative towards the big play, but Eli is driving easily down the field, despite a good pass rush.
7:36 p.m.: Huge hit on Nicks out of bounds by Patrick Chung, then a big third-down stop by Sterling Moore. So much for the Pats' secondary talk. Lawrence Tynes kicks a 38-yarder. 17-12 Patriots.
7:38 p.m.: If I'm ever at the grocery store, and I worked for Coke, and I bought a Pepsi, and confetti shot off with people emerging from everywhere, including Regis Philbin, I would punch someone in the face.
7:42 p.m.: The Coke polar bears are the "saga" commercial. I'll take it.
7:47 p.m.: Tom Brady tries to run.
7:48 p.m.: Tom Brady is tackled for a loss.
7:49 p.m.: Patriots punt.
7:51 p.m.: Nicks catches a pass from Manning across the middle, but then gets stripped of the ball. Giants recover, and they resume their drive with great field position, but that could have been "the moment." There's always a tell-tale sign when things slip away. So far, Manning's controlling his team well.
7:55 p.m.: Third and 8, and Manning is sacked. Patriots step up on defense and only allow a field goal. Score is 17-15 Patriots.
8:00 p.m.: "Let's commit to a safer future." Brought to you by the NFL. Fans of points and passing records.
8:03 p.m.: Brady is chased in the pocket, avoids the pressure, steps out and launches it downfield. Intercepted by Chase Blackburn. Sorry, Brady, no "Helmet Catch" for you. Collinsworth beats me to the parallel, and Giants take over. Early candidate for "turning point" of the night.
8:07 p.m.: I might be changing my mind about Katharine McPh...no, she's adorable.
8:09 p.m.: Giants almost fumble their chance right back, but they recover. Patriots are starting to make too many mistakes. Too many inopportune moments for them. Manning gets back to work with quick throws.
8:19 p.m.: After a slew of mistakes of their own, the Giants get robbed on a blown pass interference call after being forced to call their second timeout of the half (with nine minutes left in the final quarter of the Super Bowl). Punt forced; Tom Coughlin beet red.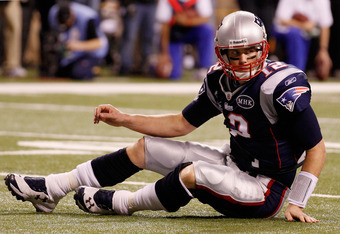 Rob Carr/Getty Images
8:21 p.m.: Adriana Lima appearance No. 2. I love the Super Bowl.
8:22 p.m.: Danny Woodhead impresses with a big gain from the rollout, scooting past Antrel Rolle and picking up a big game. Tick tick tick tick....
8:24 p.m.: Feel-good commercial of the night: Samsung Galaxy Note.
8:26 p.m.: Another big chunk of yardage on a reverse to Wes Welker.
8:28 p.m.: Five-and-a-half and counting. HUGE third down here.
8:29 p.m.: Short completion to Hernandez, got the first.
8:31 p.m.: Wes Welker DROPS a wide open pass that stops the clock at four minutes. Patriots punt.
8:34 p.m.: Eli chucks a bomb down to Manningham, who catches it 30 yards downfield. I don't believe it. Patriots are going to challenge, but this is a huge call.
8:35 p.m.: Call confirmed. First down Giants. I think that WAS the moment.
8:36 p.m.: Eli is a surgeon right now with the ball. Two more first downs to get to the two-minute warning just inside the red zone. Still 17-15 Patriots. One timeout left for the G-Men, two for the Pats.
8:40 p.m.: First down to Nicks, who goes out of bounds to stop the clock at 1:09 to go. Pats have two timeouts left, and use one after a handoff. 1:04 left.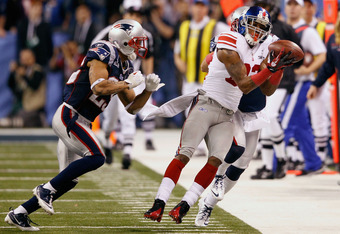 Rob Carr/Getty Images
8:43 p.m.: Patriots literally let Ahmad Bradshaw go through, who tries and fails to kneel down at the inch line and kill some clock. Just lays into the end zone. Instead of draining the clock down and kicking the FG, they score the TD and go for two. D.J. Ware stopped short; Pats will have the ball with a minute left and a timeout. It's 21-17 Giants.
8:47 p.m.: Tom Brady has 57 seconds to go 80 yards. First play: pass to Deion Branch tipped by the linebacker, Branch drops the open catch.
8:48 p.m.: Aaron Hernandez drops the next throw. Third and 10.
8:49 p.m.: Brady sacked behind the line, second of the night by Justin Tuck. Patriots call timeout with 39 seconds left. Fourth down and 16 for the Patriots. This is it.
8:50 p.m.: Brady escapes the rush, and finds Branch open for a 18-yard gain that goes out of bounds. After a quick pass to Hernandez, Brady spikes it at the 44-yard line with 17 seconds left. Second down: Brady launches one deep incomplete, but the Giants had 12 men on the field. But the clock moves down to nine seconds. The extra five yards were good, but only nine seconds left.
8:52 p.m.: Pats try an out route, but it's too far. Five seconds left.
8:53 p.m.: You know the rest. Somewhere, in a deep dark corner, Tiki Barber starts crying. The Giants have won the Super Bowl.
9:05 p.m.: The Vince Lombardi trophy is given by some guy in white gloves to 1973 Hall of Fame inductee Raymond Berry, who proceeds to walk it down a line of Giants, some touching it and holding up cameras, then kissing. And more kissing. And more kissing. Even a guy with a CBS microphone touches and kisses the Lombardi trophy. It's a nasty, ratty mess by the time it's "officially" presented to the New York Giants.
9:08 p.m.: Super Bowl XLVI MVP: Eli Manning, who went 30 for 40, 296 yards, 1 TD, 0 INT, 103.8 percent QB rating. Eli also gets a 2012 Chevy Corvette for winning the MVP. Along with the label "elite" for the rest of his life. I'm full.