Nick Saban's Image Takes a Hit from Grayshirting
February 6, 2012

Andy Lyons/Getty Images
Since recruiting season is over, the old topic of grayshirting has come up again with Alabama's Nick Saban.
Several reporters are "outraged" what had taken place with Darius Philon and Justin Taylor, two Alabama recruits who decided to attend other SEC schools because Saban asked them to grayshirt and be a part of the 2013 class.
Now keep in mind, grayshirting is NOT, I repeat, IS NOT illegal. The NCAA has allowed this to go on for years, and Nick Saban isn't the only coach who does it. Steve Spurrier does it; Houston Nutt did it was well, but because of Saban's success recently on the field, he has become the poster child for grayshirting.
The loudest voices about this situation are coming from SEC foes Georgia and Auburn. The Atlanta Journal-Constitution did a report about recruit Dalvin Tomlinson who had the nerve to choose Alabama over Georgia and Georgia Tech. Tomlinson is a big-time recruit who had been on Saban's radar for awhile, and the thought by this reporter was that Darius Philon was dumped for Tomlinson. According to Mike Rozier, Tomlinson's high school coach, this report is not true.
"From day one, Dalvin was going to Alabama. He kept delaying and everything, and it got kind of close with the scholarship numbers. But Nick wanted Dalvin from day one. He was Nick's boy. Coach Saban fell in love with him a long time ago. Alabama never waived on that kid. There was no "grayshirt" mention with Dalvin whatsoever by Alabama. All that other stuff is rumor and speculation...Dalvin always had a scholarship at Alabama."
My guess is this reporter is more upset that Saban managed to steal another top recruit away from Georgia and was speaking more or less for Mark Richt. Same with a story that came out of Montgomery from a reporter there that basically called Auburn coach Gene Chizik a "saint" and Nick Saban "classless" for grayshirting kids.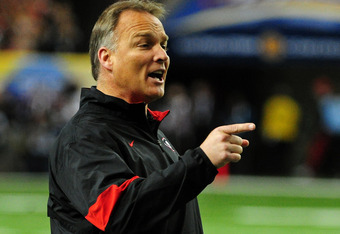 Scott Cunningham/Getty Images
Let's keep in mind a few things; Mark Richt has had several players on his team arrested and dismissed for various reasons over the past year. No one mentions that Richt apparently likes picking kids with character issues because as UGA fans like to say, "he's such a good Christian man."
I guess that makes Saban the devil.
As far as  Saint Chiz goes, he and his coaching staff got in trouble a few years ago for riding around in limos on high school campuses to attract kids; an NCAA violation. Also Arik Armstead, a big-time recruit who was interested in Auburn, picked Oregon when many thought he and his brother were going to the plains for sure. 
The kid said he picked Oregon and Chip Kelly because "He was honest with me. They never talked bad about any other program. They recruited me without recruiting me."
He didn't say that about the other schools who were recruiting him which included Auburn. 
I'm not shocked that the media and SEC fans call themselves disgusted with Saban, but their disgust is because despite all the rumors of cheating (which have never been proven) and Saban grayshirting, he still manages to pull in the top recruiting in the country.
John Parker Wilson, who started for the 2008 Alabama team which won the SEC West and led his team to the Sugar Bowl was a grayshirt, so it can work out for the player. I understand why Taylor and Philon decided not to grayshirt, but they were offered a chance to still come to 'Bama.
Saban is praised by most of the college football experts for the way he runs his program which many say is like an NFL franchise, so of course kids from around the country are lining up and some even willing to take a chance on grayshirting just to be a part of this program.
But what SEC fans are probably most "disgusted" by is that Saban manages to do all of this by just following the rules which most programs including several of the SEC teams, do not do very well.