Duke's Austin Rivers Rips North Carolina's Defense; Lifts Duke to Win
February 9, 2012

Streeter Lecka/Getty Images
With a loss to Miami in Durham looming over Duke's head and an unbelievable upset by Boston College against Florida State, North Carolina had a chance to take total control of the ACC...all UNC had to do was win a home game against Duke.
Austin Rivers made sure that was not as easy as it sounded.
The freshman guard ripped the North Carolina perimeter defense, scoring 29 points off 9-of-16 shooting, converting 6-of-10 from three-point range and rising up to drop the game-winning three-pointer as time expired to lift Duke to an 85-84 win in Chapel Hill.
As improbable as the last shot was, the rally for ninth-ranked Duke (20-4, 7-2) seemed even more improbable. UNC (20-4, 7-2) appeared to be running away with the game in the second half, leading by double digits for most of it. With 3:54 left in the game, Carolina held a 79-68 lead and appeared to have total control of the game.
Duke started the game on fire, opening up a 15-7 lead over the Heels early, getting two three-point baskets from Rivers, a jumper from Mason Plumlee and a big-time three-point basket from Andre Dawkins.
Senior forward Tyler Zeller kept the Heels close early, scoring 11 of Carolina's first 13 points.
The shots kept falling for Duke, however, and after a jumper by freshman guard Quinn Cook, Duke held a 29-21 lead with 8:37 left in the first half.
Carolina continued to chip away by getting the ball to Zeller, Junior forward John Henson and freshman forward James Michael McAdoo. After a jumper by Henson with 2:52 left in the half, Carolina drained the Duke lead down to 39-37.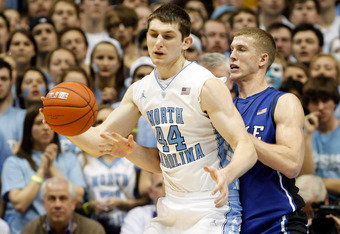 Streeter Lecka/Getty Images
It appeared that Carolina was gaining momentum going into the half-time break.
Sophomore forward Harrison Barnes stripped Seth Curry as time was winding down, and sophomore guard Reggie Bullock drove down to finish the first half with a layup as time expired to give UNC a 43-40 half-time lead.
The Tar Heels continued their surge after the break, and after a 14-4 run to start the second half, Carolina's lead extended to 57-44.
Austin Rivers just wouldn't go away, however, and after hitting two quick three-pointers, Duke was hanging around.
Both teams traded baskets for much of the remainder of the game, and Duke found themselves down 82-72 with 2:35 left. That's when things got pretty interesting.
After a wild loose ball, sophomore guard Tyler Thornton rose up and drained a three-pointer, his only basket of the game, and got Duke to within seven points.
Sophomore guard Kendall Marshall turned the ball over on the next play, and Seth Curry drained a three-pointer cutting the score to 82-78. The rally was on.
After a Ryan Kelly jumper and a Tyler Zeller free throw, Duke found themselves down 83-80 with :40 seconds remaining.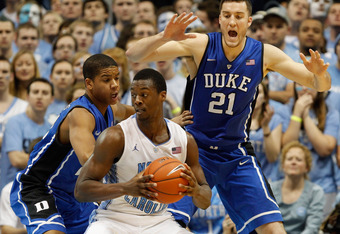 Streeter Lecka/Getty Images
Kelly them received a pass from Rivers and rose up for a three-pointer. The ball appeared to be short, but North Carolina's Tyler Zeller tipped the ball into the Duke basket, cutting the UNC lead to 83-82 with only 0:18 seconds remaining.
Zeller was fouled and made one of his two free throws leaving the door open for Duke.
The Blue Devils...out of timeouts...quickly brought the ball up the court, and after receiving a player screen, Rivers was left with the ball and Zeller guarding him on the right wing.
Zeller, fearing the drive to the basket, gave Rivers just enough room for a three-point attempt, and River made him pay, swishing the game winner as the time expired.
*Harrison Barnes exploded in the second half and finished with 25 points.
*Zeller finished scoring 23 points and grabbing 11 rebounds. John Henson scored 12 points and grabbed 17 rebounds and Kendall Marshall finished scoring 14 points and dishing out eight assists.
*Ryan Kelly and Seth Curry finished up with 15 points each for Duke.