Montreal Canadiens: Habs Miss the Boat with Anthony Stewart
February 8, 2012
Jim McIsaac/Getty Images
Either through indecision or sheer incompetence, Montreal Canadiens GM Pierre Gauthier missed the boat on Tuesday.
Anthony Stewart, just a season removed from a 14 goal, 39 point season with the Atlanta Thrashers, was put on waivers by the Carolina Hurricanes on Monday. He went unclaimed however, and will now remain with the team and is expected to play against the Anaheim Ducks tonight.

Stewart was in the midst of a down year, in which he has only managed to net six goals and 13 points in 50 games. 
Once a prized first round selection of the Florida Panthers, Stewart wore out his welcome in the Sunshine State after three underwhelming seasons.
After a year with the Chicago Wolves, then the Atlanta Thrashers farm team, Stewart was called up to the big club and had himself a strong season. The six-foot-three, 230-pound forward had his first productive season playing third line minutes.
Strangely, the team declined to offer Stewart a qualifying offer when it moved to Winnipeg, allowing him to sign a two year, $1.8 million deal with the Hurricanes. After only 50 games, Rutherford made Stewart available on the waiver wire.
Admittedly, Stewart isn't exactly a can't-miss player. He is passed the age of a promising young prospect and has shown signs of being wildly inconsistent in his young career. The Panthers, Thrashers and now Hurricanes giving up on the hulking forward also doesn't look so good on a CV.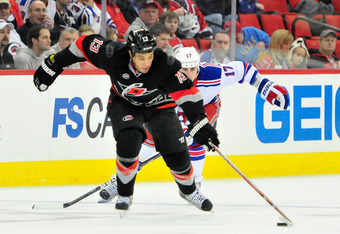 Grant Halverson/Getty Images
My question for Pierre Gauthier? Why not take a chance.
Stewart has the type of size that could definitely be used on the Habs' fourth line. He has shown that, with third line minutes (he played over 14 minutes a game in Atlanta), he is capable of producing nearly half a point per game. He's reasonably physical, dishing out over a hit per game, and the price is right as his cap hit is just under $1 million. 
Also, although he's having a down year, it should be noted that just about everyone on the Hurricanes roster has seen their production slip. 
So, why not take the seemingly minuscule risk needed to pick up Stewart? Is there some can't-miss prospect in the Habs' organization that the team is saving a roster spot for? Is Gauthier worried about messing with the chemistry on a 13th-place team? Has Scott Gomez been such a revelation on the wing that there simply isn't room for a waiver pickup?
Stewart is big, strong and he can contribute. I understand that he isn't a franchise changer. His best days might even already be behind him. There also may be a reason that 29 other teams passed on him. I simply can't understand what this team has to lose.
Mind you, there's very little anyone can understand about this team at this point.
You can follow me on twitter @markdellaposta