2012 NFL Free Agents: Predicting What Cleveland Browns Will Do in Free Agency
February 8, 2012

Leon Halip/Getty Images
Stop me if you've heard this one before.  "This is the most critical offseason in the history of the Cleveland Browns."
That may not be true for me, and it might not be true for you.  
But it is true for Mike Holmgren and Pat Shurmur. 
I will now channel through my alter-ego, Papa Burl, a charter member of the Psychic Network, and
try to predict what the Browns will do in free agency (if they really were psychic shouldn't they have known that the police were after them?).
There are two possible scenarios that are talked about.  We will explore both and try to get a handle on what, if anything, the team management is thinking. 
The team will either do nothing, which will be a virtual repeat of last year, or it will take baby steps toward becoming competitive.
If the team repeats its Sargent Shultz "I see nothing!" approach to free agency, there will be a lot of very upset fans. 
But as we know, the powers that be don't care if we are ready to jump off the cliff or not. They are not going to be pressured by the fans. 
Don't let the fact that we are the customers for the team fool you.  The Browns are going to do things their way.
The other option is that the team will fill some critical spots with low-cost players they know. If this has a familiar ring to it, it should.  Under Eric Mangini, we traded our first-round pick in 2009 (fifth over all) to the Jets for a bag of used, old, slow players and a couple of their draft picks. 
The Jets got a guy they thought was a franchise QB in Mark Sanchez.  But we were not done trading down.  We traded that Jets pick (No. 17) to the Bucs so they could take a guy they thought might be a franchise QB in Josh Freeman.

Re-signing the Browns UFAs
The team will do its best to re-sign MLB D'Qwell Jackson and K Phil Dawson, in my opinion. 
I think the team will also try to re-sign CB Dimitri Patterson, who was good as the nickel in 2011 and could replace Sheldon Brown at CB. Brown could be a candidate for FS.   
The rest of the free agents will be re-signed only if the team cannot replace them with better players.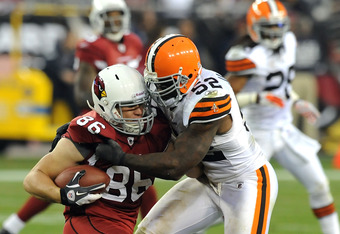 Norm Hall/Getty Images
I do not expect the team to resign RB Peyton Hillis.
Alternative 1
Under this alternative, the Browns will be Dumpster diving the cut lists of other teams.  Is that a way to improve the team? 
No, it is not.  But that is what we did last year. 
That was a major contributor to the 4-12 record we ended up with in 2011.  If the Browns fail to do anything significant in the FA period, we will be doomed to a 4-12 season in 2012.
Alternative 2
This is what I think the team will do.  So hold on tight.  It is going to be a bumpy ride.
RT—There is no doubt the team needs someone at RT that is at least ambulatory.  Tony Pashos did his best but spent half the season playing on one leg.  With his history of injury, there is very little chance he will ever be a solid player. 
Projected—Winston Justice, Eagles, 28 years old by the start of the 2012 season.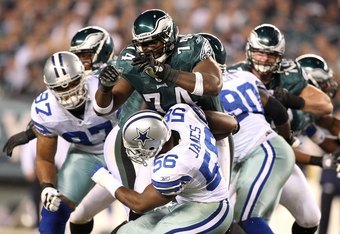 Al Bello/Getty Images
Justice was a second-round pick in 2006.  He has started 37 of his 47 games in his six-year career.  He was drafted by the team under Heckert.  He made $2.7 million last year in base salary.  He is expected to be released after losing his starting spot to Todd Herremans. 
The question is if O-line guru Howard Mudd couldn't get him going, what chance do the Browns have?
DE—Despite rumors that Jayme Mitchell was the best pass-rusher on the roster in 2010, we have a serious need at that spot. 
The team should bring in a starting-quality veteran, but that will not happen.  The team will be bottom-feeding for a guy to become a rotational DE. 
Projected—Victor Abiamiri, Eagles, 27
Abiamiri was an Eagles second-round pick in 2007.  He started just six games in his career and
has not had a tackle since 2009. 
His 2011 salary was $600,000, so he will be an easy fit cap wise.  He is a fairly athletic guy with very limited football instincts.  Again, this was a pick while Heckert was in Philly.  
Are you starting to see a pattern here? 
Abiamiri is the classic definition of a draft bust. But as I have said before, every coach thinks he can be the one to turn a bust into a star.  That is not going to happen with Abiamiri.  He is now and will always be a bust.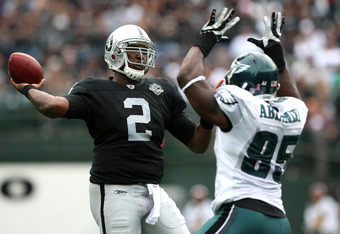 Jed Jacobsohn/Getty Images
WR—Another position where, despite reports to contrary, the Browns were totally inept was WR.  I really like Greg Little's potential.  He has only been a WR for one college and one pro season.  He will only get better. 
But he is the only player with potential on the team.  The Browns need a WR with speed that can blow the top of the defense. 
Projected—DeSean Jackson, Eagles, 26. JUST KIDDING!
This is the guy I would love to see on the Browns.  He is a difference-maker who can score on
any pass he catches. 
He has unreal vision with the ability to reverse direction without losing speed.  That is something very few players can do. 
Actual Projected—Steve Smith, Eagles, 27
Smith was brought in from the Giants as a FA in 2011, and it just never worked out. 
He caught only 11 balls in 2011.  He caught 107 in 2009 starting 15 games.  In 2010, he was limited to just nine games and 48 balls.
He was limited to nine games in 2011 as well.  Smith is the classic possession receiver that runs very precise patterns and has reliable hands.  I like Smith a lot.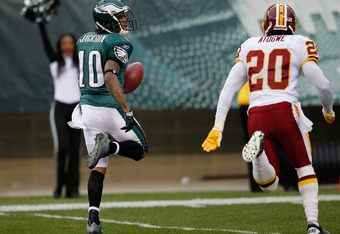 Rob Carr/Getty Images
I would love to have him on the team.  But I am greedy for the Browns.  I want Smith and Jackson.
FB—The team tried to go on the cheap and not re-sign Lawrence Vickers in 2011.  They drafted Owen Marecic, but that did not work out.  Marecic is a bust.  He is a great kid but is too slow to get to the hole and has very little play recognition.
Projected – Owen Schmitt, Eagles, 27
Schmitt is a no brainer.
Not only does he have time in the Eagle's nest, but he was originally drafted by the Seahawks in 2008 under Mike Holmgren.  I love Schmitt. 
He blows up linebackers like they were parade balloons. 
He can catch the ball and will protect the QB like he was a member of the Secret Service.
Given the struggles (I'm trying to be kind) of Marecic, Schmitt would be an outstanding addition to the team.
Summary
That is the list of UFAs I see coming to Cleveland at best.  Will they help?  Yes, they will give us some options to fill these holes in our roster.  
I don't see the team bringing in an UFA QB.  If the QB that they bring in to challenge Colt McCoy is a vet, it will likely be Kevin Kolb if the Cards cut him loose. 
Kolb did not work out in Arizona because that team does not use the WCO.
Kolb was a second-round pick in 2007. He will be 28 in 2012 and started seven games in Philly with 11 TDs and 10 picks.  In 2011, he had nine TDs and eight picks.
The Cards decided to look elsewhere when Kolb did not adjust to their O.  They owe him some big dollars and will not be willing to spend that on a backup. 
Kolb has decent arm strength and accuracy but is not effective at reading defenses or feeling pressure in the pocket.  Those are things that can be taught. 
At least he knows the offense and the terminology. 
If the Browns do at least this much in free agency, we will be better in 2012.   We will not be as
good as we could be with better quality free agents, but better than in 2011.
If the Browns do nothing in free agency, we will be worse in 2012.
That is what I think.  Tell us what you think.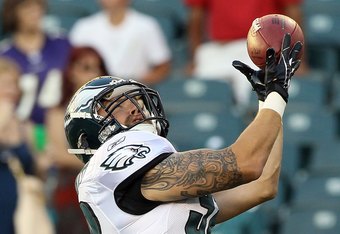 Jim McIsaac/Getty Images
If you want a different look at Cleveland Sports, join me on the Internet radio version of News, Notes and Rumors M-Th at 6 PM EST on http://mooheadradio.com/2.0/. 
Bill Smith is a former coach of several semi-pro teams, has done color on radio for college football and basketball and has scouted talent. He edits http://fryingpansports.com.  He is a senior writer for http://nfldraftdog.com/index.html.  He has also published several novels on http://www.eBooks-Library.com/Contemporary/ and a non-fiction work at http://www.merriam-press.com/.