Rematch with Nick Diaz Is the Right Move for Carlos Condit
February 8, 2012

The main even of UFC 143 has split the MMA community right down the middle.
The five-round interim title fight between Nick Diaz and Carlos Condit on Saturday has become a popular topic of debate among fans, fighters and reporters alike. Many feel Condit won with his flawlessly executed game plan, while others feel Diaz should've gotten the decision because Diaz was the more aggressive fighter, and because of Condit's elusiveness and unwillingness to engage in a brawl. However, it is very clear that this was a close fight and nobody was really sure who would get the decision before the scorecards were read.
I have been passionately defending Carlos Condit as the legitimate interim welterweight champion; however, I am not stubborn enough to pretend it was a dominant or convincing win. It was an extremely close fight, but the right man got his hand raised.
Having said that, giving Nick Diaz a rematch is probably the best course of action for Carlos Condit at this point, and these are some of the reasons to do it:
Silence the critics
If Condit doesn't fight Diaz again, the crowd that feels that Diaz won will probably always feel that way, no matter how much we try to convince them otherwise. Condit wouldn't be recognized as the legitimate winner by many people unless he convincingly defeats Diaz again. A win in a rematch would prove Condit in fact is the superior fighter and even the most hardcore Diaz fans will have a hard time making the argument that "Diaz should've won" if Condit wins twice in a row.
Establish Carlos Condit as a true threat to Georges St-Pierre
After UFC 143, not many people were clamoring to see GSP vs Condit, and even less were saying Condit would have a good chance of beating GSP. Two straight victories over Nick Diaz would make Condit seem like a real threat to GSP.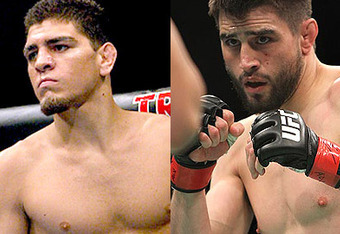 Staying active
It seems like Carlos Condit wants to wait to fight GSP, and that's OK, he has earned it. However, we are still not sure when GSP will fight again, it could be by November at the earliest, but maybe it could be until 2013. Condit needs to stay active, he is in the prime of his career and wasting a year to wait around is never a good idea. Just ask Rashad Evans.
Get a better payday
Condit has the leverage to ask for a handsome payday if he were to rematch Diaz. 
If Condit loses, there will be a trilogy
If Condit loses, there is almost a guarantee that he will face Nick Diaz again sometime in the future for the rubber match. This would no doubt be a huge fight, and a great payday for both men.
Give chance to build new contenders
Besides Carlos Condit and Nick Diaz, there are no clear contenders for the belt yet. Guys like Jake Ellenberger and Johnny Hendricks are coming off huge wins, but a couple of more fights would help them become more established future contenders. 
These are some good reasons why this fight is a good move for Carlos Condit. I think when all is said and done Carlos Condit has more to gain if he fights Nick Diaz again.