PGA Tour Fantasy Golf: Previewing the AT&T Pebble Beach National Pro-Am
February 9, 2012

Ezra Shaw/Getty Images
Just like that, we're at Pebble Beach this week and five weeks of the fantasy golf season are in the books. Good thing fantasy golf lasts pretty much forever. Or until around Thanksgiving, whatever comes first.
If you haven't had a ton of success this year, join the club and/or take a number. Golf is a game that is really about discipline and focus. The slightest slips can effect a golfer, not only for a round, but for weeks or months on end.
If you haven't been able to pick a winner out of fields consisting of up to and over 100 golfers, that's literally about par for the course.
This isn't easy. Not at all. So don't get frustrated if you hit a rough patch.
Of course you used Phil Mickelson the week that he missed the cut. Or you bailed on Kyle Stanley after his meltdown only to miss out on his victory the following week. It happens.
The cool thing about fantasy golf is that it takes forever. You're never out of it. You can do your homework and select players that cash, but at some point picking the winner of a particular tournament requires a healthy dose of luck.
Get lucky a couple of times and you're really in business. That's all there is too it. You try to maximize your luck potential by doing your homework and trying to pick out players with the best chance to succeed. It really is as simple as that.
Before we preview this week, it's time to acknowledge that this weekend is sort of the unofficial "real" return of Tiger Woods. He's looked good in overseas play, and even if he's just finally really healthy, that's a big improvement over what we saw last year.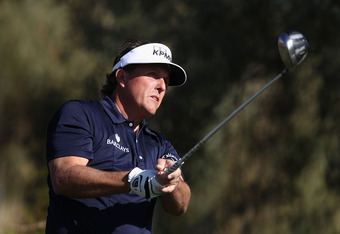 Christian Petersen/Getty Images
For me, this is the perfect week just to watch what Tiger does. If he looks good, then I'm glad that I saved him for upcoming events with bigger purses/more points. If he reverts back to "Bad Tiger" then I'm glad that I dodged that bullet. Even if he wins this weekend, so what? That just means that he's likely to win again somewhere else in the not-too-distant future.
This week we are in California for the AT&T Pebble Beach National Pro-Am. The tournament will feature three golf courses: Pebble Beach Golf Links, Spyglass Hill Golf Course and the Shore Course at Monterey Peninsula Country Club. 
The winner will take home $1,152,000 out of a $6.4 million purse. D.A. Points is the defending champion.
On this trio of courses, we are looking for a few things. We are going to need golfers who really limit their bogies and bad holes.
That means accurate golfers (fairways and greens) and golfers who are very strong around the green (scrambling and putting). We also want to go with players who have experience and a strong track record here.
Who am I using this week?
Yahoo! Weekly Lineup Game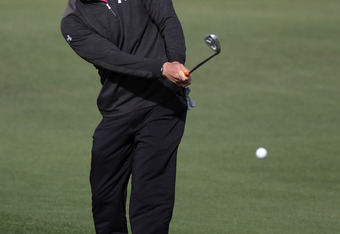 Ross Kinnaird/Getty Images
Group A
Sean O'Hair (Starting)—O'Hair's last three finishes here (T31, T35, T10) aren't great, but this could be the year he breaks through. He has played very strong so far in 2012 and he ranks 25th in greens in regulation percentage (73.15 percent) and fourth in scrambling (72.41 percent).
Phil Mickelson (Bench)—It's tough to figure when/where to use Mickelson these days. He's won this event three times here including twice since 2005. If he can control his drives, his distance and putting will allow Mickelson to have a chance to win this week.
Or if he's wild, he might miss the cut. That makes him a bench guy for me most weeks until further notice.
Group B
Dustin Johnson (Starting)—This is a leap of faith for me. Johnson hasn't done enough this season (other than being ranked seventh in driving distance) to trust him under most circumstances.
The circumstances here are that he won this tournament in 2009 and 2010. That alone makes him worth starting here until he proves otherwise.
D.A. Points (Starting)—This is a case of the stars aligning perfectly. Points has been outstanding this season and he's the defending champion here, not to mention he ranks 10th in greens in regulation percentage (74.65 percent). No reason not to keep riding him while he's hot.
Hunter Mahan (Bench)—Mahan is my backup if Johnson fails early. I'd like to save him as much as possible, but he's a great fit here.
Mahan finished T6 in his only start so far in 2012, and finished second here last season. He is also one of the best iron players and putters on Tour.
Rickie Fowler (Bench)—Fowler has been excellent in his first two starts this season (T13 and T26) and he does have a bit of a track record here (T27 in 2010).
Statistically, he's an awesome fit. On the year, Fowler ranks 12th in driving accuracy percentage (66.07 percent), 35th in strokes gained—putting (.518) and eight in scrambling (69.05 percent).
Group C
Jeff Maggert (Starting)—Maggert has been quietly brilliant this season, finishing T13, T5 and T26 in his three appearances so far this season. Maggert has a solid history here plus a ton of experience.
He ranks 19th in driving accuracy percentage (65.06 percent) and 24th in scrambling (65.63 percent). He could surprise some people this weekend.
Jon Huh (Bench)—Going against my own grain, as Huh has no experience here. But he's been white-hot so far in 2012.
He's finished T6 and T12 in his last two tournaments. He ranks 17th in driving accuracy percentage (65.48 percent) and 24th in strokes gained—putting (.716). It's rough goings in Group C this week, so Huh makes a nice wild card to put on your bench.
Easy enough, right? Now, who do you pick in your weekly/survivor/eliminator/earnings league?
For the record, I've already used: Bryce Molder, Steve Marino, Bill Haas, Points and Martin Laird.
This actually is easier for me than it is most weeks because it was so difficult to even find a satisfactory Yahoo! lineup. Because I've already used Points, it's pretty much between Mahan and Fowler for me.
I don't see Fowler winning even if he plays well, so I'm going with Mahan. Ideally I would like to save him, but $1.1 million is a decent-sized chunk of change and I really like his odds here. Now I just have to hope that I get a little lucky.
Good luck to all this week.
Follow John on Twitter
Check out John's other work on Bleacher Report
Just starting fantasy golf? Check out my Season Primer from Week 1.