WWE: Why Undertaker vs. Mick Foley Needs to Happen at Wrestlemania XXVIII
February 9, 2012

Gaye Gerard/Getty Images
The "main event" at Wrestlemania is normally a world-title match, but die-hard wrestling fans no where the real action is.
The show-stealer, the match of the night, or at least  guaranteed solid match will always come out of the Undertaker's match to defend the streak.
Currently 19-0 at Wrestlemania, the Undertaker has faced the likes of Shawn Michaels, Randy Orton, Mark Henry, Edge and a multitude of other stars.
One man, however, has never met the Undertaker on the biggest stage of them all.
That man is Mick Foley.
Foley and the Undertaker have put on some of the greatest matches and greatest spots in WWE's history. There was the first Hell-in-a-Cell match, which featured a Tombstone Piledriver through the cell.  Foley actually jumped off the cage through the announcer's table at one point. 
As it stands now, the Undertaker will most likely face Triple-H for a rematch of Wrestlemania XXVII.  While i am not necessarily against this, as their last bout was nothing short of epic, I am wary of a repeat effort.  
I love the Undertaker and Triple-H.  They are two legends in the business, and their work ethic is unmatched.  
My worry is that the Undertaker doesn't have many years left in him.  In fact, this may well be his last Wrestlemania before retirement.  He's done so much for the business, he deserves an amazing match to go out with.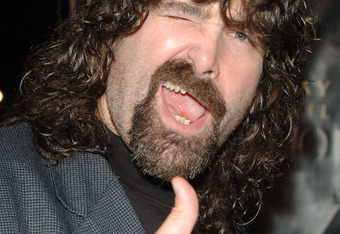 John Sciulli/Getty Images
Why not put him against one of his most famous opponents to end it all?
Mick doesn't even have to beat Undertaker for the match to be amazing.
Both men are aging and no longer in prime wrestling condition.  Evidence of this comes from the Under'taker's last match with Triple-H being a no-holds-barred match.
Being that both the Undertaker and Foley are always willing to take some crazy bumps, another no-holds-barred match would make for some amazing, highlight reel-worthy spots, sending off "the Phenom" in a truly epic manner.
Do you agree? Please don't hesitate to sound off in the comments below.