Arsenal: Is the Joy of Victory to Continue at the Grove After Sunderland?
February 9, 2012

Clive Mason/Getty Images
There's nothing like old-fashioned victories to calm restive fans and keep them happy.
Defeats are like withdrawal from destructive habits. Without therapy, the person enters a period of agony. To hear disgruntled fans rant is to hear the lament of a people denied their weekly dosage of adrenalin or fix.
A great part of following a team is the euphoria its successes bring.
Without this, it is like frosting skimmed off the cake, the fat cut from the meat to leave only stiff tendons, flesh and bones. Those who stick around after this cheer for reasons other than the good feelings victories bring.
Some of my no-nonsense readers told me this week that there's nothing like winning when it comes to garnering fans. That's common sense. That's reality.
But here what another fan told me:
"There are two main ways that people support in football," he wrote.
a. (applies mostly for people who live in cities with professional clubs) People support clubs. I, for example, spent my early days in Islington, and my father's an Arsenal fan, and my grandfather, etc., so i've been a fan since before i was really even conscious, and that sort of support is pretty unconditional. You don't even need to know who plays for the club—you simply support the club. you go to matches, you buy shirts and you 'represent'.

b. When you don't have a professional club in your area (I currently live in Miami, Fla., USA, where this is the case), your choice of support is very different. You don't really support clubs; rather, you support players. People here have their favourite players, and based on those, they have their "allegiance," so to speak.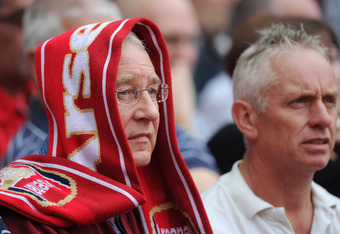 Michael Regan/Getty Images
A great dose of common sense there.
I have wondered about how many of the readers, who come after me vehemently for daring to suggest we should support the club's laudable principles or stand behind the team even when dark clouds overcast the sky, are a product of the successful years of Arsenal, when Arsene Wenger burst on the scene like a hurricane, as Piers Morgan has put it somewhere.
I could bet that the older fans, the ones with a little more perspective behind them, would be more measured in their reaction to our less than satisfactory season.
Of course, not everyone who is calm is older. You often find that rare specie of young people labelled "wiser than their years."
The opposite is often true, of course.
For example, the monkey noisemaker at the Kop in the Liverpool-Manchester United FA Cup match was an older man. And a few self-proclaimed older men have taken strong exception to my views regarding temperance and support for fiscal responsibility.
To simply lambast fans who whine when success proves temporarily elusive is to miss one point of fanhood.
The very reason why teams are constituted and made to compete is the fundamental and psychological reason why it is imperative that a team be successful.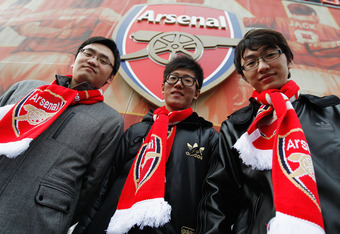 Paul Gilham/Getty Images
That is, despite our sophistication, we are still tribal at the very core of our being. We can't do but compete, and we can't do but win. We must win. That's how we are wired.
If, along the way, we can learn the virtue of loyalty, then that's an additional bonus. So when I write the following, I assume that loyalty comes with fanhood.
How can you say you love the club when you care for nothing but the goosebumps?

How can you claim to support a club when you are unwilling to stick with it in the difficult times?

How can you claim to have principle when you want to throw under the bus the person who has given you the brightest part of your history?

And not because he is doing anything wrong, but because he tries to guide you into the next phase of your development.
A few of my readers try to turn the table on me by telling me it's not loyalty if you don't demand for change when things don't work.
True.
But the other side of the story is called vision. You don't just discard it when difficulties come. You persevere. You become resilient.
Arsenal predicted the exact scenario the team has undergone this past six seasons when the move from Highbury was proposed.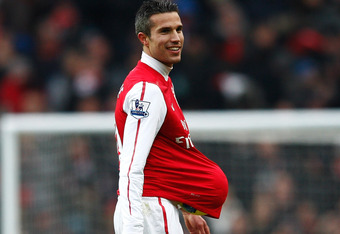 Paul Gilham/Getty Images
It was necessary to move if the club hopes to remain competitive in decades to come. A decade would be required to service the loans taken to build the stadium. After this, the team would be able to compete again in the transfer market.
Meanwhile, the minimum standard would be to compete for the top four spots on the Premiership table. The team, of course, would seek to continue to win. The minimum standard has been achieved in the last six years, and this is a great achievement.
But does this mean fans shouldn't grumble? No.
It means that when they do, they should remember why the situation is as it is.
Nobody starves in college or in the university for the fun of it; there's always a vision that calls the person to steadfastness.
I should return to the question in the title.
Is the joy of victory to continue at the Grove after Sunderland?
Hope answers yes.
Sunderland (as will be Spurs) is simply a hurdle that Arsenal must overcome. I believe the team will scale it on Saturday.
The players seem to have recovered their confidence. They like their manager and they want to please the fans.
Going to Sunderland to win is not an easy task, but I believe the team will come through. Time of joys will return. They are already here. Let's keep the faith.