Tennessee State Shocks Murray State: The Dream Isn't over Yet
February 10, 2012

Andy Lyons/Getty Images
Tennessee State may have ended Murray State's dream of an undefeated season.
Still, the dream still lives because the real measure of success starts in March. As long as the Racers make it to the NCAA tournament, they can still have a dream season.
The Racers still have a lot to accomplish. No Murray State team has ever made it to the Sweet 16. This team still has all the tools to make the tournament. History is also on their side. The last five teams to go unbeaten in at least their first 16 games went onto the Sweet 16.
After all, how many teams finish the regular season unbeaten? Not many. University of Nevada, Las Vegas was the last one to do it in 1991.
The Ohio Valley Conference isn't as weak a conference people make it out to be. OVC teams have made it out of the first round in the NCAA tournament for two years in a row.
Morehead State beat U of L last year and Murray State defeated Vanderbilt on a buzzer-beater in 2010.
There's hope, Racer Nation. Murray State has the talent to make a long run.
Have you ever seen Isaiah Canaan play? He's as good as any other point guard in America. Canaan is their leading scorer, averaging 19.4 points per game.
A lot of teams have trouble stopping him and even tonight, Tennessee State couldn't contain him. Canaan had a game-high of 31 points. He's one of the best three-point shooters in the country, as he's hitting 48% of his threes.
Canaan isn't the only good three-point shooter. The Racers have three other guys shooting over 38% from beyond the arch. Whenever a team can shoot lights out, a long tournament run is well underway.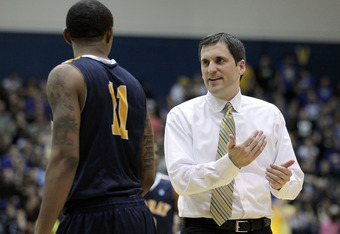 Andy Lyons/Getty Images
Of course, there's the saying, "Defense wins championships." The Racers have great perimeter defense. Opponents are only shooting 28% from three-point land against them.
Inside, they need a little help as opponents are shooting 42% from the field. A lot of that is because of a lack of height but they've tons of speeds to make up for that.
The speed helps Racers force turnovers, which opponents coughing up 16.5 times a game. The Racers love to get in transition and turnovers help teams get in transition.
Then there's the psychology issue. There's a lot of pressure that comes with being the last undefeated team. Now that they've lost, the attention may subdue a bit. The Racers may be able to relax and return to their old form.
If they do, it'll be surprising to not see Murray State in the Sweet 16.
For some the dream is over, but it shouldn't be. You're only remembered for what you did in March. If the Racers go to the Sweet 16, the college basketball world will see this as just a slight setback.