Sunderland vs. Arsenal: Thoughts on the Gunners' Win at the Stadium of Light
February 11, 2012

Michael Regan/Getty Images
Arsenal overcame adversity to win away at Sunderland on a playing surface that was less-than-desirable. James McClean appeared to have secured Sunderland their victory after he put the hosts ahead on 69th minute.
A routine pass downfield to Per Mertesacker looked well in control when the defender maneuvered to shield the ball away from the advancing James McClean, but seemed to sprain his ankle and went down in a heap.  
McClean pounced on the loose ball and sliced home to the far-side of goalkeeper Wojciech Szczęsny.
It was double agony for the visiting team—going a goal down to a well-organized Sunderland side, and yet again losing one of their defenders to injury.
At the moment, it's yet unknown how serious Mertesacker's injury is.
Arsene Wenger responded to the situation by bringing on Aaron Ramsey, which meant holding midfielder, Alex Song, had to move back to central defense alongside Laurent Koscielny.
Five minutes after conceding what seemed an ill-fated goal, Robin van Persie received a pass at the edge of the Sunderland penalty box, shielded the ball and the passed it to Mikel Arteta, whose blocked shot fell to Aaron Ramsey. Ramsey's volley ricocheted from Sunderland's right goal post to hit the left before bouncing into the net.
The game was tied.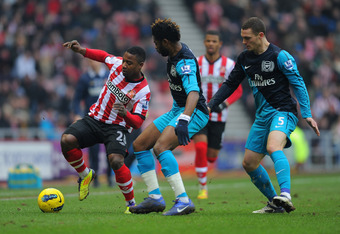 Michael Regan/Getty Images
Before going a goal down, Wenger had taken off Alex Oxlade-Chamberlain and brought on Thierry Henry.
With five minutes left until full time, Wenger took off the ineffective Theo Walcott for the out-of-favor Andrei Arshavin, whose delicious cross from the left flank found fellow substitute Henry, who bundled home for Arsenal's winner.
The goal came on the stroke of full time. Thereafter, Arsenal employed anywhere-will-do strategy to see through the match.
Here is food for thought.
1. The Substitution Worked
Aaron Ramsey came on and scored. That's what you want from your substitute. Moreover, all of the three substitutes were involved in the goals.
2. Thierry Henry Has Proved His Worth
Without the three goals that Henry has contributed to Arsenal's campaign since he came back to Arsenal on loan, not a few would have wondered whether his coming was worth it at all, what with the reportedly £70,000 wages a week.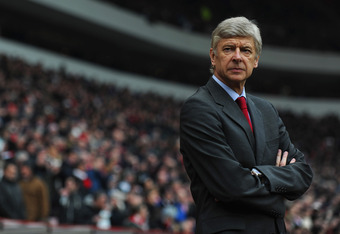 Michael Regan/Getty Images
As it is, he has more than paid back the trust of the coaching crew, his teammates and fans.
His goal today was a poacher's goal. That's what you need from an impact substitute. One wishes he could stay longer.
3. Sunderland Showed Why They Are Now a Difficult Side to Beat
Structured in 4-4-2 formation, their movement was in reality more sophisticated.
They employed what I'll called the third man when not in possession to press Arsenal's back two or back four. That is, although they had two men in advance position, one man from the middle four always pivoted forward to help the front two close down Arsenal's defense or midfield.
Furthermore, by using a disciplined middle four, they effectively neutralized Arsenal's wingers, thus cutting off the supply line for Robin van Persie. It's one of the reasons why Theo Walcott had one of his better forgotten games.
Even Alex Oxlade-Chamberlain wasn't as effective as he has been in the last three games.
4. Arsenal Showed Character By Not Despairing After Mertesacker's Injury
Considering how Sunderland had rendered Arsenal attack practically ineffective, going a goal down in the 70th minute could easily had dispirited the team. That they showed resolve to not only come back into the game but also to win it is something worthy of commendation.
5. No One Could Have Thought Arsenal Would Be in Fourth Place This Week
Here's what I wrote in my preview of the game:
Arsenal could climb into fourth place on the Premiership table if they win at Sunderland with more than three goals and Chelsea lose at Everton.

That's the tall dream.

It's not going to happen, or rather, it's unlikely to happen.

So there's no fourth place this week. 
What I thought would not happen, happened. It's a thing worthy of celebration. This is a dose of good news Gooners can do with, so congratulation to all.