Carolina Hurricanes: Overtime Woes, Costly Mistakes Plague 'Canes
February 12, 2012

One unnecessary stride. One untimely line change. One inch of open net. One-point-eight seconds on the clock.
One rookie mistake.
That's all that it took to cost the unlucky, unfortunate Carolina Hurricanes another much-deserved win on Friday night.
For the 'Canes, now dead last in the Eastern Conference, the 2011-2012 campaign has been a season defined by bad breaks, ill-fated coincidences and the roughest emotional moments this club has ever endured.
Without a doubt, this year has brought more suffering and heartbreak to the Hurricanes' franchise and its followers than many fans in Detroit, Pittsburgh and an untold number of other cities will feel about their hockey team in a lifetime.
Close games, desperate finishes and dramatic comebacks have always been Carolina's forte, through both good times and bad. The memorable nickname "Cardiac 'Canes" has never been an unjustified one.
The '11-'12 campaign, however, has told a different tale.
The Hurricanes have yet to launch a single victorious rally when trailing at the second intermission, posting a 0-14-2 record in such situations. They haven't shown the strength to scrap out a win in hostile environments, as well, earning the full two points in just six of 27 road games to date.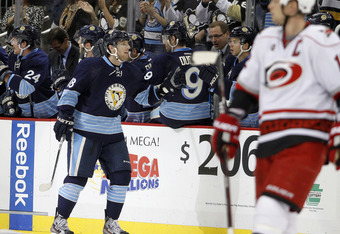 Justin K. Aller/Getty Images
Last-minute scrambles to tie the game have also been utterly futile. The 'Canes have a grand total of one game-tying goal in the last minute of a game. To rub some extra salt in the wound, they've allowed a sizable six empty-net goals for the other side while trying to do so.
Tight games haven't exactly been fortuitous scenarios, either. Carolina has a league-worst winning percentage of 29.6 percent in games decided by one goal, coming out on top in just eight of 27.
But nothing can compare to the sheer misery that overtimes and shootouts have brought.
Shootouts can be titled, without a doubt, the number one concern facing this team today. Except for specialist Jussi Jokinen's two goals on four attempts, not a single Hurricane player has scored in any "SO" in 2011-2012. As a whole, the team has converted on two of their 12 attempts, allowed a goal on seven of their opponents' 12 tries, and eventually gone fruitless in every single one of their four on the year.
But overtimes have been almost equally depressing. The 'Canes are 2-7 in that regard, including an 0-6 mark on the road. Incredibly, five of those seven losses came in games in which they scored the first goal.
Truthfully, it's been these insurmountable struggles in post-regulation games that have really separated Carolina from the average team.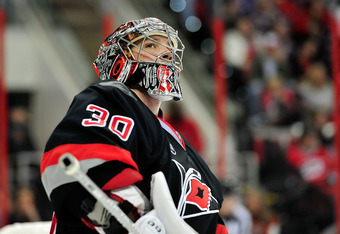 Grant Halverson/Getty Images
In contests decided after just 60 minutes of play, the Hurricanes are a reasonably mediocre 18-25. Admittedly, that's no record to be proud of, but it is just as good as that of several playoff-contending squads like Colorado (16-25 in regulation games), Ottawa (19-22) and New Jersey (19-20).
Yet, hypothetically or not, we can't just forget about the Canes' OT/SO nightmares, for they've become a microcosm of the team's entire season of sorrow. There's no better way to define the '11-'12 campaign than with one word—pain—and there's been no week where the Hurricanes felt that emotion more than this past one.
Late Wednesday night in Anaheim, Carolina scrapped through 60 minutes of balanced play with the surging Ducks, proving once again that they can, at least, contend with just about anybody.
But then a horrific non-call by referee Tim Peel—which many have already labeled the biggest blown call of the year—gifted Corey Perry with the puck deep in the Carolina zone midway through overtime.
Perry scored just seconds later after receiving a pass-back from Sheldon Brookbank, and the 'Canes were sent out of the Honda Center thoroughly angry and completely shell-shocked.
Until Perry's game-winning goal found the back of the net, the Hurricanes had never trailed.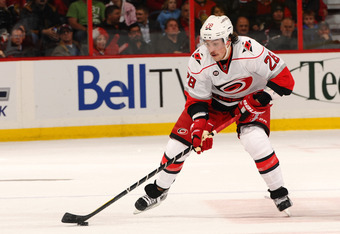 Phillip MacCallum/Getty Images
Carolina's anguish continued in Colorado two nights later. After an exciting, back-and-forth battle against the young and flashy Avalanche, rookie defenseman Justin Faulk found the game on his stick with mere seconds remaining in overtime.
The shootout was so close, he could touch it. He had the puck directly in front of him. The Avs weren't pressuring it, and the rest of his team was making a line change on the opposite side of the rink.
But Faulk wasn't going to let that 65-minute effort of real hockey expire without fireworks.
He surely envisioned a streak of back-breaking dekes, a rocket-launcher slap shot, a red light flashing on above the goal and a heroic spotlight on his face. There were only eight seconds left; what was the risk? Why shouldn't he make a run at the goal himself? Why couldn't he find his way through all five Avalanche defenders?
Well, in fact, that epic string of events was actually part of Carolina's upcoming fate. Just probably not in the way young Justin Faulk imagined.
Fellow youngster Ryan O'Reilly, whom Cam Ward had stoned an uncountable number of times earlier in the tilt, stripped Faulk of the puck with six seconds left.
O'Reilly crossed the Hurricane blue line and first glanced towards the goal with four seconds left.
Ward clapped his glove and blocker together, pushed out to the top of his goal crease, and found his usual butterfly position with three seconds left.
O'Reilly entered the faceoff circle, reared back his stick, shifted his weight to his left skate and unleashed his own bullet of a slap shot with two seconds left.
A three-inch wide slice of vulcanized rubber crossed the 'Canes goal line, ricocheted off of the goal cam and sent a sellout's worth of Avalanche fans, players and staff into a frenzied celebration with 1.8 seconds left.
The game was over; the Colorado Avalanche had defeated the Carolina Hurricanes four to three.
One team's season was over, too. And it wasn't that of the victors.
Mark Jones is currently Bleacher Report's featured columnist and community leader for the NHL's Carolina Hurricanes. In his 40 months so far with the site, he has written more than 340 articles and received more than 410,000 total reads.