Tennis: 5 Hot-to-Trot Tips for the ABN AMRO World Tennis Tournament
February 12, 2012

Julian Finney/Getty Images
After the 2012 Australian Open, the ABN AMRO World Tennis Tournament is the first serious event on the ATP calendar. Not only is it the first ATP 500 event, it's the first chance that the big guns of the men's field have to flex their muscles and begin the tour with a solid start.
It's also a chance for redemption for many who will be disappointed with their Australian Open performance, and with the tournament starting Monday in the Netherlands, it's time to look forward to the beginning of the tournament.
And whether you're an avid tennis follower, or simply someone interested in making an easy dollar or two, here's five hot-to-trot tips for the entire tournament to make sure that whatever the result, this tournament is a memorable one for you.
Roger Federer comes in to the tournament as the No. 1 seed and rightly so, the favorite to win it all. His Australian Open form was clinical, and despite being bundled out again by nemesis Rafael Nadal, the Spaniard is nowhere to be found in this year's draw.
This can only mean good news for the Swiss maestro, who will be looking to show that he still has what it takes to compete at the top level, and the first tournament for the year is an excellent place to start.
The big names in Juan Martin Del Potro and Tomas Berdych are in Roger's half of the draw, with exciting youngster Alexandr Dolgopolov appearing to be Federer's quarter-final opponent and his first tough match.
And after watching him dispose of Del Potro in dominant fashion at the Open, Berdych is Federer's only threat at the title. Berdych recently took out an ATP 250 event in Paris only weeks ago, and his big serve could be trouble for Federer, who recently lost to big-serving John Isner.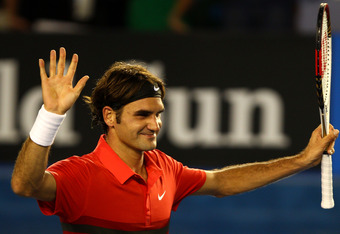 Mark Dadswell/Getty Images
Berdych took a set and nearly two off Nadal in the quarterfinals earlier during the first Grand Slam, but Federer's ground game is strong enough to handle Berdych, and he should take home the title here.
Hot-to-trot tip: Roger Federer to win the tournament
Federer's opening opponent is Nicolas Mahut, who will likely be followed by Michkail Youzhny and then Alexandr Dolgopolov. Whilst all three are quality players, Federer thrives in the best-of-three tournaments against smaller fields and is simply a class above the three of them.
Dolgopolov showed injury problems during the Australian Open, as did Mahut en route to an embarrassment against Novak Djokovic. Youzhny is also starting to become an also-ran, and it might be worth taking Federer to wipe the floor with the three of them.
These are the highest class of players that the Swiss genius is likely to play in the opening rounds, so even if they don't progress, the class of player is still well beneath Federer and it is still worth taking him to win comfortably.
Hot-to-trot tip: Roger Federer to win 2-0 against Nicolas Mahut, Mikhail Youzhny and Alexandr Dolgopolov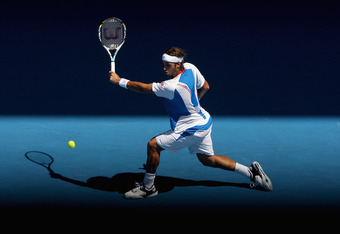 Quinn Rooney/Getty Images
No. 4 seed Feliciano Lopez' big serve saw him see off John Isner in the Australian Open, and he should be good enough to make the semifinals here.
On the ATP circuit last year, the Spaniard ranked third in aces, fifth in first serve points won, as well as top ten in service games won and break points saved. His ground game still needs work, but winning a shootout with Isner must give you some sort of street cred.
His first match is against a wild-card, but then he will then most likely play Robin Haase and Alex Bogomolov—both of whom are up-and-coming players on the ATP tour. Lopez' big serve is enough to get him home in these matches, but it may be worth taking the over total games in these.
Hot-to-trot tip: Over total games in Lopez vs. Haase and vs. Bogomolov
Philipp Kohlscreiber has been for many years now one of those players that's "almost there," but unable to have that big breakthrough year. He made the round of 16 at the Open this year before going down to the highly ranked Del Potro.
He lost his semifinal to Berdych in the recent ATP 250 event in France, and another 250 event semi-final to Rochus in Auckland—capping off a successful start to 2012.
He may face a tough time again when he meets Tomas Berdych in the quarterfinals, but he will be a comfortable winner in the two games before that.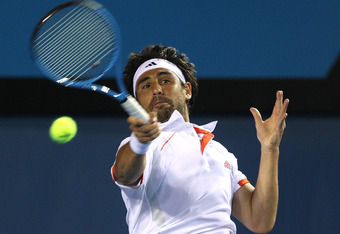 Cameron Spencer/Getty Images
Hot-to-trot tip: Philipp Kohlschreiber to win 2-0 over qualifier and Andreas Seppi
The exciting Cypriot Marcos Baghdatis may well be one of the most temperamental players in the men's field, but at his best, he is good enough to take down even the best of players—shown by his crushing win over Del Potro earlier in the year.
He lost semifinal matches to both Julien Benneteau and Lukas Lacko in straight sets in both Sydney and Zagreb, respectively, but both were close-fought encounters in which Baghdatis could have easily taken a set or two.
His second-round matchup against Tomas Berdych may see Baghdatis fly under the radar a little bit, and despite Tomas' giant serve, Marcos might be a little bit of value on the game line—especially in a best-of-three set tournament.
Anything around 4.5 or above might be worth taking Baghdatis; otherwise stick with Berdych.
Hot-to-trot tip: Marcos Baghdatis with the game line against Tomas Berdych
MORE ARTICLES? Click here.
Follow me on Twitter: @dantalintyre