Harvard Basketball: Jeremy Lin's Alma Mater Suffers First Ivy Loss at Princeton
February 12, 2012
Before the NBA, New York Knicks and Linsanity, the man of the moment, Jeremy Lin, was on the Harvard men's basketball team.
The team was largely in a building process during his time there.  During his sophomore year (2007-2008), Harvard went 8-22 overall and 3-11 in conference play.  His junior year (2008-2009) was a slight improvement, with Harvard going 6-8 in conference play and 14-14 overall, with a notable win over then-No. 17 Boston College three days after the Eagles beat then-No. 1 and undefeated North Carolina. 
During Jeremy Lin's senior year (2009-2010), the Crimson improved their record to 21-8, 10-4 in the Ivy.
Last year, the Crimson went 23-7, 12-2 in the Ivy, lost to Princeton by one point after a buzzer-beating jumper in the Ivy League playoff and ended the season with a loss to Oklahoma State in the first round of the NIT.  No. 25 Harvard is now 21-3, 7-1 and will likely drop from the rankings for the third time this season after Saturday's 62-70 loss at Princeton; their 23rd consecutive loss at Jadwin Gym. 
Harvard currently leads the Ivy League by one game over Yale and Penn.  By all accounts, this is still Harvard's year, and something they have been building toward since Jeremy Lin's days there.   
The first of Harvard's three losses this year came while playing an away game against then-No. 9 Connecticut Huskies.  Connecticut has since settled into a mediocre position with a 15-9, 5-7 record in the Big East. 
Harvard was No. 22 when they picked up their second loss in another away game against Fordham by six points.  Fordham's record currently stands at 9-14, 2-8 in the Atlantic 10.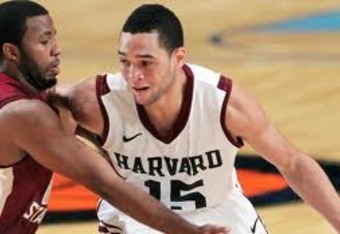 Harvard has scored an average of 65 PPG, while managing to hold its opponents to an average of 54 PPG this season. The Crimson's biggest win this year was against Florida State, beating the then-No. 22 Seminoles by five points. 
With a recent loss to Boston College, a team Harvard beat 67-46 this year, Florida State is currently tied for first in the ACC with North Carolina and Duke, both of which are teams the Seminoles have a conference win over.  Like Harvard, Florida State suffered a loss to both Princeton (73-75) and Connecticut (76-78) this season.    
Other non-conference wins for the Crimson this year include: MIT, Holy Cross, Loyola Marymount, Utah, Vermont, Seattle, BU, Florida Atlantic, St Joseph's and George Washington.
While it's unlikely any member of Coach Tommy Amaker's current Crimson squad (he was hired as Harvard's head coach in 2007) will reach the popularity level of the Knicks' Jeremy Lin, the team does have a lot of depth. 
Notable team point leaders to keep an eye on include junior Kyle Casey, averaging 11 PPG, sophomore Laurent Rivard, averaging 10.6 PPG and senior Keith Wright, averaging 10.6 PPG.  In comparison, Jeremy Lin averaged 17.8 PPG in his best season (2008-2009) at Harvard. 
Harvard will face Yale at home this coming Saturday after playing Brown at home on Friday.  They then play two more games at home before going on the road for the final two games of their regular season. 
With no conference tournament in the Ivy, if the Crimson can hold onto their lead it will mean an automatic NCAA Basketball Tournament bid.  The Crimson has not been in the tournament since 1946, their first and only appearance, when they lost to NYU in the third-place game.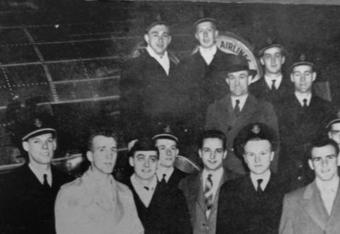 Yesterday's loss to Princeton definitely slowed Harvard's momentum, as they were on a nine-game win streak, and may result in lowering Harvard's seeding should they get into the NCAA Tournament. 
However, while no longer perfect in the Ivy, there is plenty of reason to maintain Crimson fever.  Harvard will have a lot of fan support in the final stretch of the season, having sold out all remaining home games. 
The Crimson still has one of the best chances it's had in over six decades of getting back in the tournament and surprising everyone with its performance there. 
Jeremy Lin is the Cinderella proof that great things can come out of seemingly nowhere from Harvard basketball.  And the Crimson's win against Florida State earlier this season is proof to just how competitive they can be on a national level.