EPL News: Maradona Hits out at Roberto Mancini on the Tevez Saga
February 13, 2012

Chris McGrath/Getty Images
Diego Maradona blames Roberto Mancini for the Carlos Tevez fall-out with Manchester City. Mancini has been "acting like a spoilt brat," Maradona told The People.
I don't understand, has he lost his place at Man City because of a silly fight with the coach? It's so unfair. There is a great injustice that's gone on.

I know Mancini really well. I've known him a long time. I'm sure Carlos has reasons for his behaviour.

Mancini was always a spoilt child. He was treated like a spoilt kid at Sampdoria, at Inter and it's the same at Man City. I'm not defending Carlos as he didn't want to play against Bayern Munich. But Mancini used to be a footballer. He had to show a little tact.

You can't ask a star like Carlos to go on to the field like he did. If you have a star like Carlos, you have to call him earlier in the game—or don't call him at all.

But we are talking about Mancini, a complicated man who didn't answer (Inter owner) Massimo Moratti's phone-call just because he didn't want to.

I would love to see Mancini if he says I don't want Carlos—and Man City don't go and sign Aguero, or Silva, or even James Milner.

I have talked with Carlos a few times and I will definitely call him again. It hurts me when I see what is happening to him at Manchester City as he is a great guy.

But he is also a great player. Come on, there are no players who are good enough to be idols of both Man United and Man City, and he did that.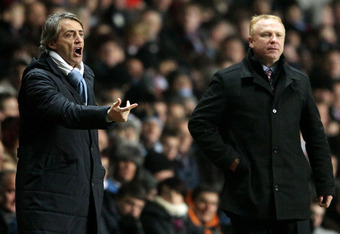 Scott Heavey/Getty Images
Whether you agree with Maradona or not, you have to admit that he has a point when he says that without the resources Mancini enjoys at Manchester City (resources that have enabled him to marginalize a few players), his approach to the Tevez saga would have been different.
Again, Maradona may be outspoken, but one can't deny the wisdom in his opinion that as a former player, Mancini should be a better manager of players. 
Discarding your current stars for the latest thing on the assembly line hardly seems like good management to this writer.
But again, this is simply his opinion.