WWE News: Return of American BA, Ryder's Swan Dive and Cena Embraces...Eve?
February 14, 2012

What a Raw…what a Raw!
Now there will always be those who are never satisfied and saw last night's Raw as an average show. I saw quite the contrary.
I saw a fantastic build-up to the Elimination Chamber pay-per-view, as well as a peep into what will be a wild ride on the road to WrestleMania. I saw the kiss of death for the "good" John Cena, an infamous stage dive by Long Island's next big star, and the return of a persona I am in awe of…
Yes, folks, Deadman Inc. is making a comeback, and the Game HHH is in for one hell of a ride.
First of all, the whole Eve/Zach Ryder/John Cena love triangle got me, and got me good. Now my nine-year-old daughter—a diva in the making who popped her kneecap out Saturday and was trying to walk Sunday!—claims she saw it from a mile away, but my old butt was caught way off guard.
For the first time ever—well…outside of the fact he makes millions while I make thousands—I was jealous of Cena. After that kiss from Eve, I wanted to jump in the TV, slap on a Fruity Pebbles T-shirt and forcefully take Cena's place!
I love this angle. It is borrowing on the concept of ying and yang, with Cena trying to walk the straight and narrow, while tempted to embrace his dark side. His interaction with the crowd last night was great, and while we all make jabs at Cena for being so clean-cut, mechanical in the ring, and square, he is very adroit at manipulating a crowd with his outstanding mic skills.
Now, my man, Zach…come on! What a dive off the stage! Imagine the conversation in the back before the show.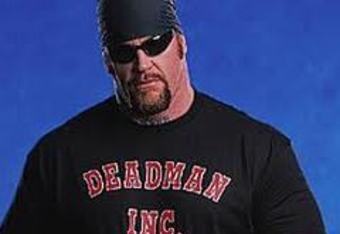 OK, Zach, we want Kane to push you off stage onto the floor while you are in a wheelchair!
Now I, for one, would have to think twice. A lot could go wrong with a 300-pound guy pushing me off a stage onto a concrete floor. Maybe there was padding, maybe not, but that had to hurt.
However, it just shows that HHH was wrong when he said the era of guys going all out and leaving "it" in the ring is over. Zach proved he is willing to do whatever it takes to be a superstar. As a working man, I have to respect a guy who does his job well and is willing to take calculated risks to get ahead.
But now, onto my man.
First of all, I have to admit,  when he first arrived in WWE, I was not impressed with the Undertaker. I know that is an inflammatory statement, one which will get me beat up in many circles.
But, come on. I grew up watching WWE/WWF. I had seen them come and go, and I thought the big guy dressed like some old Western grave-digger was just another flash in the pan.
Boy, was I wrong. Undertaker not only impressed me in the ring, but when they finally allowed him to talk, his mic skills were great. Then he decided to give up the Deadman gimmick, and embraced the persona of an honorary member of Son's of Anarchy.
Thus, the American Badass was born, and after a great run, Undertaker took off some time, grew his hair long and became the semi-demonic/undead Undertaker we all knew and feared.
And then last night, in a well produced video segment, the fans got to see Undertaker cut his hair—something that according to reports has been done for some time—with a straight-edge razor.
He was watching the video from WM27, when HHH whooped him. Now he is back, wanting revenge, craving revenge, and who better to get the revenge 'Taker seeks than the American Badass.
I did not want to see Undertaker/HHH III, but now, with the possibility that Undertaker will ride to the  ring on the back of a Harley, and after he wins, he just might stand on the ring apron and count off his victories, like he did after he whooped Ric Flair at WM18, I can' wait for this rematch.
I had my doubts, but WWE is really blowing me away this year as they hype WrestleMania. I just hope they finish what they started in grand style.