Evan Longoria: Jaime Edmondson Gives Rays 3B Early Start on MVP Year
February 17, 2012

J. Meric/Getty Images
Tampa Bay Rays third baseman Evan Longoria has made a name for himself as one of the best players in the game. He has shined on the field since making his debut in 2008. Now, he is making quite a name for himself off the field as well. 
In addition to being a spokesman for New Era and doing awesome stunts in an airplane, the three-time All-Star has been seen with Miss Playboy January 2010, Jaime Edmondson. 
According to a report on Busted Coverage, Longoria and Edmondson spent a day together at Disney World, and her dog was spotted at a doggy sleepover at Longoria's house two weeks ago. 
Here is the visual evidence of said sleepover from Longoria's Twitter account.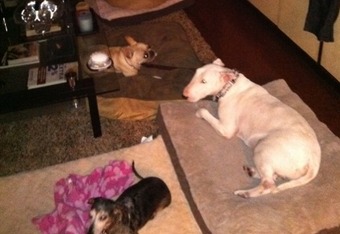 The report does say that there has been no confirmation the dynamic duo are an item, but when dogs are sleeping over, you know something serious is going on. 
I will admit to being a Longoria homer. I have predicted him to win the American League MVP award in each of the last three years. Right when I had come to the realization that I was not going to predict him to win the honor this year, he goes and does something like this and totally redeems himself. 
That is not to say that he is suddenly going to have a historic season, cruise to the MVP award and win a World Series just because he is hanging out with Edmondson. It does make him the envy of a lot of people around the country, though.
This is definitely the start of bigger things for Longoria this year. 
He was well on his way to being the best and most dominant player in the American League last year before an oblique injury screwed up his swing. There is nothing standing in Longoria's way anymore. He is living the good life off the field, can catch baseballs with his bare hands and will prove he is the best third baseman in the game.