Boston Red Sox Sign Another Outfielder: Who Is Josh Kroeger?
February 18, 2012
Christian Petersen/Getty Images
If the Jason Repko signing was under the radar, this one is absolutely off the radar. Josh Kroeger is listed as a non-roster invitee to spring training, but all I could find was this January 20 tweet from Mike Fine, Red Sox beat writer for The Patriot Ledger: "OF/1B Josh Kroeger…signed to 2012 Red Sox MiL contract w/invite to ML Spring Training."
Unfortunately, he is best known to date for blowing out his knee during a walk-off victory celebration last July 4 while playing with the Marlins' Triple-A team, the New Orleans Zephyrs.
It made the highlight reel of ridiculous sports injuries, to include the Huffington Post. The comment accompanying the video on sportsmashup.com was, "Dude, you're a minor leaguer. You need to save that kind of celebration for the majors!"
The most unfortunate part of this incident was that Kroeger was finally beginning to fulfill that early potential. When he was hurt, he was leading the Zephyrs in RBI and was tied for the most home runs on the team.
He finished the 2011 season with a .284 average in 82 games with a very respectable OPS of .837. For the first time in his career, he walked more than he struck out.
The lefty Kroeger was a highly-regarded prospect when the Diamondbacks drafted him in 2000. He made it up to seventh on Baseball America's prospect list for 2005, after posting an OPS of .981 at Double-A and .964 at Triple-A in 2004 to go along with 19 home runs.
There was a warning sign, however. In 54 major league at-bats with Arizona in 2004, he hit only .167.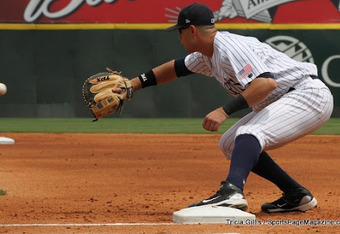 Minor-league talent evaluator John Sickels wrote that he could become "a very impressive power hitter from the left side, challenging Conor Jackson and Carlos Quentin for jobs in the outfield."
However, he added a major caveat: "But if he continues to flail at breaking stuff outside the zone, he'll get stuck in Triple-A."
Evidently Kroeger did not learn his lesson. At Tucson in 2005, he hit only .261, striking out 108 times in 427 at bats. He walked only 36 times, and the Diamondbacks gave up on him.
The Phillies picked him up off waivers and added him to their 40-man roster.
He performed poorly at Scranton, striking out 104 times and only walking 23 times. He was released again, then picked up by the Cubs after the 2006 season. Unexpectedly, he started 2007 with a bang. Steve Holley of cubs.scout.com wrote an article entitled, "Kroeger Could Become a Steal."
Holley wrote:
Players that are signed as minor league free agents each off-season aren't expected to lead their league – let alone baseball as a whole – in hitting. Josh Kroeger, a 24-year-old outfielder picked up by the Cubs last December [2006], was the exception to the rule for much of the first half this season.
That year, he posted a monster OPS of 1.058 with Tennessee of the Double-A Southern League. In addition, his manager there, Pat Listach, said of Kroeger, "He's above average in the outfield, runs well and has a good arm."
That season earned him a promotion to the Triple-A Iowa Cubs, where he again posted a good OPS, this time an .887 to go along with a .307 average and .514 slugging percentage.
For whatever reason, the Cubs let him go at the end of the season, and Kroeger signed with the White Sox. He scuffled somewhat at Charlotte, especially in 2010, leading to his release once again. However, at Charlotte he did add to his versatility, playing 57 games at first base.
Back in 2005, Baseball Prospectus described Kroeger as a "solid prospect with power, ability to hit for average, and a willingness to work on his plate discipline." Acknowledging his poor 36/95 walk-to-strikeout ratio in 2004, BP added that Kroeger "needs to keep tweaking that BB/K rate to be a keeper."
Until 2011, Kroeger consistently posted a K/9 rate that was two-and-a half times greater than his walks per nine innings. Last year, however, he walked 36 times and struck out only 32 times at Triple-A. As his old scouting report said, "If he continues developing strike zone knowledge, he becomes a very impressive power hitter."
Like Repko, Kroeger provides some additional outfield insurance, with the added flexibility of being able to play some first base if needed.